In a very millennial move, Erich Gonzales has deleted all traces of Daniel Matsunaga on Instagram. Gone are their goofy selfies and lust-worthy travel pics—Erich's IG now is full of, well, Erich.
The Kapamilya stars, who've been in a relationship since 2015, are known to pack on the PDA IRL and on social media. So, this move of Erich has got us thinking: Did she and Daniel just break up?
After concerned fans who noticed Erich's not-so-subtle blow flooded Daniel's Insta (Erich also has noticeably disabled comments on hers), the model/actor addressed the issue with a revealing statement:
"Guys I would like to ask a favor pls...we are talking and going through some personal things...all we need is your support and love...not people talking trash... we love you all with no limit and we just need some respect and time. Thank you. God bless you guys..."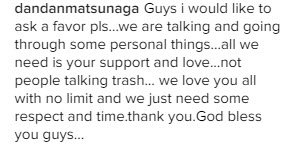 Ouch.
Follow Jacinda on Instagram.