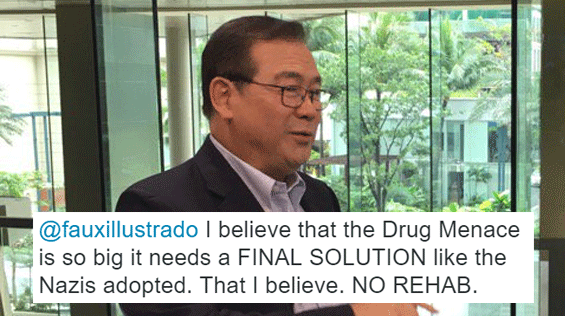 President Rodrigo Duterte and Teddy Locsin Jr.—politician, lawyer, and former journalist who was appointed as the new Philippine ambassador to the United Nations (UN)—are probably more alike than we think. And, oh, Adolf Hitler—who orchestrated the massacre of six million Jews from 1939 to 1945—is also involved.
Hitler will forever be known as a vile man. To this day (and rightly so), any reference to him or his crimes against humanity will stir up violent, or at the very least unpleasant, reactions.
In an interview in Davao City, Duterte—who is known for making controversial statements—recently told reporters, "Hitler massacred three million Jews. Now, there are three million drug addicts [in the Philippines]. I'd be happy to slaughter them."
Now, while Duterte may not have been expressing admiration for Hitler, the mere mention of Hitler and the Holocaust in connection with the government's war against drugs caused all kinds of complications.
In fact, Germany itself—where Hitler set up his regime—was disturbed by Duterte's comment. GMA News Online quoted German foreign ministry spokesman Martin Schaefer as saying, "Any comparison of the singular atrocities of the Holocaust with anything else is totally unacceptable."
Malacañan has clarified Duterte's Hitler quote. On Saturday, October 1, presidential spokesman Ernesto Abella issued a statement: "The Philippines recognizes the deep significance of the Jewish experience especially their tragic and painful history."
Abella added, "Hitler murdered three million innocent civilians whereas Duterte was referencing to his 'willingness to kill' three million criminal drug dealers—to save the future of the next generation and the country. Those are two entirely different things."
(Fact-check: The Holocaust involved the massacre of six million Jews, not three million.)
Amid the controversy caused by the Hitler statement, people recalled that Locsin had made a similar quip on Twitter last August 22.
Locsin had tweeted: "I believe that the drug menace is so big it needs a Final Solution like the Nazis adopted. That I believe. No rehab."
@fauxillustrado I believe that the Drug Menace is so big it needs a FINAL SOLUTION like the Nazis adopted. That I believe. NO REHAB.

— Teddy Locsin Jr. (@teddyboylocsin) August 22, 2016
One netizen commented, "Nauna pa pala siya kay Digong (He said it before Digong). It's possible that he inceptioned that guy."
Well, that may be one possibility. But then we may never really know what prompted Duterte and Locsin to refer to Hitler. We can only hope that they realize that Hitler analogies will always rub people the wrong way and is unnecessary, even inappropriate. Now let's hope that will stop them from making such analogies.