Please, take a seat because this YouTube beauty vlogger feud is going to make your head spin. The latest scandal to hit the YouTube community involves vloggers Jeffree Star (9.8 million subscribers) Gabriel Zamora (679 thousand followers), Manny "MUA" Gutierrez (5 million subscribers), Nikita Dragun (1.6 million subscribers), and Laura Lee (4.5 million subscribers), who now have all been accused of being racist.
In the past years, videos of Jeffree's apparent racism have surfaced. On camera, he's called women "Ni**er b*tches," and he once said he wanted to throw battery acid on a black woman to lighten her skin to match her foundation. Jeffree's since apologized for his offensive statements and has said, "I do not know who that person was...the person that said those horrible vile things, that person was depression, that person was just angry at the world, that person felt like they were not accepted, that person was seeking attention."
Although, some have claimed Jeffree's behavior hasn't changed.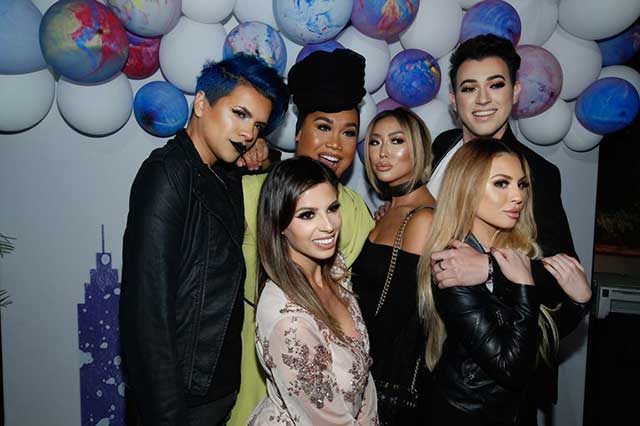 OK, remember all that because it's pretty darn important. This month, Gabriel posted a photo of him, Laura, Manny, and Nikita flipping off the camera. Gabriel captioned the photo, "b*tch is bitter because without him we're doing better."
Continue reading below ↓
Recommended Videos
In any other situation, that would've been a solid burn, but this is social media and there are fans and stans on Twitter waiting to clapback on behalf of their faves.
After Gabriel posted the photo, fans interpreted the caption as a dig towards Jeffree, which Gabriel later said was #facts and added, "Imagine stanning a racist? I could never." Gabriel then went back and forth with a fan and echoed that Jeffree's racist past isn't behind him despite what Jeffree has said.
Gabriel tweeted, "Every time I was around him, he would constantly say racist things about black people but would validate it by saying, 'I've had so much black d*ck I can't be racist.' Once I realized it was REAL racism, I realized I couldn't be friends with him."
OK, you might want to get a drink because this is where things get really messy.
Gabriel clearly upset Jeffree's fans with that last revelation because it led Jeffree's fans to comb through all the tweets of everyone in that "b*tch is bitter" group photo, and what they found is pretty awful.
In one 2012 tweet from Laura, she wrote, "Tip for all black people if you pull ur pants up you can run from the police faster.." She also tweeted, "Ni**as in Paris? Whaaaat I thought they couldn't afford to leave Compton!" as well as tweets making fun of Chinese people's eyes.
Gabriel tweeted using the N-word and Nikita tweeted, "Imagine being black? I could never." Nikita also joked about child abuse and pedophiles.
Fans also dug up an old photo of Manny giving the side-eye in the back of an Uber with the caption, "When your Uber driver doesn't speak English."
In the middle of all this, Manny was also liking posts that implied Manny was innocent and that Manny should end his friendship with Gabriel. 
Needless to say, Laura, Manny, Gabriel, and Nikita lost a bunch of followers, which equals coins. 
THEN Jeffree jumped in the mix and posted a photo of him laughing along with the caption, "Imagine trying to bully me but you actually end your own career instead."
Since this all unfolded, Laura, Manny, Gabriel and Nikita have issued apologies and response videos. Laura also deleted the offensive tweets, but screenshots live on forever.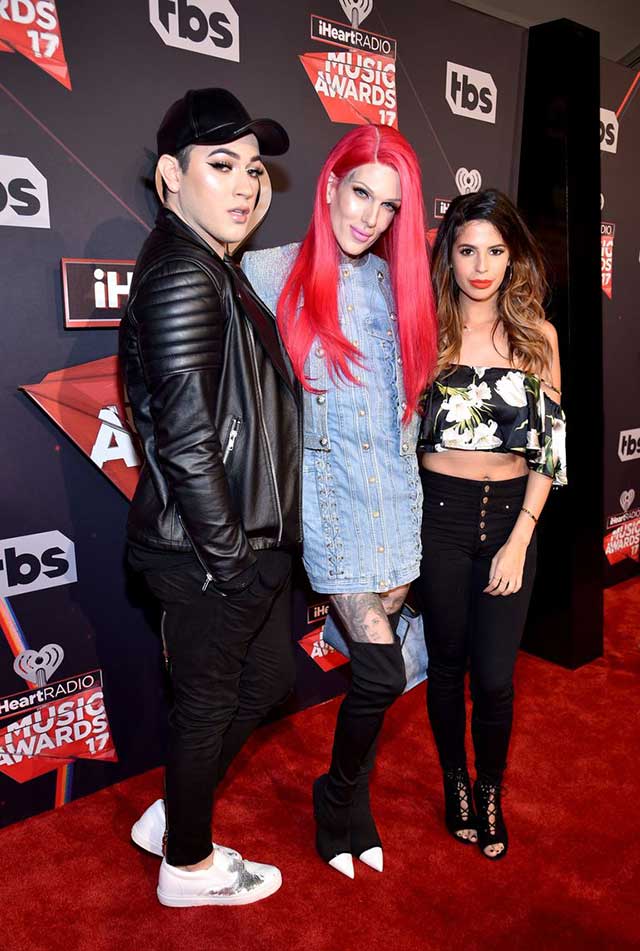 In Gabriel's video, he said he actually spoke to Jeffree and became enlightened in regards to "the other side." Gabriel said, "A lot of clarity came from that conversation. A lot of things made a lot more sense, once I heard the other side of the story. I thought, 'my friends [would] tell me the truth.' That's not always the case."
Gabriel also added that he's no longer friends with Manny and that Manny threw Laura under the bus when Laura and Jeffree were feuding a year ago. "A lot of the negativity around [me] and around [my] friends has been due to this one person," he said. "There's the same factor in all these negative situations around [my] life… and that's Manny."
Manny then responded with a 25-minute video and said, "I want to apologize to Gabi [Gabriel], because watching that video I can see the hurt in his eyes and I understand where he's coming from 100 percent. And looking back, I would change things if I could."
Jeffree, who ended up gaining followers from all of this, finished with a tweet about the power of the truth.
***
This article originally appeared on Cosmopolitan.com. Minor edits have been made by the Cosmo.ph editors.