A number of models and celebrities are prone to weakened, damaged hair due to product overload, frequent styling, and exposure to sun and heat. Aside from that, an unhealthy diet and lifestyle and lack of sleep also deprive them of nutrients and lead to hair losing its luster or even hairfall. The list goes on.

But, it's not only these models and celebs that suffer from these hair troubles. No doubt, many of you share the same hair problems (for whatever reasons) and wish you could get real results from products that promise effective nourishment, shine, and new life to your dull hair.

And, as we've mentioned many times, almost all men are attracted to women who have healthy-looking hair, regardless of length, so it's important that you keep your locks in tip-top shape. Even if you've got a banging body but your mane is broom-like, his desire to caress you from head-to-toe drops dramatically. Damaged hair screams poor hygiene to a man's eye. Call it shallow, but it's oh so true, ladies!

Even Brazilian model and TV personality Camila Alves shares that you can easily switch clothes and accessories, but when you've got a bad hair day, it can determine your whole mood and confidence for the entire day...or week...or month!

What's a Cosmo girl to do? Here are four effective ways to nourish, protect, and maintain lustrous hair to keep those men wanting more.

1. Brush With Love

Celebrating the love month doesn't mean you should only pour some lovin' on your man. How about extending that to your precious mane? As cliche as it may sound, brushing your hair 100 times before bedtime is something you should consider doing. Brushing stimulates the scalp, and causes it to release its natural oils, a.k.a., sebum, which acts as a natural oil treatment for the hair. This promotes shine!

However, after showers, using a large toothed comb is a MUST if you want to prevent further hair breakage! Start from the bottom, slowly working your way up to the scalp.
 
2. Do NOT Take It From The Top!

If you've got an oily scalp but your hair has dry ends, lather conditioner mid-shaft toward the ends instead. It's not enough to apply conditioner. Letting it soak into your hair for at least two minutes allows hair to absorb the product more effectively. Make sure to do a final rinse with cold water to close hair follicles and promote hyper-shine to your dull locks!

3. Tiny Trim

Trimming your hair about half an inch every one and a half to two months is actually the fastest way to grow long, healthy hair. Letting your hair grow without getting regular trims makes your hair more prone to split ends, which is a dead giveaway for, well, dead hair. If you've got severely dry ends, muster the courage to trim, no matter how many inches the damage is. That way, you can start with a healthy hair slate. Trust us, the results are worth the sacrifice and wait!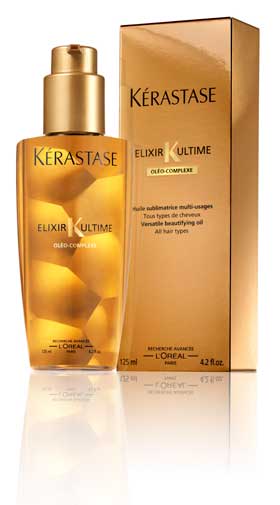 4. Treat Hair Like Gold

In the same way we love to get pampered at spas for some R&R, our hair, our crowning glory, needs it just as much. Speaking of crown, why not indulge your hair with some intense, golden, royal treatment? Give yourself a post V-Day treat with a potent hair treatment boasting of four legendary oils: Argan, Camellia, Maize Sprouts, and Pracaxi, only found in Kerastase Elixir Ultime, P2,215. This product is an excellent multi-tasker, so just a pump or two is all you need in any of these situations:

a. Before shampooing, to aid in removing impurities without stripping moisture.

b. Before blow-drying, to speed up drying time to nearly half.

c. After blow-drying, to lock in hair radiance, luminosity, and unbelievable softness.

d. As daily hair maintenance, to protect from environmental aggressors, while nourishing hair fibers, and at the same time lessening your spending on frequent hair treatments.

Summer is almost here, so your hair could be headed for sun damage...unless you're headed for that hot guy eyeing you because of your new lush and shiny locks!
Continue reading below ↓
Recommended Videos