Where To Go
Visit Acqua Salon at 2/F, Mindanao Wing, TriNoma Mall (916-7558).

From So-So To Diva
Having wavy hair can be frustrating. You tend to spend too much time styling it with a straightening or curling iron just to keep your locks under control. If you don't have much time to primp or you're worried about subjecting your hair to heat and possible damage from your trusty
plantsa
, why don't you try Acqua Salon's
Diva Treatment
, a package that includes a new
cut, hair relax
(or perm, if you want to go the other extreme), and
cellophane
. It's super
sulit.
Straight Or Curly?
You can go for either model-ish straight hair or va-va-voom curls. If you're torn between the two, ask your stylist which treatment will suit your facial structure (generally, straight strands can make your face look thinner, while curls soften sharp cheekbones). The stylist will cut your hair in your desired style before applying relaxing or perming cream and ironing or curling your locks. An attendant gives you a relaxing head and neck massage as you wait for the treatment to settle. How's that for a bonus?
Shine On
Why stop with just a new hairstyle? Make your locks look even more ravishing with a cellophane treatment that locks in moisture. Tip: Choose a shade that matches your hair best; remember, this doesn't exactly color your hair permanently, but a contrasting hue might look a bit too drastic and rushed, especially if you're not exactly aiming for that effect.
Whose Hair?
The Diva Package is perfect if you have shoulder-length to long hair that's always at the mercy of your
plantsa
. After getting this treatment, you get wash-and-wear hair that you can also easily style (if desired) with mousse or serum.
Package Price
The Diva Package starts at P2,200 (for short hair), which is a steal, given these three services lumped together. If you want to propel your star power full blast, a Diva like you can add Strait Therapy (for as low as P600 for short hair) for super sultry tresses!
See the finished product (my new hairstyle!) plus an exciting promo on the next page.
[nextpage]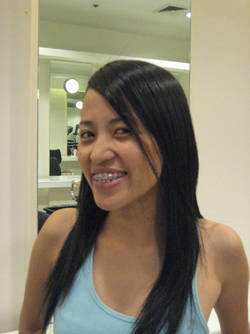 FREEBIE TIME:
We loved this treatment so much, that we'd love for you, our dear Cosmo readers, to try it for yourself, too!
Just comment on this post about why you think you would love to have this Diva treatment.
Be sure you are logged in
so we can easily trace your real name and email address (make sure it's valid) to contact you if you are one of the winners. If you're not yet a registered member, you can opt to register
here
.
We will be
giving away ONE gift certificate for a Diva Package
, where you have the option to avail of 1) a haircut, perm or relax, and cellophane OR 2) a haircut and semi-rebond
to each of the FOUR registered users with the best comments
. Keep checking this post (and your inbox) to see if you've won! You have until next week to post your comments.
Continue reading below ↓
Recommended Videos