Planning to go kulot? If you're looking for a cheaper alternative to pricey Korean salon digital perming service and you're a bit daring like me, read on to see how I did it myself.
Name: Ginyn
Age: 26
Hair Type: Thick, wavy, and colored
Full disclosure: My hair has already gone through so many transformations (aka, chemicals. LOL!), so DIY perming is NBD. Back in high school, I wanted my wavy hair rebonded, and my dad funded it. When I've had enough of the expensive, high-maintenance straightening in college, I grew my naturally wavy hair out. Around that time, I did DIY perming for the first time, and I loved the results.
In the years that followed, I got a pixie cut, a bob that went from bleached blonde to blue, red, pink, mermaid blue, and green. Finally, I got over the crazy hair dye phase and maintained my long jet-black bob for my wedding last April.
A week after the honeymoon, I had my hair cut into a short bob. Then, I colored it brown with a box dye. While I loved the length and color, my natural waves 'disappeared.' I hated how my hair looked—I missed being kulot! I decided to try DIY perming again. I wanted more effortless curls like those cute Korean unnies.
Continue reading below ↓
Recommended Videos
What you need
An average-sized plastic bag (because we didn't have a plastic shower cap) 
Perming paper (thin squared sheets of waxy paper you can buy from salon supplies stores)
Box perming kit
I bought the Monea Clear Perm (P185, Watsons) It was good for two uses. Although the label said it's "for professional use only," I thought that was fine because I'm a professional DIY-er. LOL! Similar kits are available at Landmark, HBC, and selected SM Beauty branches. As for the hair rollers, get bigger ones if you want bigger waves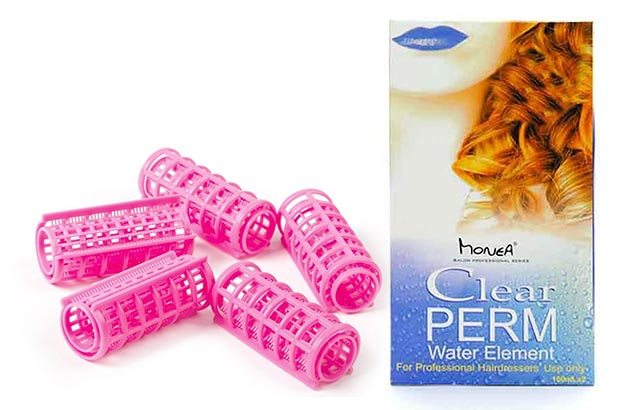 How I did it
The instructions from this perming kit were quite clear and straightforward. First, I wrapped each section with perming paper and put the rollers on. With gloves on, I applied the first formula all over the rolled sections. After 20 minutes, I rinsed my hair with cold water (rollers on).
After rinsing, I dried my hair gently with paper towels (you can also use an old t-shirt) with the rollers still on. Then, apply the second solution (the neutralizer) on your strands. After another 20 minutes, you can remove the rollers and rinse your hair with cold water.
Tip: If you want looser waves or if the pungent smell bothers you, you can shorten your locks' curing time. Do a simple test to see if your hair is already permed by removing one of the rollers and see if the curl bounces. If you're satisfied with the twirls, you're good to go.
After-care and maintenance
My hubby researched and learned that you're not supposed to wash your hair (not even with water) two days after the perm. I couldn't stand that—I mean, it's always hot here in the Philippines— so a day after, I washed my hair with just water. Then on the third day, I washed with just conditioner. I used shampoo and conditioner in the days that followed until today. The curls still looked great to me.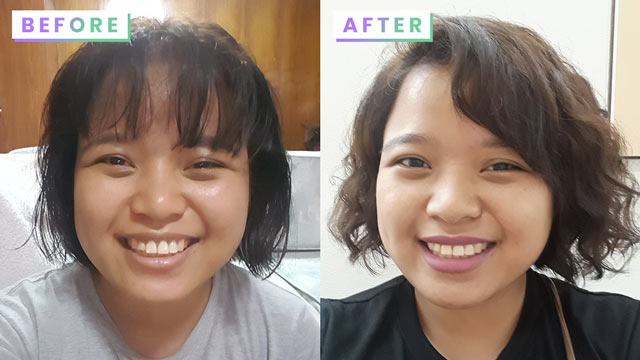 However, like bleach, peroxide-based dyes, and other hair chemicals, the perming solution does damage the hair despite "containing vitamin E and amino acids" (according to the product info on the website). I noticed my strands became finer and get easily tangled compared to my pre-dye and perm hair. But thanks to my thick hair, it's not that obvious. I'm also planning to switch to paraben- and sulfate-free shampoos and conditioners to help keep my hair healthy. 
Verdict
In terms of styling, DIY perming saved my life. Before, I had to OD on the Monea Curl Defining Milk to make my curls look better. I also had to scrunch my almost-straight hair for about 20 minutes just to give it some texture and loose waves. My hair routine was cut down to five minutes post-perming! I just needed to scrunch my locks a little while applying the defining milk. Best of all, my hair has never transformed into a big ball of frizz even after a windy jeepney ride in the A.M. Score!
Follow Ginyn on Instagram.