Q: Dear Cosmo, I just had my first brow shaping session last month. I noticed that my brows are slowly losing their shape, but I'm scared to fix them myself. Is there a brow maintenance schedule that I should follow?
A: Why, yes! There is a schedule that you should follow. Check out the brow maintenance guide we made for you below: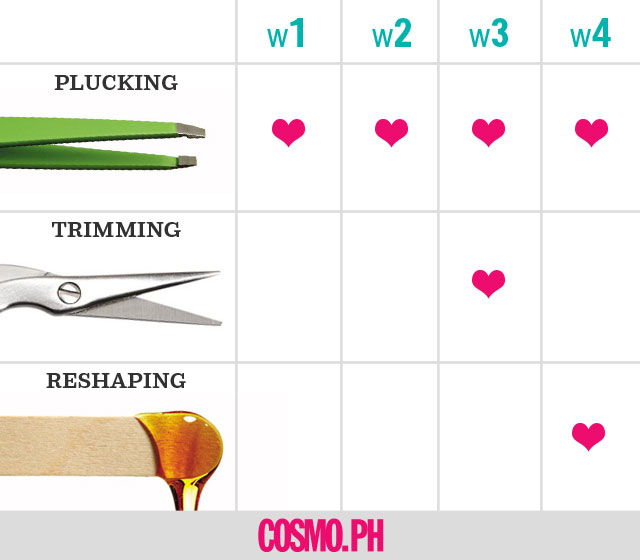 A few days after you get your brows shaped—whether by threading or by waxing—you'll notice that small stray hairs will start to grow around your brow area. To keep your arches tidy, tweeze strays every two to three days.
After about three weeks, you'll notice that brows will start becoming a bit more unruly, because the hairs have already grown longer. This is your cue to start trimming them. You'll need a spoolie brush and brow scissors to start the process. Take your spoolie brush and brush up your brows. Notice the hairs that are way too long compared to the others? Snip those away to keep your arches neat.
Continue reading below ↓
Recommended Videos
Every three to four weeks, schedule an appointment at the salon for reshaping. This will give your brows enough time to really grow out and be shaped better.
That's it! Enjoy your awesome kilay!
Do you have any beauty questions you want us to answer? Let us know by commenting below!
Follow Retty on Twitter.
RELATED:
Cara Delevingne Reminds Us That Well-Groomed Brows Are All You Need
This Is What Happens When People Try Brow Threading For The First Time