Before anything else, let me break this to you as a loving friend: Bleaching your hair on your own to score blonde locks is risky. You may ruin your tresses in the process, so it's best to let the professionals do it. Bleach is a strong chemical that may leave your strands brittle and damaged.
But if you really, really, really want to score lighter-colored tresses on at home, I tried doing it on my own (like a true journalist, LOL). I'll walk you through the process, plus the best products I tried.
Things You Should Know Before Dyeing Your Locks A Blonde Hair Color
You need to research first!
Find out which bleach is effective and is user-friendly. Watch videos on YouTube that show how you can evenly apply hair bleach to your to avoid patchy results. I personally loved Brad Mondo's tutorials. He's a pro stylist based in the US who gives tips on how to DIY haircuts and hair color at home. I also joined the Colored Hair Community Facebook Group to see tried and tested recommendations and useful DIY tips.
ADVERTISMENT - CONTINUE READING BELOW ↓
Hairdressers Guide To Coloring Your Own Hair And Not Ruining It
Prepare everything you need before you start.
Cover your working surface with newspaper or brown paper bags to avoid staining it. Wear an old t-shirt you don't mind being stained. If possible, put on a protective cape. Prepare these tools:
Two mirrors - You need one for the front and back so you won't miss a spot.
Wide-toothed comb - Brush out all the tangles before you start
Four claw clips - You'll have to divide your hair into four sections.
Plastic brush and plastic bowl - For your bleach
Gloves - You must protect your hands from the chemicals.
Timer - Setting the time when applying is key to avoid hair damage.
You can't expect to get a platinum blonde shade in one session if you have naturally dark hair or if you have previously colored it black.
Hair levels categorize how light or dark your tresses are. You must reach at least level 7 to get bright, sunny blonde hair. Mine took two sessions to get to a butter blonde shade. My bleaching sessions were a week apart to help my locks recover from the first bleaching sesh.
ADVERTISMENT - CONTINUE READING BELOW ↓
Recommended Videos
Follow the hair bleach product's instructions.
If it says that you shouldn't leave it on your hair for more than an hour, follow it! Having it on your beyond the recommended time will leave your tresses damaged—your hair might fall off!
Do your roots last.
The roots lighten faster than the rest of the hair. If you apply bleach on the roots first, it will result in "hot roots" wherein the top of the hair is lighter than the rest of the locks. It's not cute!
ADVERTISMENT - CONTINUE READING BELOW ↓
Be ready to change your whole hair care product lineup.
Bleached hair is technically damaged because the pigments were altered by chemicals. You need to nourish it to keep it soft and shiny. It's important to deep-condition blonde hair every time you wash it. Leave-in conditioners and oils are great add-ons, too. Concentrate the product on your ends where it needs moisture the most. (Your roots are fine, honey because of your scalp's natural oils.)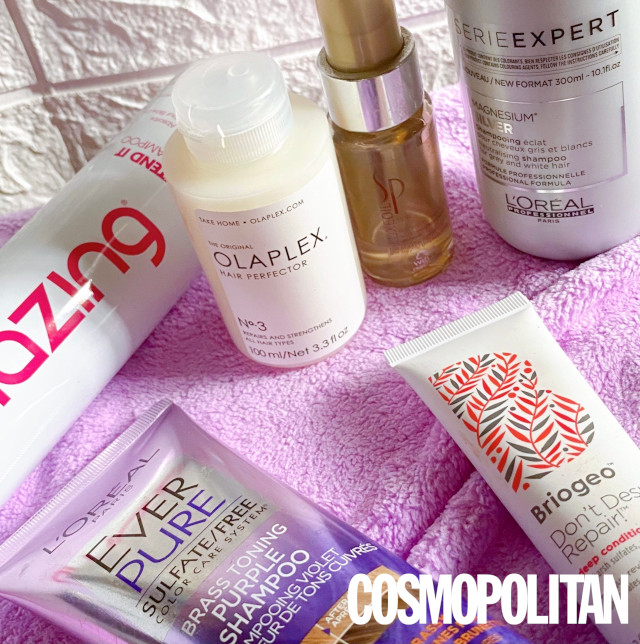 ADVERTISMENT - CONTINUE READING BELOW ↓
Another major factor: You need to stay away from sulfates that may strip away your locks' moisture and pigment. Look for shampoos and conditioners with sulfate-free formulas—we're very lucky there are a lot of options in the market now.
You need to tone it before you apply hair dye.
Asian hair has red undertones so bleached hair will naturally look brassy. You will need to neutralize this hue with a blue or purple toner. Some use hair toners while some use purple shampoo. I used purple shampoo to get rid of the brassiness. It took about two washes to achieve my desired ~*blondeness*~. When the brassy tones are gone, you can proceed to apply hair dye.
(Ed's note: You need to soak and wash with purple shampoo at least twice a week to keep the rusty undertones away.)
Check out the products that can help make your blonde ambition come true. Ahead, we round up the blonde hair starter pack:
ADVERTISMENT - CONTINUE READING BELOW ↓
IT'S A SIGN: GO BLONDE
10 Pinays Who'll Inspire You To Finally Get Blonde Hair
You Guys, Sue Ramirez Looks So Good With Blonde Hair
Best Products To Use To Get Blonde Hair At Home
Follow Ira on Instagram.
Follow Cosmo PH Beauty on Instagram.
***
We are officially on Viber! Be part of the Cosmo Viber Community by clicking here.
EXPLORE COSMO