How far are you willing to go for your K-pop idol? Some fans might buy all the merch their sweldo or spare allowance could afford. Some might even do a pilgrimage to music video filming sites. (Pre-pandemic, ofc!) Or, you could be *so* talented that you create unique makeup looks inspired by your faves!
For some Pinays and a few fanboys, they could go as far as dyeing their hair with a crazy color to channel the Hallyu star they stan! Thinking of doing the same? Get inspo and take notes from these Pinoy K-pop fans: 
Kristine Selga, 25
Peg: CL
"Dyed and cut my hair like CL because she's the baddest female and she'll always remain superior. I start feeling good about myself whenever I see her photos and listen to her music simply because she ~exudes~ confidence!"
Products used: Hybrid Colours' Bleach Don't Kill My Vb organic hair bleach set via Vibe PH from Shopee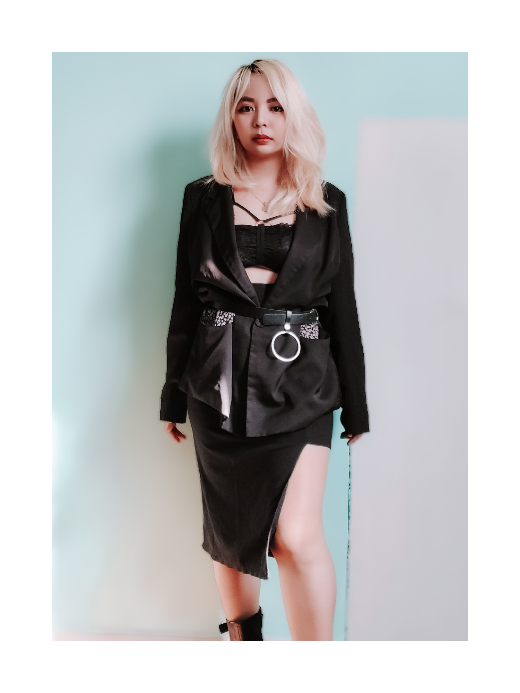 Eliz Ang, 23 
Peg: BTS' V
"I cut and dyed my hair silver because I am an ARMY, and I really loved V's 'DNA' era style. I went to the salon for the haircut and bleach. My base was around level nine then I dyed my hair at home to achieve the silver color." 
Continue reading below ↓
Recommended Videos
Product used: Lolane Pixxel's Very Light Ash Blonde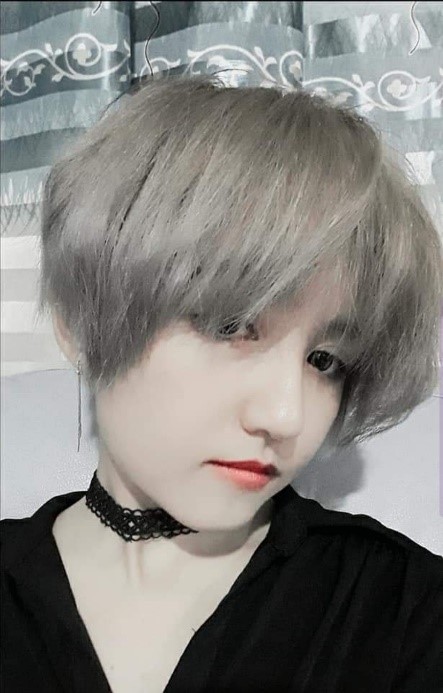 Frangelli Pangilinan, 23, 
Peg: BTS' V
"V of BTS during the 'Boy With Luv' era is my inspiration for this hair color. He is my first and ultimate bias. I really admire him as an artist and as a person." 
Product used: Hybrid Colours' Blue Moon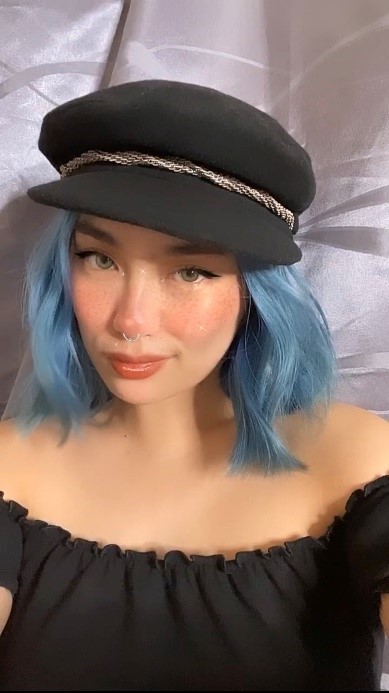 Carmel Aquino, 19
Peg: BTS' Jimin
"Jimin from BTS is actually my bias wrecker and I really loved his pink hair so much! He looks so ethereal and at the same time, sassy. #lachimolala" 
Product used: Merry Sun Cellowax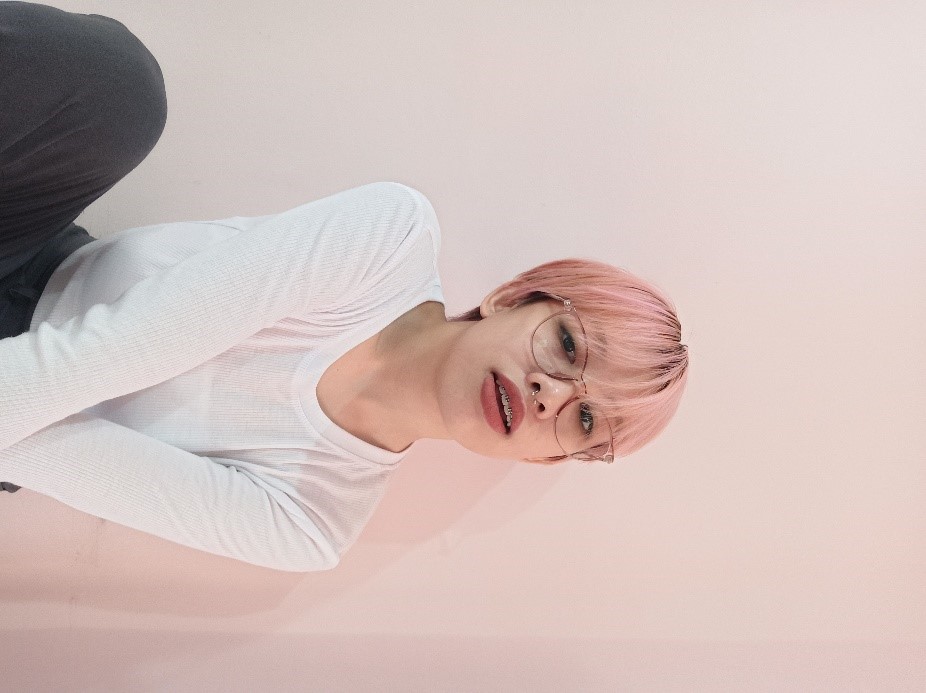 Ryle Rousewin Tejerero, 20
Peg: Sooji of G(I)-DLE
"Dyed my hair blue because of Seo Soojin during the 'Oh My God' era! She's my favorite member of G(I)-DLE."
Product used: Lightness Decolour bleaching powder with Colisi 9% oxidizer and Merry Sun Cellowax (blue with drops of pink and black).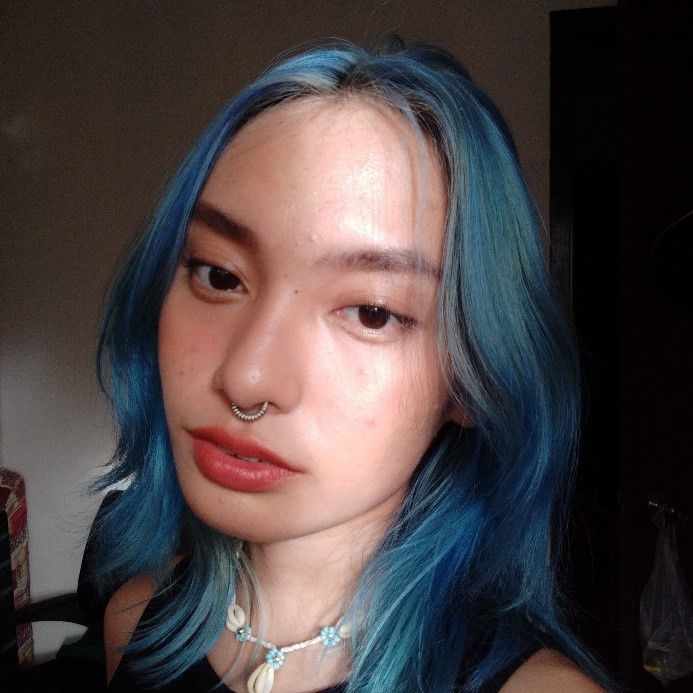 Liana Gomez, 21
Peg: EXO's Kai
"I dyed my hair neon green because of EXO's Kai's solo! Wala siya sa plan of colors ko for this year, although, [I have always considered] having flashy neon green hair. [The] original plan was to start with yellow hair, then the next color besides yellow sa color wheel so that transitioning will be easy. I was just waiting for my dye, kaya lang pagkanuod ko ng 'mood sampler' ni Kai, I was like, We have to match!' Did I mention I also have a mullet?"
Products used: Bleaching kits from Bremod and Hybrid Colours' and neon green dye from Siren Hair Ph on IG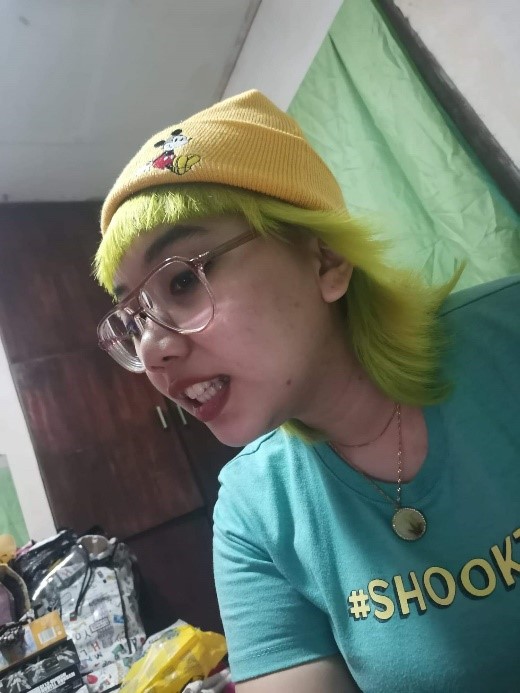 Kimberly Rose Galsim, 29
Peg: IU
"I decided to dye my hair bluish-purple because it looked so pretty on IU. It became my birthday hair color."
Products used: Hybrid Colours Greyed Violet and Merry Sun Cellowax Blue and Violet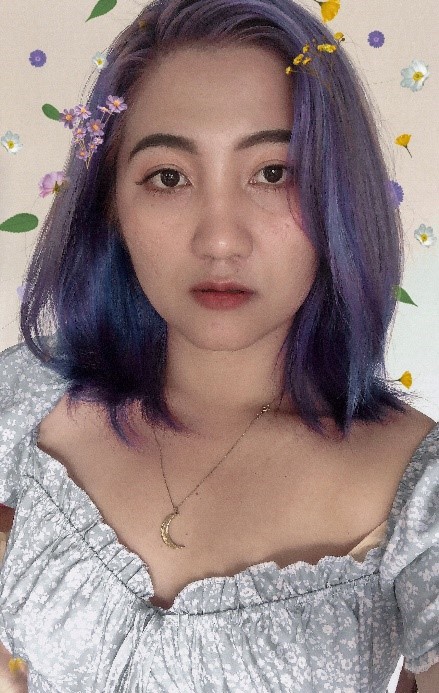 Sheena Ramos, 29
Peg: BLACKPINK's Jennie
"I got inspired by Jennie's hair in the 'Ice Cream' music video since it's so fun. Might not be accurately done but I think it's pretty close. To achieve this, my mom bleached my hair five times [and I used various shades of dyes.]" 
Products used: Merry Sun Cellowax Pink, Blue, and Purple (diluted with conditioner)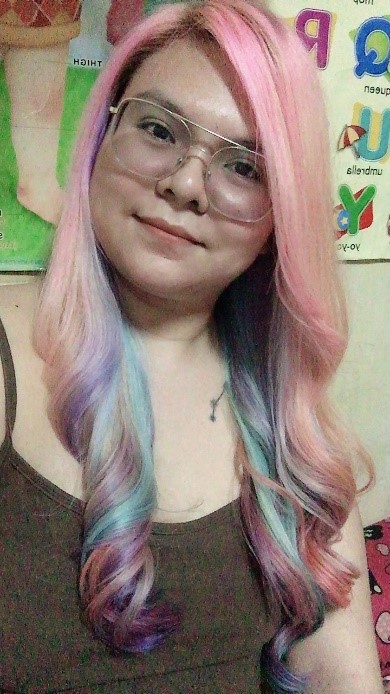 Kasandra Mendiola, 22
Peg: MAMAMOO
"MAMAMOO pushed me to color my hair. Look at their visuals—Amazing, just like their vocals! I was having a hard time deciding who will be my bias 'cause all of them look so beautiful and they are all talented. So, instead of choosing one, I decided to choose them all and copy all of their hair styles. I'm working my way from Solar (platinum blonde, 'Hip' era) to Wheein's blue hair in "Hip." 
Products used: Hybrid Colours' Bleach Don't Kill My Vb, Fanola No Orange Shampoo and Chellysells Purple Keratin Conditioner as toners, and Hybrid Colours' Magikal Dye (Grayed Blue)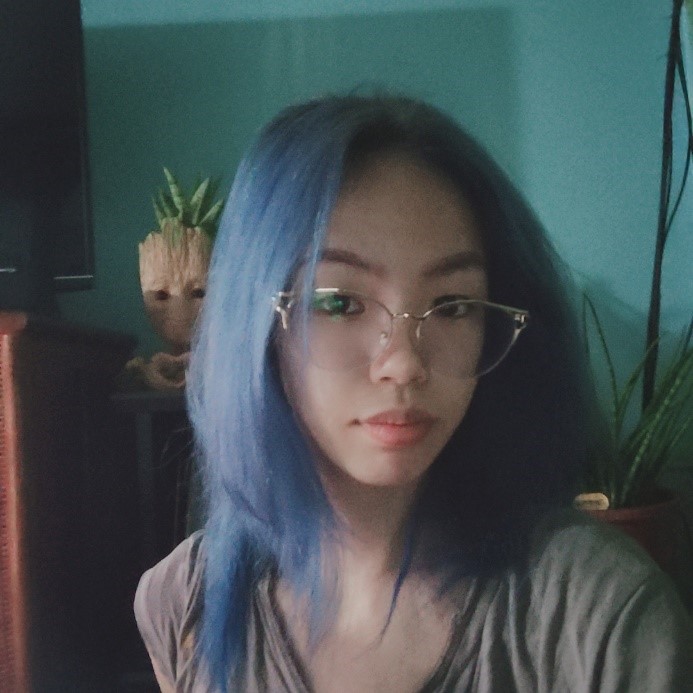 Gwen Laniwan, 22
Pegs: TWICE's Momo and BLACKPINK's Rosé 
"I have a big crush on Momo and Rosé—that's why I was really inspired to color my hair! I think Momo looks the best with her blonde hair and Rosé is breathtaking with her pink hair! It's always fun finding inspiration, and it gives you a little boost of self-confidence." 
Products used: Huenicorn's bleaching kit and non-bleaching kit (Beach Daze); Merry Sun Cellowax (pink, diluted with conditioner)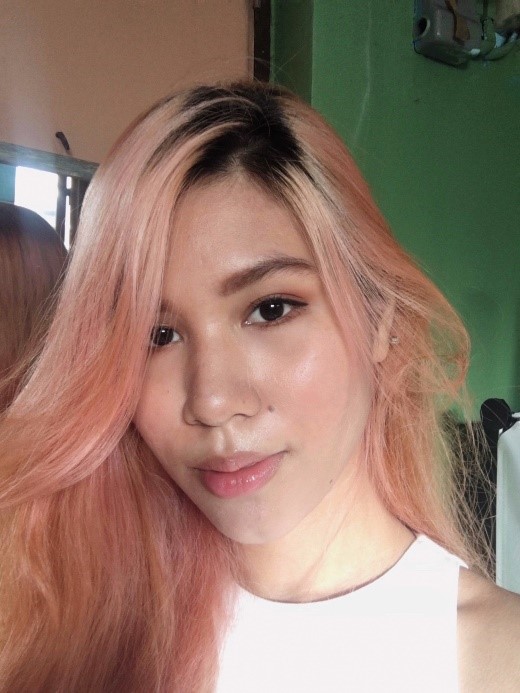 Kimberly Clark Hilapad, 23
Peg: TWICE
"Ever since college gusto ko na talaga mag-dye ng hair kaya lang bawal sa school, kaya sabi ko talaga sa sarili ko kapag naka-graduate ako magpapakulay ako ng hair. Parang rainbow lang, hehe! Super happy ako kasi super supportive ng parents ko sa sisiw journey ko and mom ko mismo tumutulong sakin magkulay ng hair. My inspiration sa pagkukulay ng hair is TWICE. Dahil super fan nila ako at feeling ko nakukuha ko yung vibes na meron sila. Bubbly and fresh at bagay sa kanila. I really admire TWICE since their 'Like-OOH AAH' era! And I love them. OT9 stan! Kaya kapag every comeback nila, I try my best to style my hair like them to show my support." 
Products used: Bleaching kits and dyes from Hybrid Colours and Huenicorn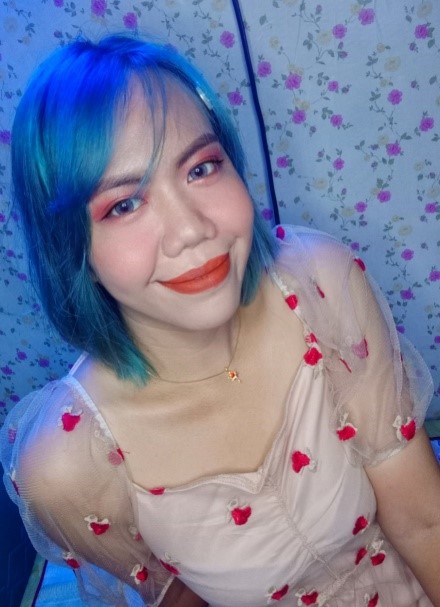 Summer Denise Vineza, 27
Peg: TWICE
"I love TWICE so much that when I finally learned how to dye my hair on my own last year, I made them my peg for the hair colors I did, as well as for my upcoming hair colors! For example, I dyed my hair like Sana because she's my ultimate bias and I love this peach-pink shade."
Products used: Bleaching kit from Hybrid Colours, badbtch.co Color Conditioner in Rose Quartz mixed with Coral, Merry Sun Cellowax Violet, Fanola No Yellow Shampoo (toner), and Hybrid Colours' Magickal Dye in Eclipse Gra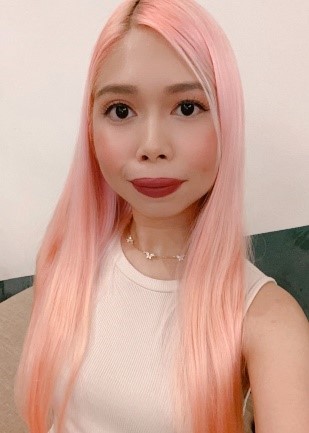 Traicy Martin, 19 
Peg: TWICE's Dahyun
"Kim Dahyun is my bias in TWICE and she is my inspiration for my hair journey. She would change her hair color every comeback, and every color suits her perfectly. Since we're on quarantine, I also tried if these different hair colors would fit me." 
Products used: Mondes bleach, Riyhanna's Color Conditioner in Magenta, and Merry Sun Cellowax Blue and Violet 

Samantha Isidro, 18
Peg: BTS
"Bangtan Sonyeondan—a K-pop group that I admire so much. They give me a lot of happiness, and I thought, why not match my hair with theirs? So I dyed my hair and used BTS as my inspiration. In a way, I express my feelings through my hair colors. I'm not yet halfway through all their colors but I'm excited to explore everything! 
Products used: Bleaching kits from Bremod, Mondes, and Hairfashion Decolour Powder; Huenicorn ready to dye in Merlot, hairpaintmnl Paint Pot in Ultraviolet, badbtch.co Dye Btch color conditioner in Rose Quartz, quarantonesph Colorganics in Blueberry, Merry Sun Cellowax Blue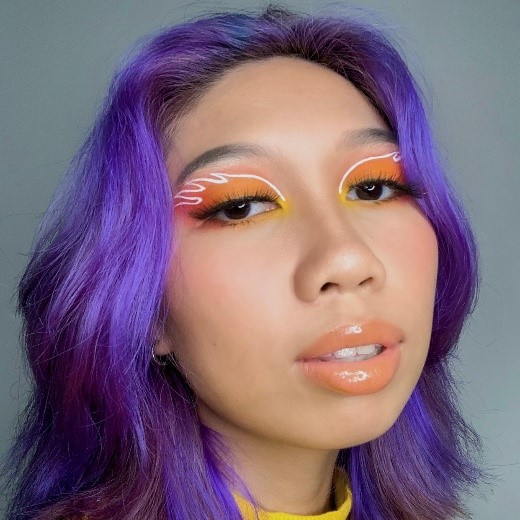 Gie Borres, 28
Peg: BLACKPINK's Rosé
"My hair journey is inspired by Park Chae Young (a.k.a. Rosé). I have been a huge fan of K-pop since the 2nd gen era, but I found myself drawn to Rosé of BLACKPINK more and more as days went by. In a way I can't even describe, she made me sane and extremely happy in these trying times." 
Products used: Hybrid Colours' Bleach Don't kill My Vb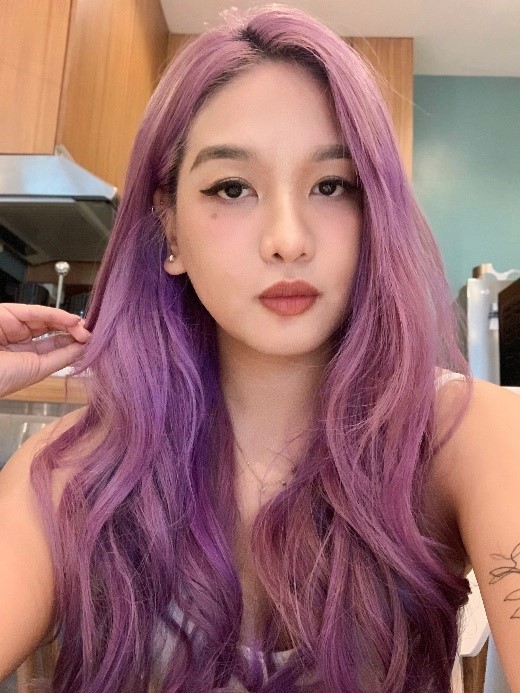 Mark Ongtengco, 21
Peg: Kim Woo Seok
"I'm a big ONE IT. This hair color of Woo Seok challenged me to finally change my hair color from black to pink! I heavily diluted my dust pink dye to achieve that light ashy pink hair just like Woo Seok." 
Products used: Bleaching kits from Bighari and Hybrid Colours, Tresemme Blonde Brilliance as toner, and Hybrid Colours' Dust Pink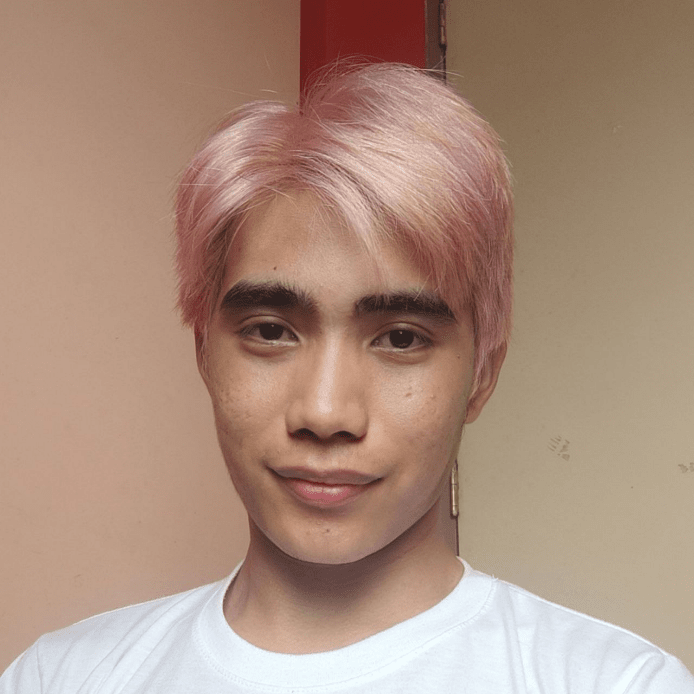 Gian Nazario, 27
Peg: EXO's Sehun
"When quarantine started, I wanted to change my hair. I had no idea what color to do because I feel like I've done it all. So I said, 'Hey! Let's do more than one! Or two? Or three!' And I remembered Sehun and his multicolored hair! It's not the exact copy but it's basically the same concept. This hair color means a lot to me because it helped me step out of my creative comfort zone." 
Products used: Manic Panic's Electric Banana and Technicolors' Ariel and Aquamarine (diluted with Cream Silk Hydra Fresh Conditioner)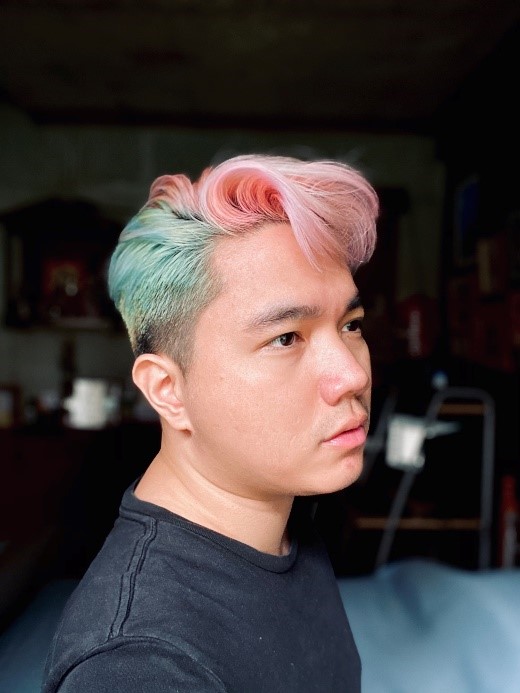 Bonus: Jamela Reginaldo, 24
Peg: Pony (We know, we know. She's not a K-pop idol, but we consider her our beauty idol!)
"I've been a fan of PONY's makeup from the beginning. She became my makeup and hair inspo. Her style, her face, her beauty is just perfect! When I saw this pic of her, I didn't hesitate to try it!"
Products used: Hybrid Colours' Rose Quartz mixed with Lilac Moon?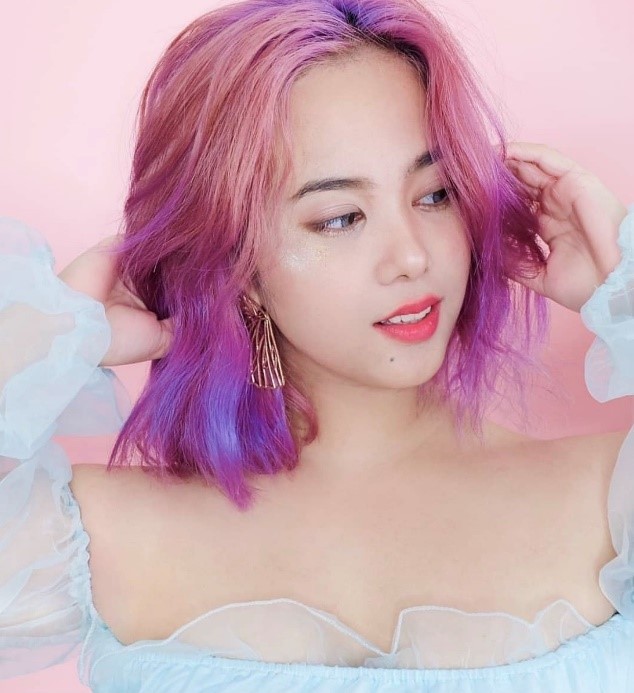 Follow Ginyn on Instagram.
K-UPDATES