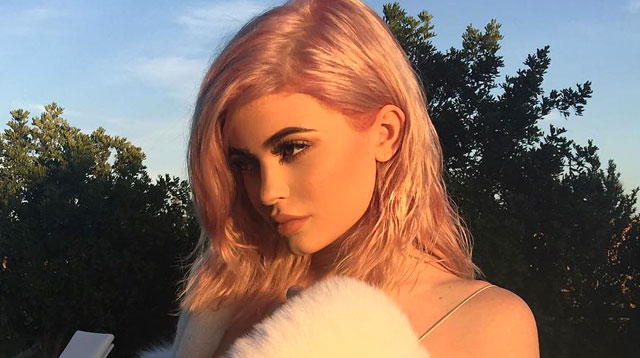 Nothing screams "change" like a new dye job, and that's exactly what Kylie Jenner just did! In early September, the 19-year-old reality TV star went from deep brunette locks to a full-on platinum blonde hue, just in time for Fashion Week.
So it was only a matter of time before this trendsetter set her sights on something else—in this case, dreamy rose gold hair! Kylie unveiled the color update on her Instagram account, and we've already added this look to our beauty bucket lists.
Popsugar previously reported that rose gold hair will blow up during the -ber months, so it's very much like Kylie to test the trend before everyone else jumps on it.
According to colorist Tamara DeFelice of New York's Butterfly Studio Salon, "For a modern touch, keep most brightness around the face while staying a bit deeper in the roots throughout the crown." She added, "Concentrate highlights around the middle to ends of the hair. This keeps maintenance lower, and adds instant depth to the look."
Oh, and us dark-haired ladies can totally pull off this look, too! "This color will accentuate the peach and gold tones in women with warmer skin tones," DeFelice explained. A hair color that will emphasize glowing Pinay skin? We're sold.
Follow Patricia on Instagram.
Recommended Videos