For many Pinays, having long and straight locks is the *ultimate* hair goal. The heavily-saturated market of shampoos and conditioners in the country, whose ads all feature models with sleek tresses, further reinforce this idea. This is one of the reasons rebonding remains to be a popular treatment that most, if not all, salons offer. And while there is nothing wrong with doing whatever you want with your tresses, it's this belief that's toxic: Having long, straight hair is the be-all and end-all of beauty and that any other hair texture is considered "ugly."
For 21-year-old nursing student Shasha Patricio, who was born with curly locks, society's obsession with long, straight hair was her main source of insecurity for many years. Until one day, she decided she was going to stop conforming to beauty norms and instead, embrace her natural hair texture.
The process of growing out her rebonded hair to embrace her natural curls was not an easy one, but she shared that it was the best decision she has made so far. In her now-viral Facebook post, Shasha recounted her hair journey experience. Read more about it below:
Shasha shared multiple pictures of her hair—from rebonded to its naturally curly state, and the dramatic transformation garnered 44,000 shares as of this writing.
Continue reading below ↓
Recommended Videos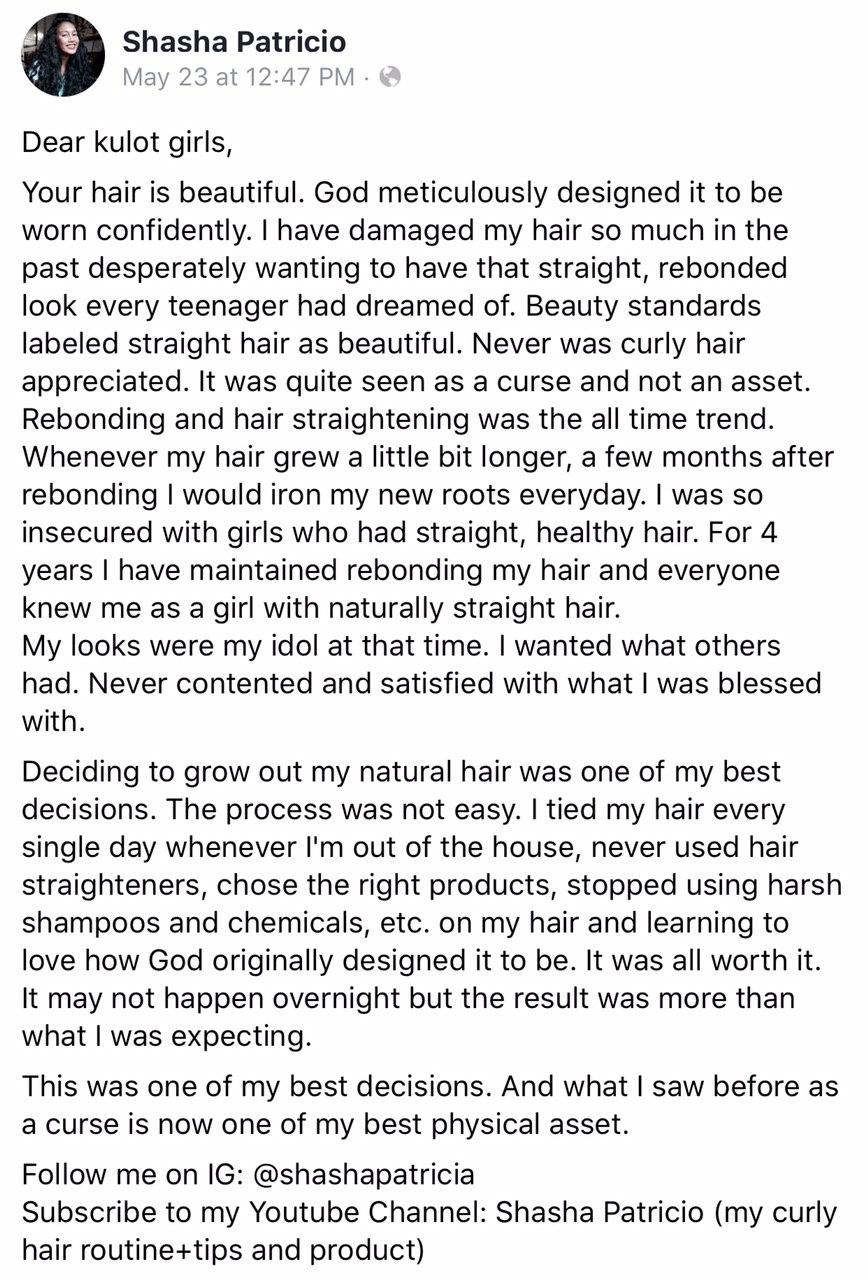 In her caption, she penned a letter to all the curly-haired girls out there about how she was able to embrace her mane's natural texture:
"Dear kulot girls,
Your hair is beautiful. God meticulously designed it to be worn confidently. I have damaged my hair so much in the past desperately wanting to have that straight, rebonded look every teenager had dreamed of. Beauty standards labeled straight hair as 'beautiful.' Never was curly hair appreciated. It was quite seen as a curse and not an asset. Rebonding and hair straightening was the all-time trend.
"Whenever my hair grew a little bit longer, [a few months after rebonding] I would iron my new roots every day. I was so insecure with girls who had straight, healthy hair. For four years, I have maintained rebonding my hair. Everyone knew me as a girl with naturally straight hair.
"My looks were my idol at that time. I wanted what others had. Never contented and satisfied with what I was blessed with.
"Deciding to grow out my natural hair was one of my best decisions. The process was not easy. I tied my hair every single day whenever I [was] out of the house, never used hair straighteners, chose the right products, stopped using harsh shampoos and chemicals, etc. on my hair and learning to love how God originally designed it to be. It was all worth it. It may not [have happened] overnight but the result was more than what I was expecting.
"This was one of my best decisions. And what I saw before as a curse is now one of my best physical assets."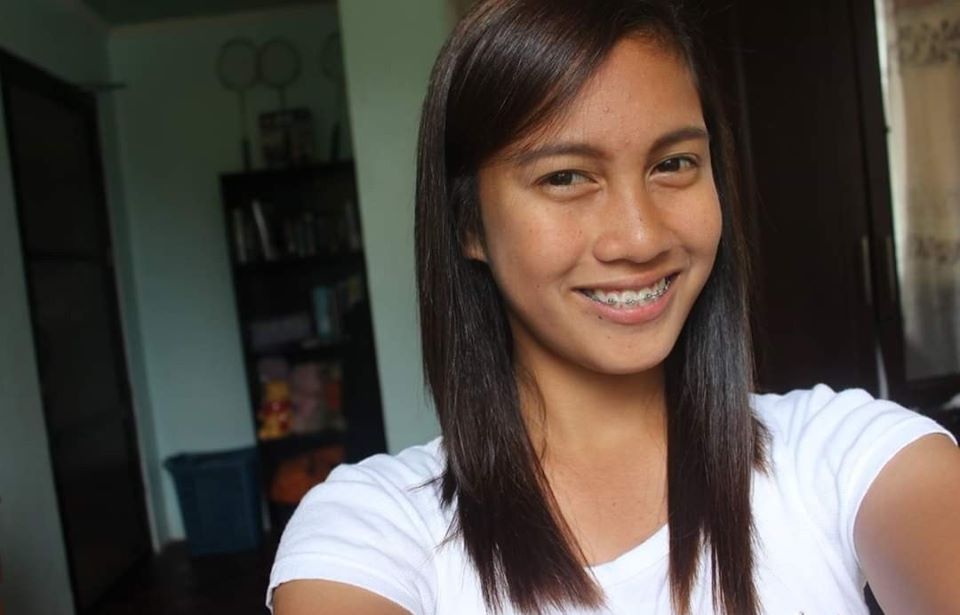 In an interview with Cosmopolitan Philippines, Shasha shared that the reason she decided to post her hair journey online was because of how radical her transformation has been. "I looked at my old photos and saw a big difference in my appearance. My hair drastically changed when I finally decided to grow it out, so I wanted to share it with everyone."
What she didn't expect was the overwhelming amount of support she received. The 21-year-old got tons of messages asking for her routine and sharing their experiences as well. This made her realize that more and more people are learning to embrace their natural hair texture.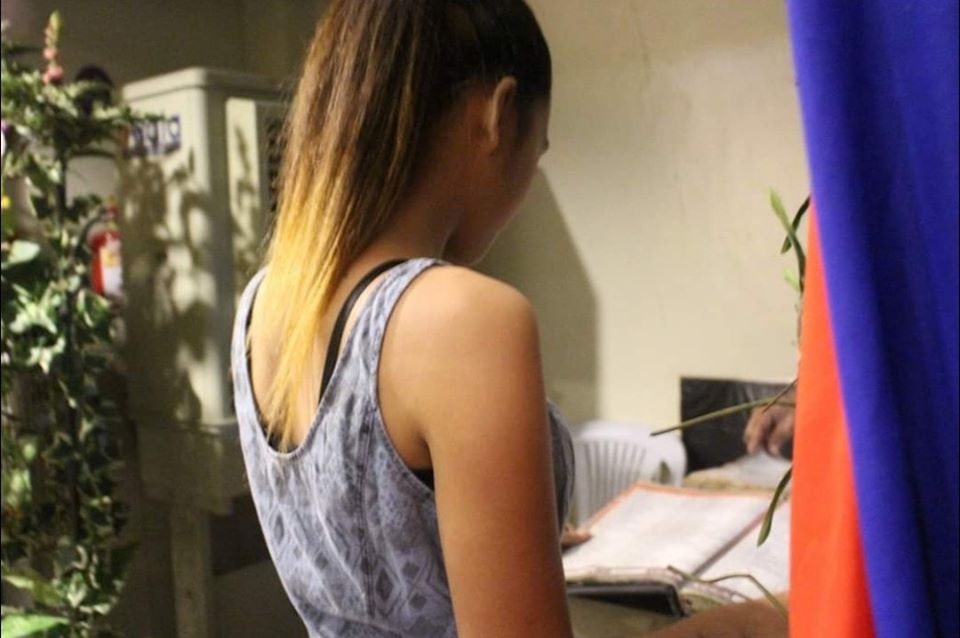 Of course, it wasn't easy undoing the damage that four years of rebonding did to her tresses. Shasha explained that she constantly braided her hair or styled it in a bun or ponytail as it grew. When it finally reached shoulder-length, she chopped off the chemically-treated parts and never looked back.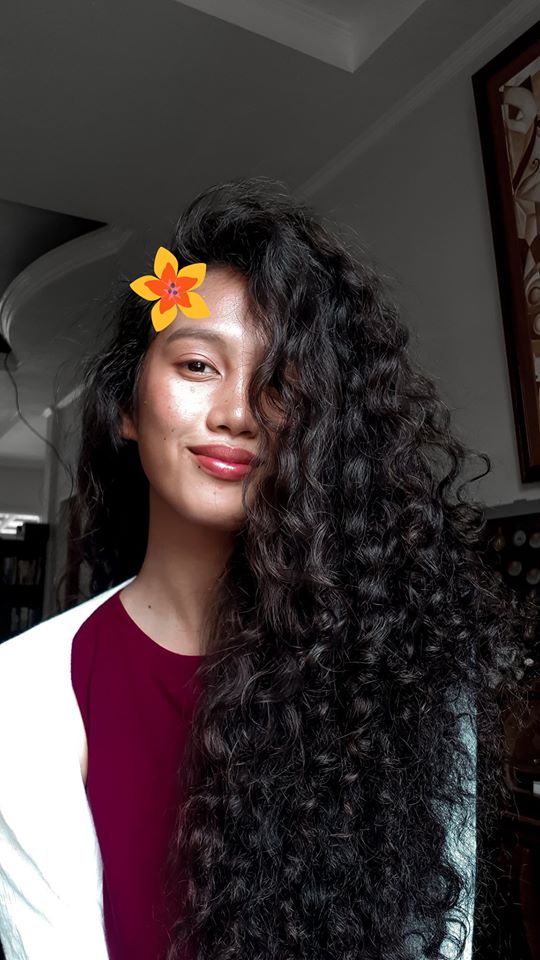 Since then, she has been following the Curly Girl Method (CGM) to maintain her pretty curls. "I'm currently using the Shea Moisture Curl and Shine shampoo, plus the Manuka Honey and Mafura Oil conditioner. To style it, I use Cantu curling cream and MopTop gel." She also alternates these with the Zenutrients conditioner, Nanny Rose shampoo, and Bench Fix Gel. She shared that all the products she uses are readily available in Watsons and the Skin and Curls store on Shopee. (Check out her full hair care routine here!)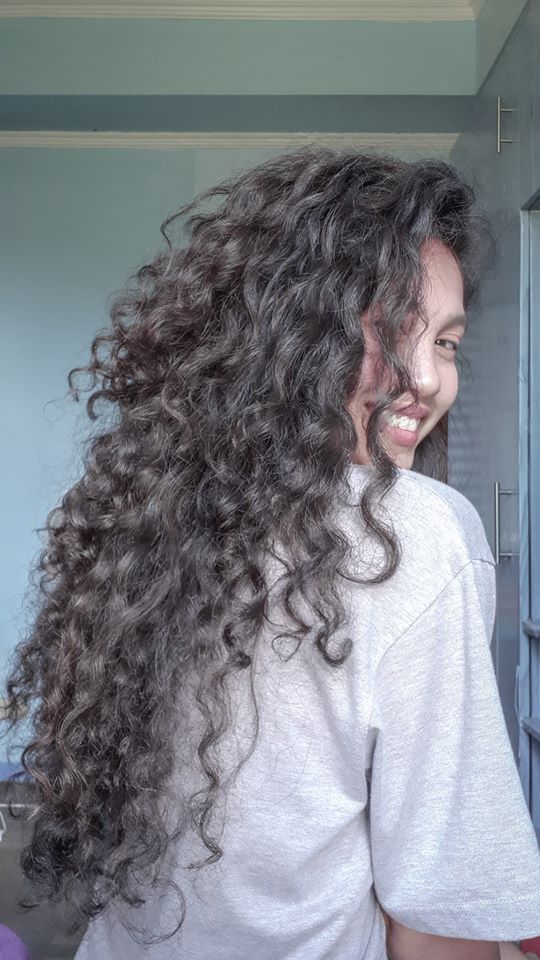 When asked about her advice for people who are in the middle of the process of embracing their curls: "Never compare your hair journey to others. Instead, learn from them. Don't be afraid to ask and do research about your hair type and texture," the 21-year-old stated.
*Answers have been edited for clarity.
Follow Cheska on Instagram.
Follow Cosmo PH Beauty on Instagram.
***
We're officially on Viber! Be part of our growing community and subscribe to Cosmopolitan Philippines now!