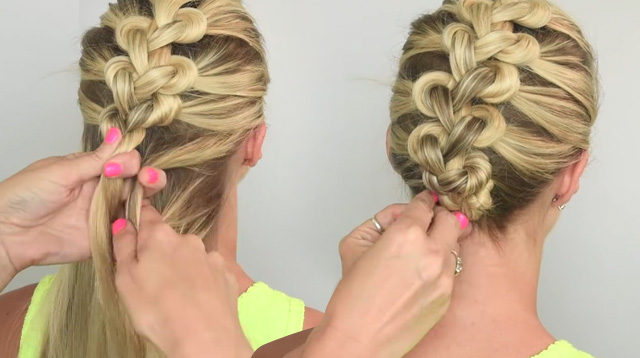 Celebrity hairstylist Sarah Potempa created this gorgeous braid for BuzzFeed and I couldn't be more obsessed—and think you will be too.
[fb:https://www.facebook.com/BuzzFeedStyle/videos/907991965959697/:fb]
Here's how to do it (it's as easy as pie, FYI, so don't feel overwhelmed):
Start with a triangular section of hair from your hairline back to your crown, just like you would with a French braid. Next, separate that section of hair into two pieces and tie a knot. Then, once the knot is tight, hold the two ends in your right hand and pull another piece of hair from the left side of your head, and create another knot with that piece and the section you were already holding in your right hand.
From there, hold the ends of the two pieces of hair you just knotted in your left hand and grab a section from the right side of your head to create another knot. Continue knotting, alternating from which side of your head you draw hair, all the way to your ends. Voilà—you've just knot braided your hair!
Mesmerizing, isn't it?!
***
This article originally appeared on Cosmopolitan.com. Minor edits have been made by the Cosmo.ph editors. 
Recommended Videos