What you choose to do with your pubic hair is up to you, but sometimes it helps to know what options you have to pick from. Enter: the landing strip. While it might share the same name as an airport runway, the pube version of the landing strip serves only a decorative function. Here, Melanie Coba, European Wax Center National Brand Ambassador, breaks down everything you need to know about the landing strip.
What is it?
A landing strip is a strip of pubic hair left on your mons pubis after waxing or shaving the rest off. The most popular styles for landing strips are a thin strip of hair, about one or two inches long, or a small triangle of hair.
What function does it serve?
If you wanna go bare but not be completely hairless, the landing strip is like saying, "Hey there, I am capable of growing pubic hair, I just don't have it right now." Coba says that some women attribute their preference to a landing strip to wanting to look or feel like a grown woman.
Do you have to ask for one?
Yes, you'll have to specify you want a landing strip. Otherwise, the default is to go completely bare. Speak up, or forever (okay, temporarily) lose your pubic hair.
Continue reading below ↓
Recommended Videos
How popular is it?
Coba estimates that one in ten women who gets a bikini wax wants a landing strip. Otherwise, she says the overwhelming majority of women prefer to remove everything.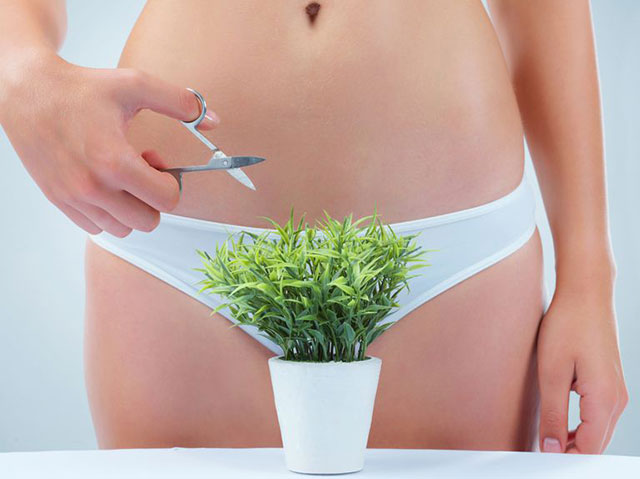 How do you get one?
If you're opting for a wax, you don't have to do much more than ask for a landing strip to get one. Coba explains that at European Wax Center, the wax specialists do not use a template to achieve the shape. They instead wax around the hair, and lay the wax strip so that a little hair is left behind. A sign of a good landing strip has lines that are perfectly straight, with a patch of hair that's a quarter-to a half-inch wide. If you opt for a triangle, it should also be perfectly centered. The hair on the landing strip is also trimmed down to between a quarter inch to half inch, depending on your preference.
Coba says it gets easier with time to see how to shape the landing strip, because hair that's been waxed off grows in differently. Those who have been waxing for a while will notice that the hair that grows back tends to be thinner and more sparse, compared to the landing strip.
If you'd rather skip a wax and do this at home, Coba also says it is possible to give yourself a landing strip through shaving–though it'd be much more tedious. You could always free-hand it, or get specially designed templates online for this very purpose.
Follow Carina on Twitter.
***
This article originally appeared on Cosmopolitan.com. Minor edits have been made by the Cosmo.ph editors.