While dry shampoos have slowly crept into the Philippine beauty market, many Pinays are still dyahe to use them. We get it: it just feels weird kapag hindi ka naligo, but dry shampoo is definitely a product worth trying.
What is it? 

Dry shampoo is made of very fine powder (usually white) that you can spray or dust onto your scalp. Most brands come in aerosol and powder form, and both formulas soak up excess oils from your scalp in between washes.
What do I do with it? 
A lot, actually!
Try to give your locks time to breathe and don't shampoo every day. On days when you don't wash your hair, sprinkle or spray on dry shampoo to keep your tresses from greasing up. 
If you use hot tools to style your hair, dry shampoo helps your curls/straightened hair last longer.
Dry shampoo is also very handy when it comes to traveling, whether you're heading to the beach or going to a cold vacay spot.
How do I use it?
You can only use dry shampoo on dry hair. Never use it on wet or damp hair, or you'll end up staining your roots and turning them white. For the proper way to apply dry shampoo, read this. Some hairstylists would suggest applying dry shampoo before going to bed at night—that way, you don't get a weird-looking, white scalp.
Continue reading below ↓
Recommended Videos
Cool, any suggestions?
Absolutely. Below are some of our favorite dry shampoos that will keep your hair healthy and oil-free.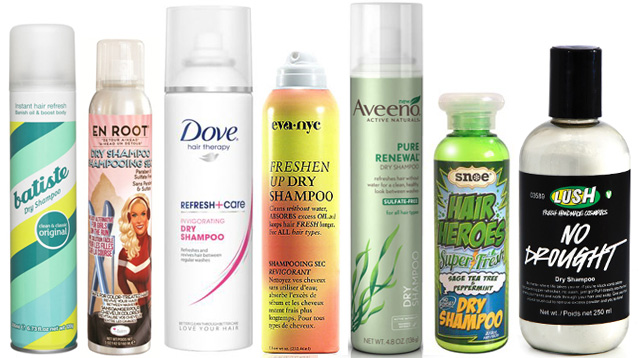 Batiste Original Dry Shampoo,  The Balm En Root Dry Shampoo, Dove Invigorating Dry Shampoo, Eva Nye Freshen Up Dry Shampoo, Aveeno Pure Renewal Dry Shampoo, Snoe Hair Heroes Dry Shampoo, Lush No Drought Dry Shampoo
Follow Retty on Twitter.