Today (November 23) is the official opening day of Innisfree, a well-loved Korean beauty brand, in SM Mall of Asia. You know what this means? No need to hoard their products (or ask your friends to do so) whenever you go abroad!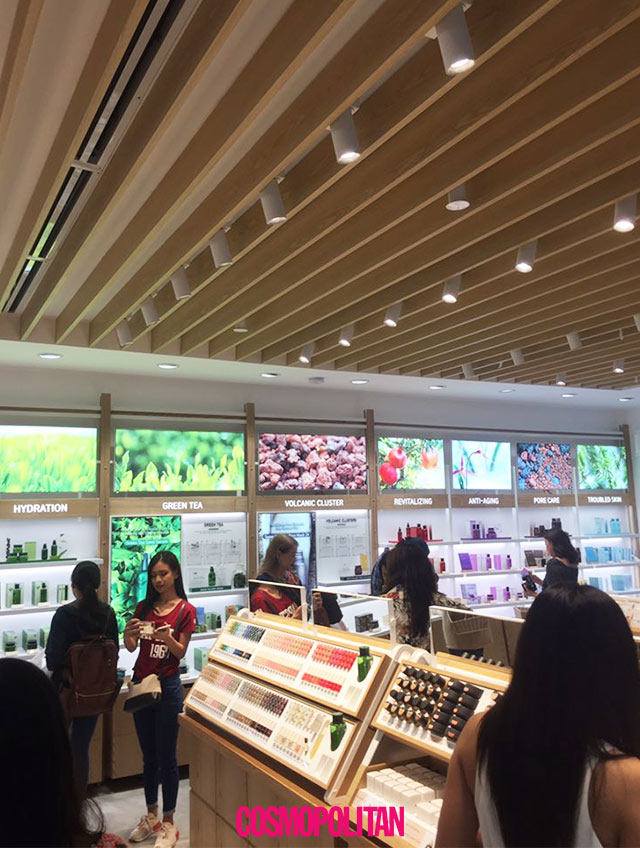 Their retail space at SM Mall of Asia is huge, and it carries a ton of skincare, makeup, beauty tools, and even home fragrances. The sales associates are very accomodating, too, so you'll never be intimidated. And naturally, when we were there, we couldn't help but sorta, kinda buy a *few* things. 
JILLIAN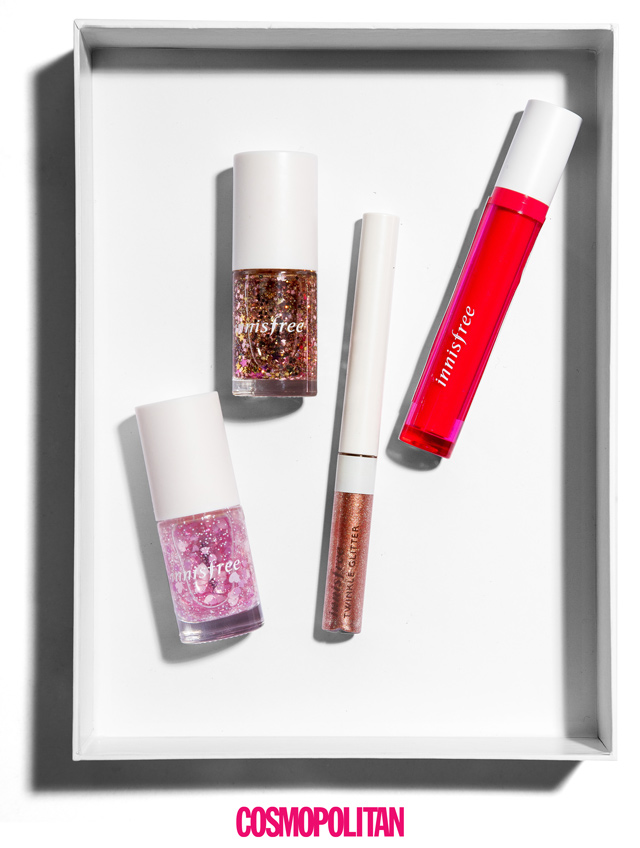 Continue reading below ↓
Recommended Videos
Innisfree Twinkle Glitter in Star Twinkling Rosy, P550
I thought this was an eyeliner, but when I asked one of the Innisfree staff members, she said it was for the lower lashline! I tried it too on the inner corner of my eyes, and it totally opened up my peepers. It's an instant pick-me-up on days you want to be ~*extra*~. A must-try for glitter makeup newbies, because the applicator with its tiny brush gives you control, vs. a glitter pot with loose product.
Innisfree Vivid Oil Tint, P690
My favorite product so far, this lip oil goes on glossy then sets to a transfer-proof (aka kiss-proof!) tint. The formula feels like a balm on the lips, and has the perfect texture and color payoff for a gradient look. I can imagine wearing this during workouts, too!
Innisfree Real Color Nail in 18 (pink glitter) and 75 (copper glitter), P180 each
The large heart-shaped specks of the #18 polish are the perfect finishing touch for a textured nail look, while the copper and blush glitter in #75 can be worn alone or layered as well. These two are guaranteed to give your OOTDs that much-needed sparkle during the holidays!
IRA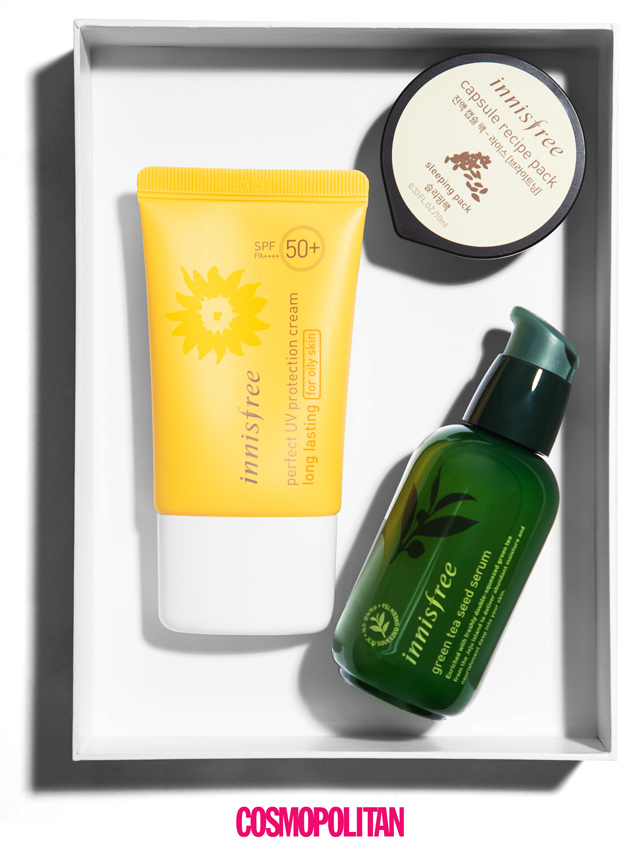 Innisfree Long-lasting Sunscreen for Oily Skin, P950
It's hard to find a sunscreen that will last on oily skin without feeling sticky. I immediately got this tube from the shelf because its label says everything I've been looking for in a product: It's long-lasting, has high SPF, and made for my skin type.
Innisfree Capsule Rice Sleeping Pack, P135
I bring facial masks when I'm away from home to substitute the ~gazillion~ products I usually use. A mask saves space and shaves minutes off my skincare routine. This sleeping pack has compact packaging ideal for traveling, and it promises to hydrate and keep my skin clear of blemishes—now that's a double win!
Innisfree Green Tea Seed Serum, P1,450
This is the brand's number one best-selling product so I just had to get a bottle for myself. Its lightweight gel formula can hydrate and balance the oil-mositure level of my complexion.
TISHA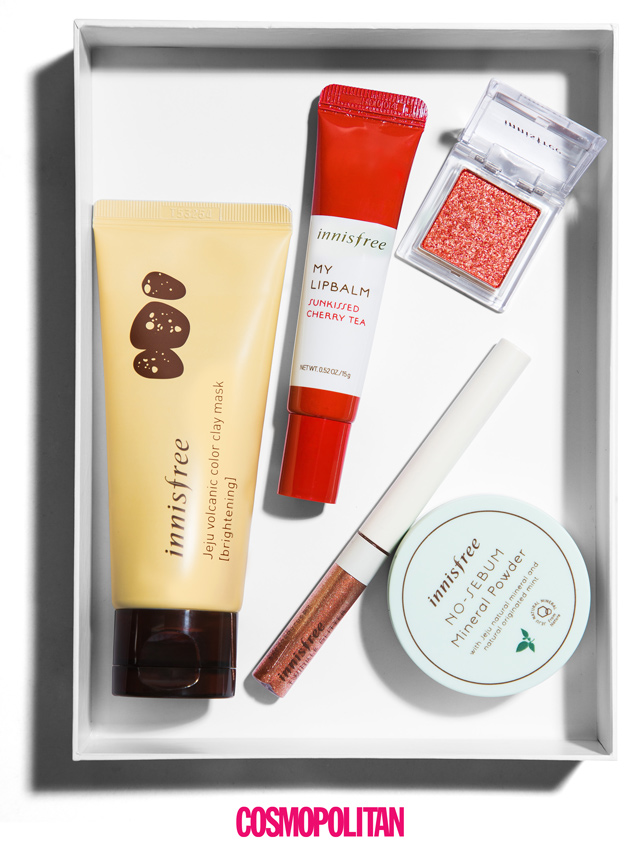 Innisfree My Lip Balm in Sun Kissed Cherry Tea, P690
Not going to lie, what sucked me into buying this lip balm was its packaging. It's so sleek and pretty! Plus, it also helped that when I swatched this, the quality of the balm was really nice—lightweight, non-sticky, and with the perfect amount of red tint.
Innisfree Volcanic Color Clay Mask in Yellow (Brightening), P550
Another product that made me buy it for the packaging, sorry not sorry. But honestly, I'm excited about this because I've been on the hunt for an affordable clay mask that's travel-friendly, purifying, and brightening. 
Innisfree No Sebum Mineral Powder, P390
My friend once told me that her nose doesn't get oily anymore because she wears this every day. I trust her judgment of beauty products (and the fact that so many people have been raving about this for years), so when I went in the store, I picked it up immediately!
Innisfree My Palette Eyeshadow Glitter in 15, P390
Whenever I want intense, shiny eyelids, I often have to layer two or three eyeshadows to get the desired effect. This is why I got this peachy, glittery eyeshadow: It's pigmented, creamy, and didn't have a lot of fallout!
Innisfree Twinkle Glitter in Star Twinkling Rosy, P550
I didn't actually know that this "eyeliner" was for the lower lashline, but I was just so amazed at how pigmented it was. It's hard to find a quality glitter eyeliner that's also affordable. Whatever it's really for, I can't wait to layer this over my winged eyeliner!
CHARLENE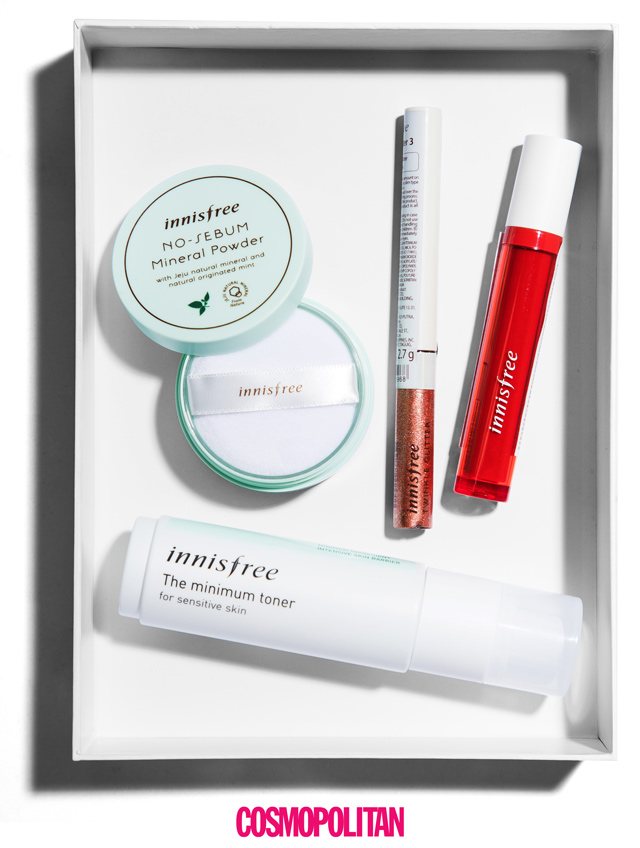 Innisfree No Sebum Mineral Powder, P390
I've used this before and it keeps my t-zone oil free. Apply with a brush for best results!
Innisfree Twinkle Glitter in Star Twinkling Rosy, P550
I'm always on the look-out for unique eyeliners. This one lays on the glitter thick—just the way I like it.
Innisfree Vivid Oil Tint in #4, P690
My lips are almost always dry, which is one reason [I've been] been sticking to balms recently. This hydrates my lips just right and the tint stays on, too.
Innisfree The Minimum Toner, P450
Toner for sensitive skin? Always a definite buy, especially since the skin around my mouth is prone to flaking and sudden breakouts.