No matter where we go, whether it's hot or cold, there's always one makeup product we never fail to apply on our faces: highlighter. We're obsessed with bathing our cheekbones, browbones, nose bridges, and cupids' bows in shimmers and sparkles—it's the only way to get them to pop!
So when we got our hands on Colourette's newest highlighter, Shimmertints, we had to try them as we have yet to discover a liquid highlighter that actually lasts on our complexions for a whole day.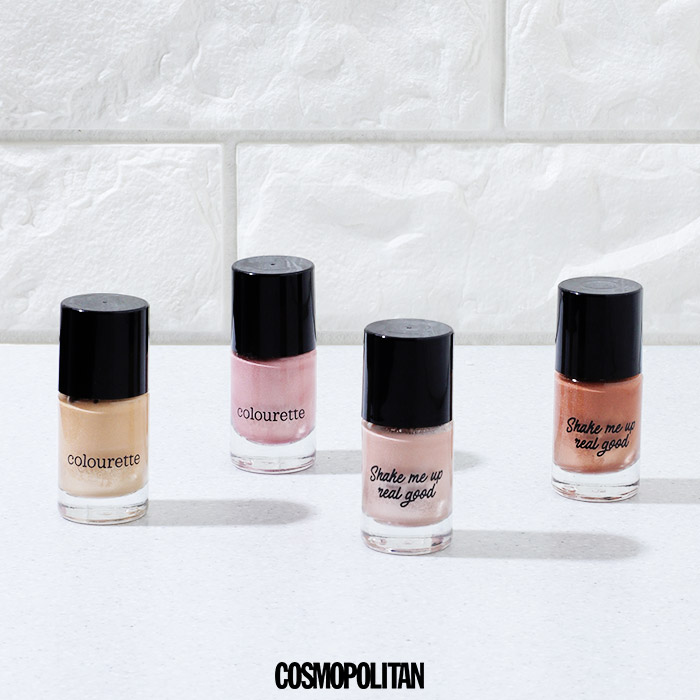 What are the Colourette Shimmertints?
Shimmertints are basically the liquid highlighter equivalent of the Colourette Face Glosses. These multi-purpose liquid drops of shine are part of the brands' "tint" collection, which is made up of the famous lip, eye, and cheek tints: Colourtints and Contourtints. It smells like vanilla candy that's never overpowering. The fragrance is so subtle it will only hit once the bottle is opened.
ADVERTISMENT - CONTINUE READING BELOW ↓
Shimmertints, like its sister products, claim to be lightweight, blendable, and give complexions a ~*healthy glow*~. There are four concentrated shades in the range, all of which can complement a multitude of Filipina skin tones:
Crystal Prism - A cool-toned champagne hue that is the most metallic from the four colors. 
Yellow Diamond - This warm yellow gold will brighten up any complexion.
Rose Quartz - A baby pink shade which can be used as a topper for blush for extra radiance.
Tiger's Eye - This molten bronze shade will give morena and deeper complexions a nice dewy appearance. It works great as an eyeshadow, too.
How to use
Shake the product well before opening it as the ingredients tend to separate.
Gently twist the cap open and rub excess product off from the tiny brush.
Either swipe or dot on the liquid on the high points of your face.
Blend the product on your skin using your fingers or a brush!
Ingredients
White Beeswax, Isododecane, Polydimethylsiloxane, Duocrome RY 224C, Argannia Spinosa Kernnel Oil, Flavor
Price
P349 each; P1,299 for all four
Where to buy
Lazada, SM Megamall, SM North EDSA, Landmark Trinoma, SM Makati Department Store, Robinsons Department Store Metro East, Market! Market!
EXPERIENCE
Ira Nopuente
Product Tested: Colourette Shimmertint in Crystal Prism
When I saw Colourette's Shimmertints, I was immediately drawn to Crystal Prism because it was the ~glowiest~ out of all the four. I'm a big fan of blinding highlighters, but I just have one quirk: I hate it when it becomes too metallic that it starts to look unnatural. 
As soon as I placed tiny dots on top of my cheekbones, I was impressed with its formula. It's lightweight and blendable with just my fingers. And although it's the most intense shade, it does not have an extremely fake metallic finish. You can never overdo it because it easily diffuses on my warm toned complexion. I like it best when I apply it on bare skin, because my face looks naturally glowy, sans dewy foundation.
I wore it at the gym and at a music festival—both sweat-inducing locations. I was blown away with how my cheekbones looked like a glazed donut the whole time. There was even one time when I used it as a base for my powder highlighter, and oh boy, my cheekbones POPPED!
The only con I could think of is I would have to shake the bottle vigorously before application. But I think that's pretty minor if you think about its glowing effects and affordable price tag.
ADVERTISMENT - CONTINUE READING BELOW ↓
It reminds me of:
Benefit High Beam, P1,720, Glorietta
Pixi By Petra Glow-y Gossamer Duo in Delicate Dew, P1,050, SM Beauty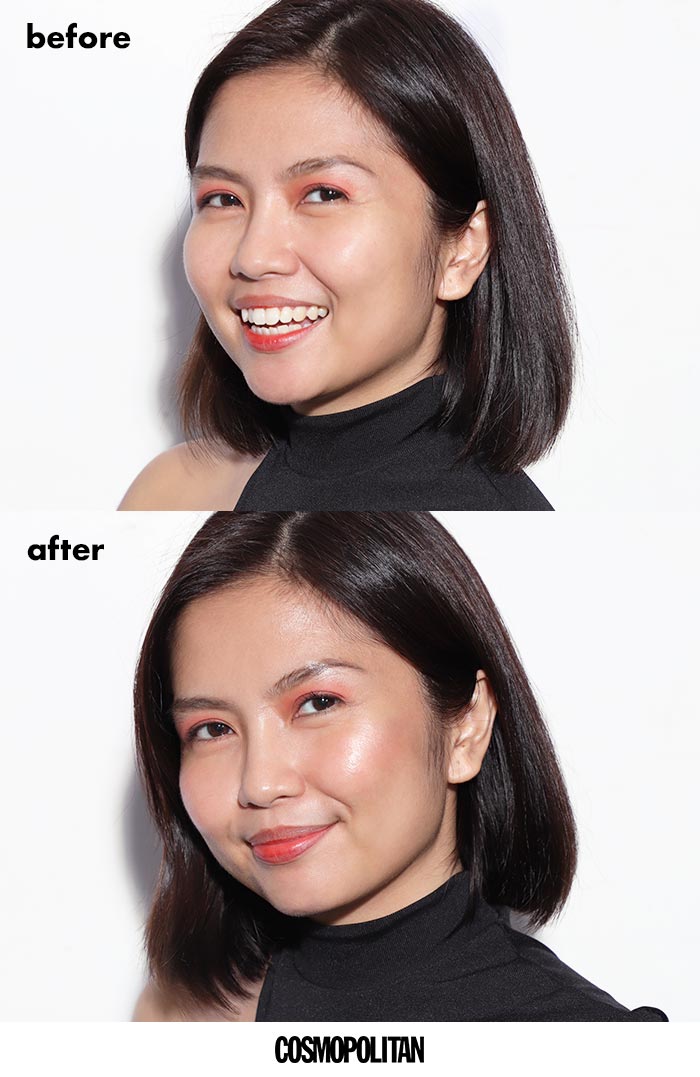 Tisha Caedo
Product Tested: Colourette Shimmertint in Yellow Diamond
I was hesistant to try this shade because I thought it would end up looking like Fenty Beauty's Trophy Wife, which is gorgeous, but wouldn't exactly suit my medium skin tone. To my surprise (and relief), Yellow Diamond ended up looking like a sheer yellow gold hue on my cheekbones. One swipe delivered a natural-looking sheen, but after three more layers, I glistened like a disco ball, or as I like to call it: sweaty-but-chic!
I love how it has a buildable formula that doesn't emphasize my pores or blemishes and it sets so it stays on THE WHOLE DAY, even when I accidentally wipe my hand on my face. But for all those lovely things, there is one con: I have to shake the bottle all the time! For some reason, the product's formula separates after a few minutes, so when I have to go back in and re-apply a second or third time, I have to shake it all over again.
It reminds me of:
Happy Skin Yes I Dew! Fresh Glow Highlighter, P499.50, Glorietta
Becca Shimmering Skin Perfector Liquid Highlighter in Prosecco Pop, P2,077, Sephora
Make Up Factory Art of Glow Stick in 05 Golden Sheen, P1,295, SM Beauty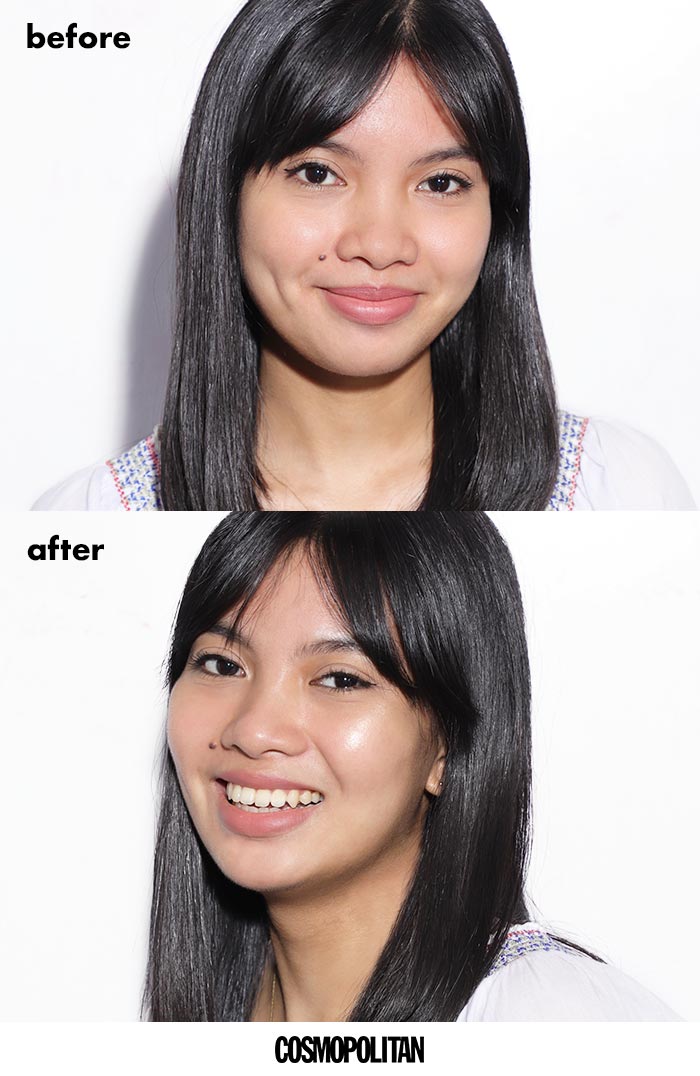 Are the Colourette Shimmertints worth it?
Definitely! For the price, we get so much product in one bottle. We were also able to use it on our lips as a lipstick topper. We also applied it on our eyelids to brighten up our peepers and to give our eyeshadows extra *oomph*. All the shades in the line are versatile, so we often switched colors, depending on our mood.
ADVERTISMENT - CONTINUE READING BELOW ↓
Plus, we love how it has a non-sticky and long-wearing formula—two things that are v v important for a highlighter, especially now that it's summer and we'll be sweating and oiling up more often.
Would we repurchase the Colourette Shimmertint?
That would be a giant YES for us!
***
Have you tried the Colourette Shimmertints yet? Tell us what you think of them below, and don't forget to join our Cosmo Beauty Group for an exclusive CG chat!
Follow Ira on Instagram.
Follow Tisha on Instagram.