If you're crazy about kilay but don't want to spend more money on your obsession, you'll want to know about this.
The internet is full of beauty DIYs, and today's genius discovery is from Reddit user charrobeans. On a thread about re-purposing makeup, she shared how she makes her own tinted brow mascara with just two ingredients: Brown powder eyeshadow and coconut oil.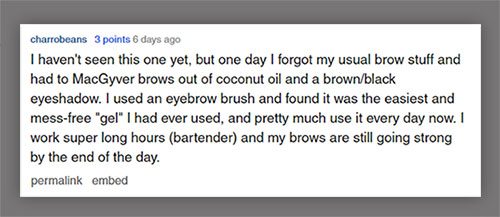 Brow mascaras usually retail from P399 to P1,500, so this DIY is is perfect for budget-strapped beauty babes. Of course, you'll need to do a bit of mixing, but saving some cash surely makes the extra effort worth it.
BRB, trying this today! 
Follow Ira on Instagram.

Continue reading below ↓
Recommended Videos