Having oily lids is a problem we absolutely hate dealing with. The annoying AF beauty dilemma means constantly seeing the cringe-worthy sight of creasing eye shadow, smudged eyeliner, and worst of all, raccoon eyes by midday. Soooo sexy.
Thankfully, we've all learned a thing or two about managing oily lids throughout years of trial and error. Here, some tips you should know:
1. Always start with a clean base. To make sure that your makeup won't move throughout the day, rid your skin of any makeup or skincare product residue by thoroughly cleansing the area with an oil-free makeup remover.
2. Go oil-free. Be selective about your eye cream. Use one that is hydrating yet oil-free for best results. 
3. Blot! Before you apply any makeup onto your lids, take an oil-blotting sheet or tissue to suck out excess oil.
4. Use a primer. The easiest way to keep your eye shadow and liner in place is by applying a thin layer of eye primer onto your lids. This layer will act as a barrier between your skin and oil. Primers are guaranteed to prolong the wear of your eye makeup, so you won't have to worry about raccoon eyes! Tip: Go for colorless primers, so you can wear them even when you're not wearing any makeup to keep your eyes matte and shine-free!
Continue reading below ↓
Recommended Videos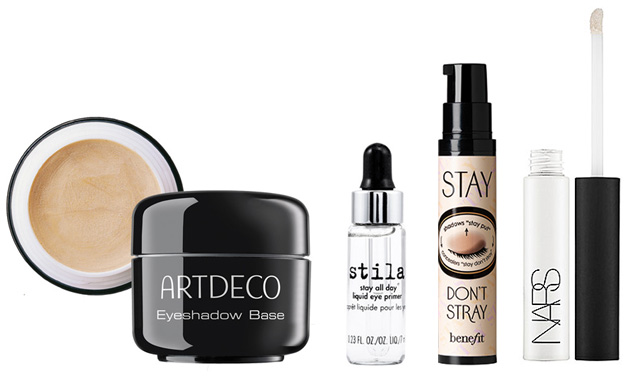 ARTDECO Eyeshadow Base, P450, Beauty Bar; Stila Stay All Day Liquid Eye Primer P895, Rustan's The Beauty Source; Benefit Stay Don't Stray P1,400, Greenbelt; NARS Smudge Proof Shadow Base, P1,350, Rustan's The Beauty Source
5. Go for long-wearing products. When it comes to choosing eye shadows, use a cream product that dries up matte as your base color. Seal everything in with powder. For eyeliner, gel liner will stay in place for hours, if applied correctly. If you want to be extra sure, use an eye shadow of the same color over your liner to seal it in.
6. Go waterproof. Waterproof mascara won't flake or end up on your cheeks by lunch time.
7. Seal it in. A trick makeup artists swear by is sweeping a thin layer of transparent powder all over the face—the eyes included—once makeup is done. This will lock everything in place.
Follow Retty on Twitter.
RELATED:

You Can Totally Put Your Lipstick On Without A Mirror
The First Step To Getting Better Skin