Wanna know how you can paint Frosty the Snowman on your nails? It's so easy!
Here's what you'll need: 1. gold, white, black, orange, and red nail polish 2. a pin or a toothpick.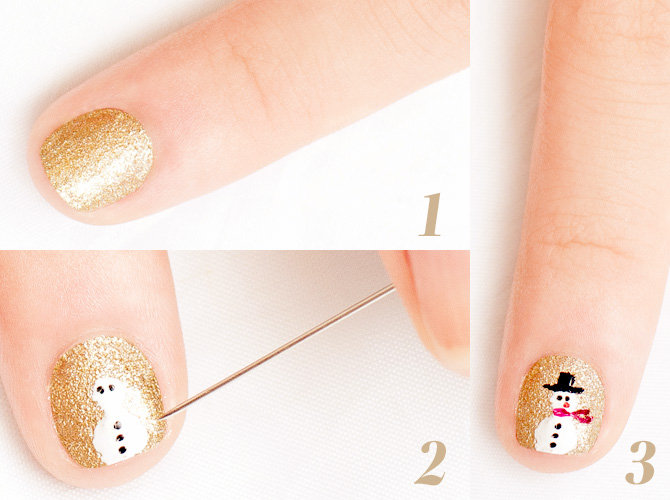 Step 1. Start by painting your digits with gold nail polish as a base coat. We used one that contains super tiny glitter to add texture and dimension to your nails.
Step. 2. Use your toothpick to draw two white circles as a base for your snowman. Once that dries, take a toothpick and draw black circles for the buttons and eyes. You can create Frosty's hat by drawing a small black square, followed by a straight line on top of his head. As for the scarf? Just use your red nail polish to draw lines around his neck!

Step 3. Seal in your nail art with top coat.

So fun and festive!
Continue reading below ↓
Recommended Videos
Nail art design and beauty direction by Nicole Romero of Beauty and Sparkle with Monica Maceda of I Do Nails; Hand Model (Linn Oeymo of PMAP)

Don't have time to do this on your own? Head on over to I Do Nails in Eastwood to get customized nail art—no matter what the occasion is. Don't forget to like them on Facebook, and follow them on Twitter and Instagram!