Today we're creating our version of winter wonderland on our nails!

Here's what you'll need: 1. sky blue nail polish 2. glitter nail polish 3. white nail polish, and 4. nail stencil (you can buy this from Divisoria).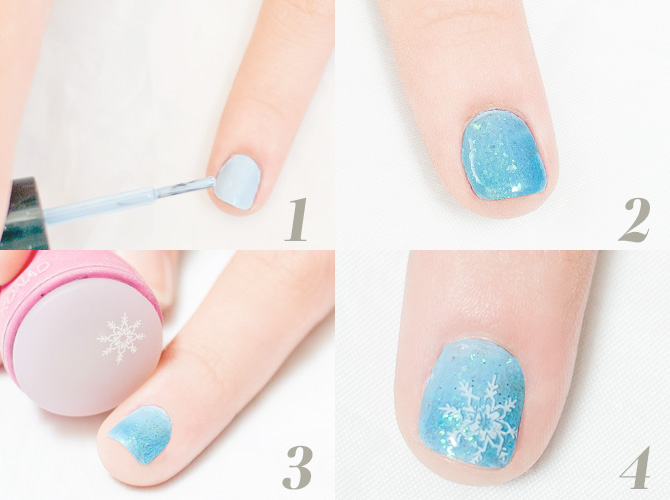 Step 1. Paint your nails with sky blue nail polish.

Step 2. Once that dries, apply a coat of glitter nail polish. We used a blue green shade on this one, so the snowflake stands out better.

Step 3. Paint your nail stencil with white nail polish. Use that to stamp a snowflake on each nail after the glitter polish dries.

Step 4. Don't forget to apply clear top coat on your nails to seal in the polish. This will help your manicure last longer and keep your nails chip-free.

P.S. Missed our last holi-nails tutorials? You can check 'em out here, here, and here!
Continue reading below ↓
Recommended Videos
Merry Christmas, CGs!

Nail art design and beauty direction by Nicole Romero of Beauty and Sparkle with Monica Maceda of I Do Nails; Hand Model (Linn Oeymo of PMAP)

Don't have time to do this on your own? Head on over to I Do Nails in Eastwood to get customized nail art—no matter what the occasion is. Don't forget to like them on Facebook, and follow them on Twitter and Instagram!