Sound the alarm, this is not a drill. YouTuber and beauty mogul Jaclyn Hill has teamed up with Morphe again to bring us the Morphe x Jaclyn Hill Volume 2 Eyeshadow Palette.
Unfortunately, the palette was due to be announced on February 11 but got leaked online early. Taking to Instagram to address the issue, Jaclyn said, "There are photos of a palette floating around the Internet right now that somebody has leaked and people are wondering if it's real, if it's fake, if it's my future collaboration, and sadly yes it is."
"Anytime that someone leaks your product, it's devastating, especially these photos because the lighting is terrible and the palette is damaged. I don't know if someone did this out of pure evil or somebody in the factory was trying to make a dime, the whole situation just sucks ass because I wanted to post it in a genuine way from me, the person who created it, and to have that taken away from me sucks."
"But, I am just trying to bulldoze over that and take the power back into my own hands since I am so damn proud of this product and want to show you guys how amazing it actually is."
Cult brand Morphe is renowned for its affordable, highly pigmented shadows, huge palettes, and famous collabs with all our favorite YouTubers like Jeffree Star and James Charles. All of which sell out immediately, of course.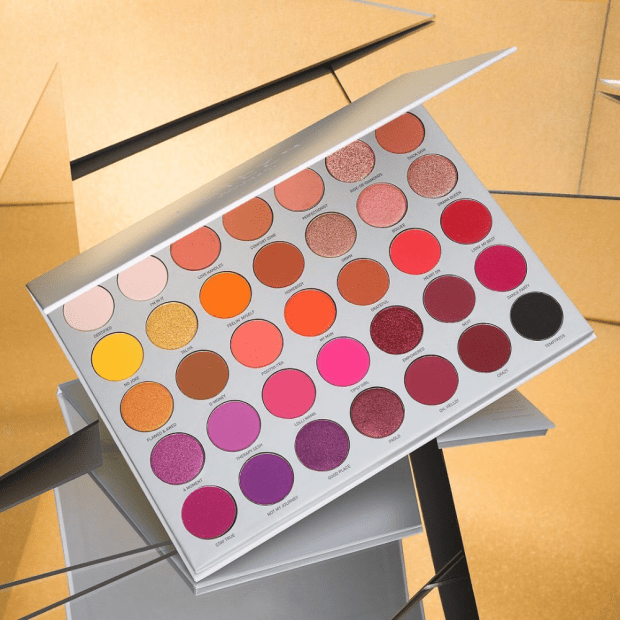 Jaclyn's new palette is full of colors to play with, alongside wearable everyday shades. Volume 2 is packed with 35 new matte, satin, and shimmer "bossy brights", ranging from coppers, dark purples, bright yellows, and statement pinks.
Think, an ode to her original collaboration with Morphe, but brighter. We should know by now Jaclyn doesn't do subtle.
Announcing the launch, Jaclyn said, "This palette is embracing the past, owning the present, and dominating the future." With shade names including "Positivi-Tea", "Thick Skin", "Stay True" and "Not My Journey", we can't be the only ones thinking this could be a nod to all of last year's lipstick drama?
This is Jaclyn's first collab with Morphe since her Vault collection in June 2018, which was delayed due to negative reviews. Her original, iconic palette with the brand was released way back in 2017, so Volume II has been three years in the making.
Morphe x Jaclyn Hill Volume II will be available in Morphe stores and online on February 13 priced at £39 (roughly P2,563). The range also includes brush sets which range from £4 (roughly P262) to £99 (roughly P6,508).
***
This article originally appeared on Cosmopolitan.com/uk. Minor edits have been made by the Cosmo.ph editors.
Recommended Videos