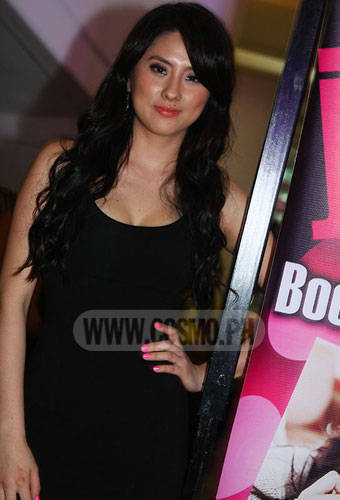 Radio DJ, model, and FHM Philippines columnist Jinri Park launched her very own gravure photobook, The Jinri Experience, last August 5 at Robinsons Galleria.

Jinri's gravure book is the first of its kind in the Philippines. A gravure book is a collection of photographs depicting sexy sirens in seductively innocent, playfully suggestive poses--totally right up this FHM babe's alley.
Jinri is a bubbly chick who doesn't take herself seriously, which is hard to believe, considering that she's a voluptuous vixen who's got legions of men worshipping the ground beneath her feet.
We caught up with the Korean stunner as she greeted her fans and signed copies of her book at the launch. We learned more about her new book, her personal style, and we also picked up a few tips from her beauty regimen. Read on!

How does it feel to have your very own book?
It's very exciting because it's the first gravure book in the Philippines. I'm honored to be the first gravure model [in the country]. Hopefully people will also enjoy it.

How would you describe your personal style?

Definitely not K-Pop! I wear a lot of short shorts with T-shirts, or jeans and a tank top. I'm not a celebrity per se. I'm a DJ. So when I go to work I just wear comfortable clothes. But I also enjoy wearing dresses occasionally.

What do you like wearing during this rainy season?

Lots of hoodies and really big guy shirts, which I like to wear with leggings and boots.

What five things do you have in your kikay kit?

I'm a very big kikay makeup person. I'm all about it. I'm obsessed with curling my lashes and making them really big. So definitely mascara and an eyelash curler. And I have tint, and of course pressed powder, and oil blotters.

A lot of Pinays envy Korean girls for their fair and smooth complexion. What's your beauty regimen like? And what skin care products would you recommend to Cosmo's readers?

I go to the derma once a week. I'm a vegetarian. I don't eat burgers and other kinds of oily food. I put moisturizer at night. I always wash my face before sleeping. And when I'm at home, I tie my hair back so nothing touches my face. I try to touch my face less, 'cause there are a lot of germs.

As for skin care products, I think for my skin in particular, Korean products work really well, like Skin Food, Face Shop, and Etude House. I think they're good for sensitive types of skin because they're not very strong. I would recommend those brands. They're not that expensive, but they work.

Name three things you never leave home without.

Mascara and eyelash curler as one. And then my phone, of course, 'cause I'm a Twitter addict. And then last would be my keys. Everyone needs to bring keys, whether car keys or house keys or both.
Continue reading below ↓
Recommended Videos