Honestly though, what can Mother Monster not do?! Not only is she a great singer, flawless dancer, incredible entertainer, and owner of six Grammys, a Golden Globe award, and an Oscar, but she's also on her way to adding beauty businesswoman to the list.
Trendmood first teased the news, and according to the United States Patent and Trademark Office, the rumor is true: Haus Beauty is on the way. The info states that Ate My Heart Inc. (which is reportedly Lady Gaga's company) applied to trademark the name last February 2018.
Here's what we know about the line so far:
Continue reading below ↓
Recommended Videos
In September 2018, Lady Gaga likely subtly teased the upcoming release of her makeup line in a "73 Questions" video with Vogue. When the host asked, "Can you reveal for me one of your beauty secrets?" she responded with "soon." I'm screaming! Are you screaming?
Nine months later, Haus Beauty's name has officially changed to Haus Laboratories. The site for her products used to be HausBeauty.com, but now it redirects to HausLabs.com. Honestly, "labs" sounds more like Gaga's style. The site now has a simple landing page of Gaga looking fierce AF in some products from the line, along with a countdown clock to its July 15, 2019 pre-order date and an email field so excited fans can receive updates. Sign me TF up!
According to Business of Fashion, Haus Laboratories will include multiuse products for the eyes, cheeks, and lips in six shades. If there's one person I trust to recommend me some good eye shadow, it's Stefani Joanne Angelina Germanotta. I mean, LOOK:
Lucky for us, there's a full color collection in the works. There will be a trio set of all three products available for $49 (P2,521.05), and since Gaga knows you can't go anywhere without a glossy lip, she's making her own Haus Laboratories gloss concoction priced at $16 (P823.30). The list of future product types is intense given the patent she filed (I stopped counting at 70) and includes things like cleansers, masks, oils, and all the color cosmetics you could think. She gave the official first look at the line of cosmetics on Instagram, and of course, it's full of neon, latex, and glitter:
Okay, so that all sounds good, but now you're likely wondering where and how you can surrender your hard earned money to this beauty line. Great news: Mother Monster loves her fans so much that she's allowing the product line to be sold on Amazon. We stan the queen of accessibility!
Like her music, Gaga's Haus Laboratories will be about embracing one's true self. "No message of self-acceptance, no deal," she told BoF. "I have a platform in the world. God gave me this voice for a reason, I don't know why, I ask myself that question all the time, but I'm sure as hell not going to put out a beauty brand that is going to drive insecurity and fear into people. This is about liberation." Backing up her statement, she included diverse models—male, female, genderqueer, and more—in Haus Laboratories' first campaign image, which you can see here: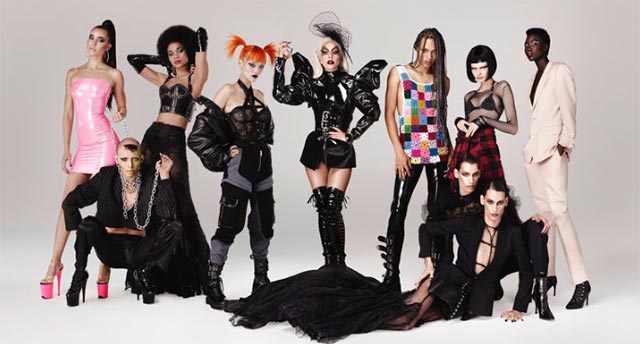 In short: Please excuse me while I collect my coins. Bye!
***
This article originally appeared on Cosmopolitan.com. Minor edits have been made by the Cosmo.ph editors.