Unlike creating a winged liner or putting on falsies, using a lip tint is pretty easy. Most of us would simply apply a bit of the tint to the lips, spreading it using our fingers for that ~effortless~ look. But it turns out, there's a better way of applying your lip tint, especially if you have dry lips! 
If your lip stain tends to look patchy, here are some useful tips we learned from Korean makeup artist and founder of Romand (a K-beauty brand that's known for their lip tints) Saerom Min: 
How To *Properly* Apply Your Lip Tint, According To A Korean Makeup Artist
1. Prep your lips! 
Every night, Saerom Min recommends applying a liquid lip balm or lip mask, which will help loosen your dead skin. Using a cloth or a cotton pad, gently wipe your lips to get rid of flaky skin. This way, your lip tint will glide on smoothly and spread evenly. 
ADVERTISMENT - CONTINUE READING BELOW ↓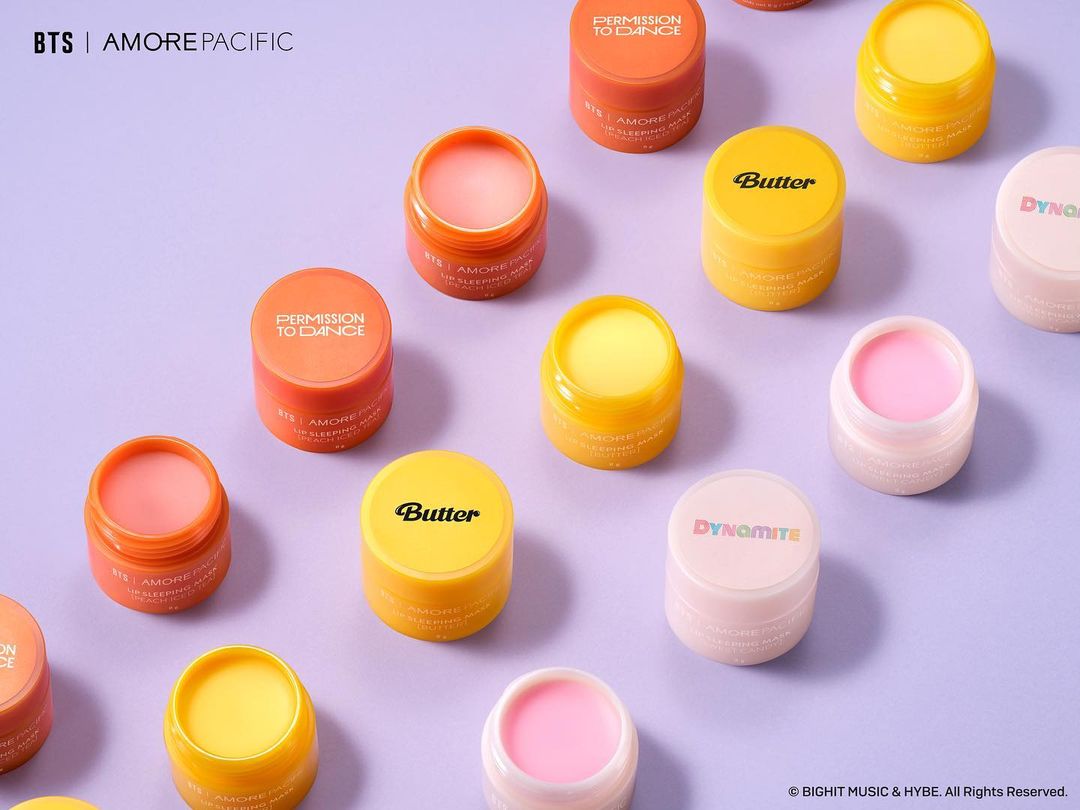 Laneige BTS Lip Sleeping Mask Lip & Pop Edition, P1,499, BeautyMNL
2. First things first: Apply the lip tint to your bottom lip. 
For an even application, avoid pressing your lips together to spread the tint. (Don't worry. We're guilty of this, too!)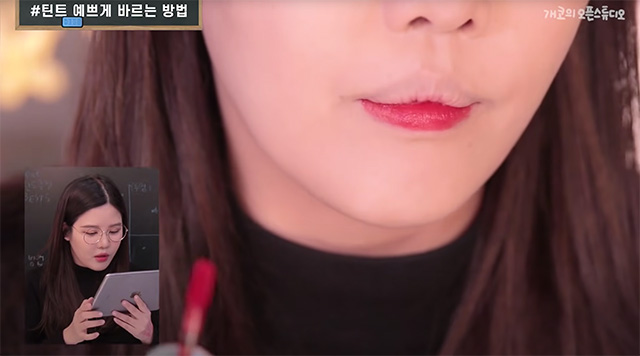 Using your fingers, blend the outer edges of your puckers for that cute "blurred" effect.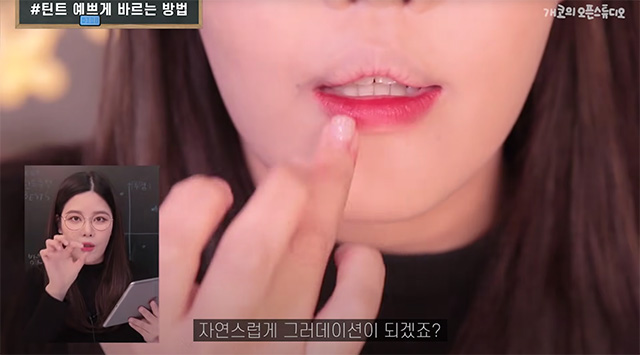 Then, add another layer to the inner part of your lips. This will help you achieve that ~gradient~ look.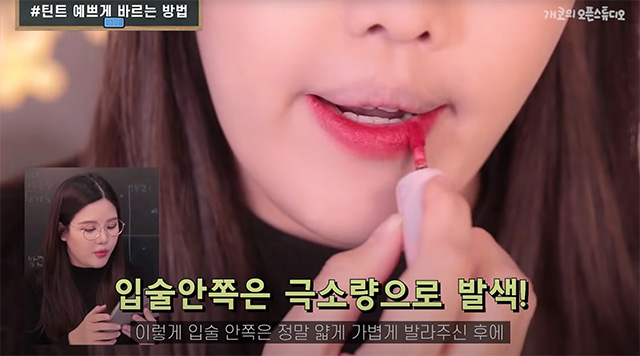 ADVERTISMENT - CONTINUE READING BELOW ↓
3. Time for the upper lip! 
Repeating the second step, apply the lip tint to your entire upper lip. Then, add another layer of the product to the inner part of the lips. Don't forget to blend its outer edges using your fingers!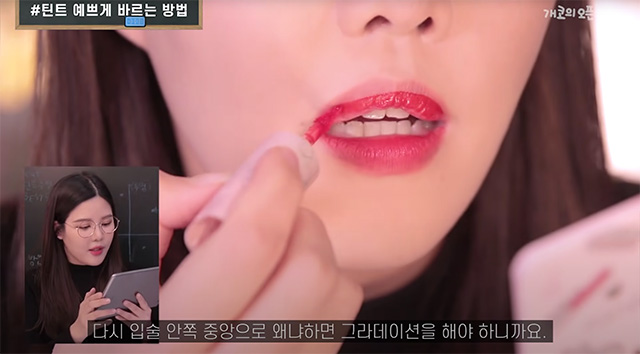 ~*Kyeopta*~. Check out the finished result: 
ADVERTISMENT - CONTINUE READING BELOW ↓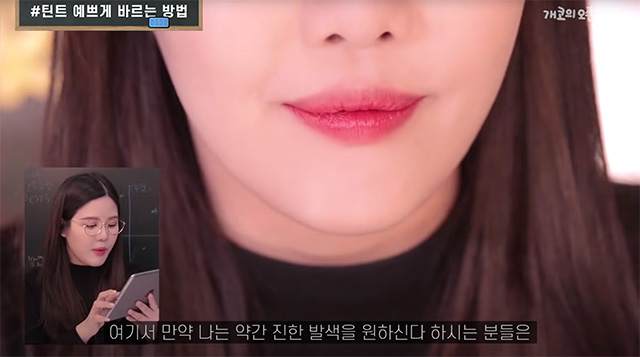 P.S. If you'll apply your lip tint the usual way, here's how it would typically look like: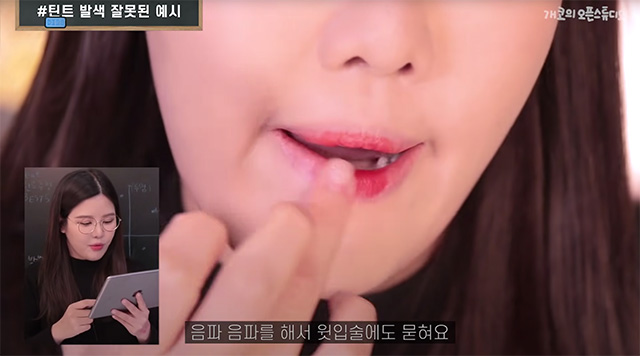 ADVERTISMENT - CONTINUE READING BELOW ↓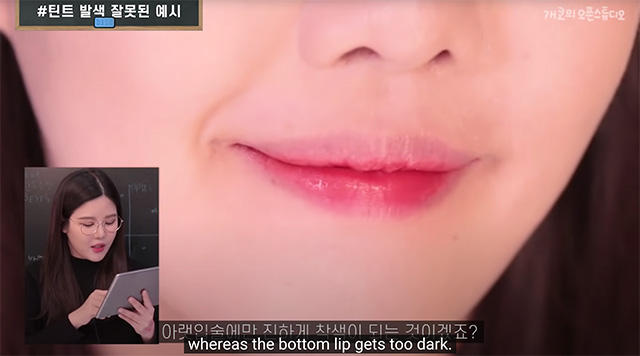 Watch the video below for the full tutorial: 
How To Apply Lip Tint Beautifully
READ MORE
8 Lip Tints From K-Beauty Brands That You'll Surely Be Obsessed With
These Glossy Lip Tints Are Perfect For Girls Who Like To Wear Less Makeup
Pinays Reveal Their Go-To Lip Tints For That 'Fresh Lang' Look