For us, the ultimate nude lipstick comes in a shade that is neither too light nor too deep and doesn't make us appear ill or pale af. The formula should last a long time, give just the right amount of hydration, and be easy to apply and remove. The color should also be versatile enough for both our daytime and glam looks.
If you still haven't found your perfect nude lippie, check out the Cosmopolitan Philippines Editors' ride-or-die products below!
JILLIAN: K-Palette 1Day Tattoo Lasting Lip Tint Stick in Glamorous Beige
I have typically dry lips, so I generally stay away from mattes and gravitate towards more hydrating formulas. This pink-nude lippie is almost like a gloss when applied, but it dries to a satin finish with a peach micro-shimmer. I like that it has dimension and goes well with ANY makeup look. I also like how it doesn't have a distinct scent or smell, and the color and texture are light enough to apply even without a mirror. What's interesting about it is it looks different on everyone—it kind of matches your undertones and brings out your inner ~*glow*~. 
ADVERTISMENT - CONTINUE READING BELOW ↓
Price: P795
Where To Buy: SM Beauty, Beauty Bar, Rustan's The Beauty Source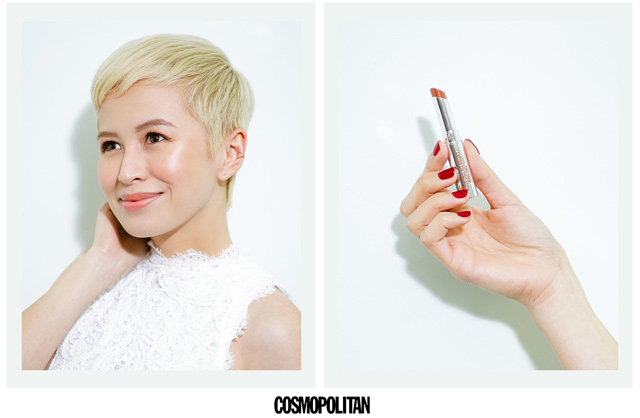 RETTY: Estée Lauder Pure Color Envy Sculpting Lipstick in Exciting
My go-to nude is Estée Lauder Pure Color Envy Sculpting Lipstick in Exciting. I got this three years ago, and I have a backup in my stash! I love it because of its ultra-smooth formula—it glides on my lips like butter. Every time I wear this, I always—as in every single time—get asked what's on my lips. It's a peachy-nude that instantly freshens up any look, even when I have barely any makeup on. 10/10 would recommend! 
Price: P1,900
Where To Buy: Rustan's The Beauty Source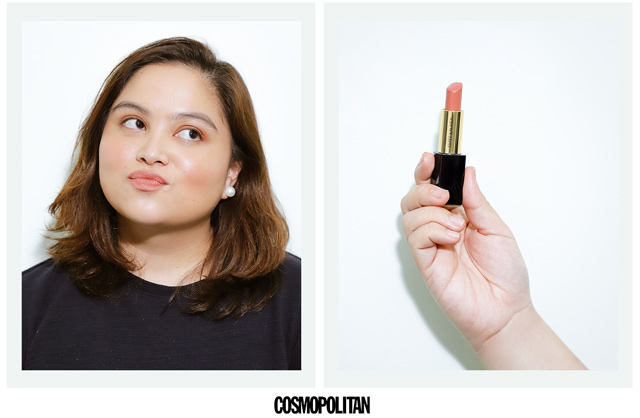 IRA: Happy Skin Glam Squad Liquid Matte Lipstick by Denise Go-Ochoa (Limited Edition)
Cool-toned nude lipsticks make my complexion appear ashy, so I swore to find one with warm undertones. When I saw Happy Skin's collab with celebrity makeup artist Denise Ochoa, I knew it was the one! The peachy-brown lipstick brightens up my face, and its lightweight formula lends a comfortable wear. I wish I bought a backup because I'm never not going to love this!
ADVERTISMENT - CONTINUE READING BELOW ↓
Price: P699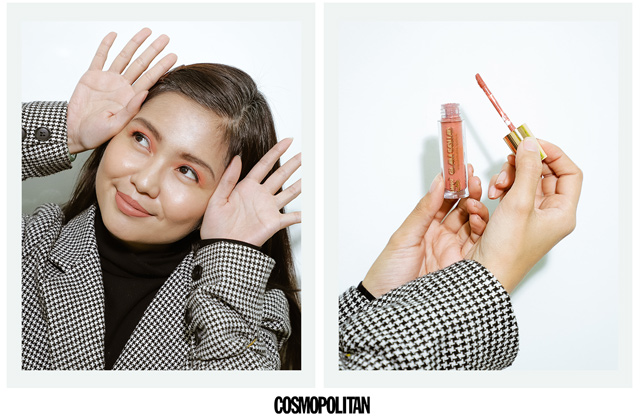 JACINDA: Fenty Beauty Gloss Bomb Universal Lip Luminizer in Fenty Glow
I got the Fenty Gloss Bomb sometime last year because it was all over my feed and I wanted to really see if it was a universally flattering lip product. For my light skin tone, it makes my lips look REAL GOOD and PLUMP AF. The consistency is thicker than other glosses I am used to, but it does the deal in making my lips so ~extra~. It may not exactly be a nude lipstick, but it's the only "nude" that works for me. Would I buy it again? Yes, and I'd want to try out their other colors! Super love it. 
ADVERTISMENT - CONTINUE READING BELOW ↓
Price: P1,200
Where To Buy: Sephora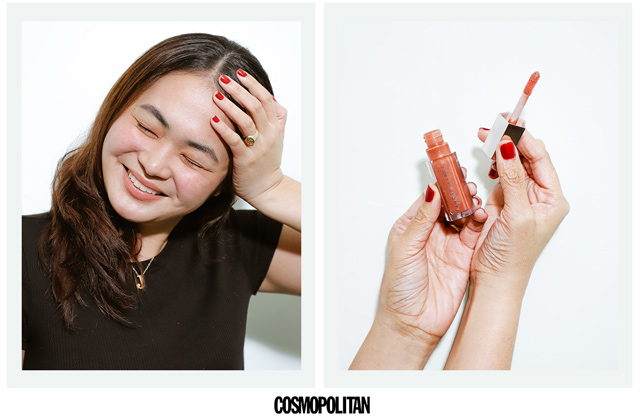 YSA: Celeteque Matte Lipstick in Nude
I absolutely love matte lippies. I don't like anything sticky or glossy on my lips. I typically have to apply a little bit of balm beforehand so my lips don't feel parched, but this nude lipstick lets me skip that step! It's lighter than what I'm used to, but I get a lot of compliments when I have it on. It warms up my complexion like no other. I discovered it by chance in 2017 and even though I've tried plenty of nude lipsticks since then, I always go back to this. 
ADVERTISMENT - CONTINUE READING BELOW ↓
Price: P595
Where To Buy: Watsons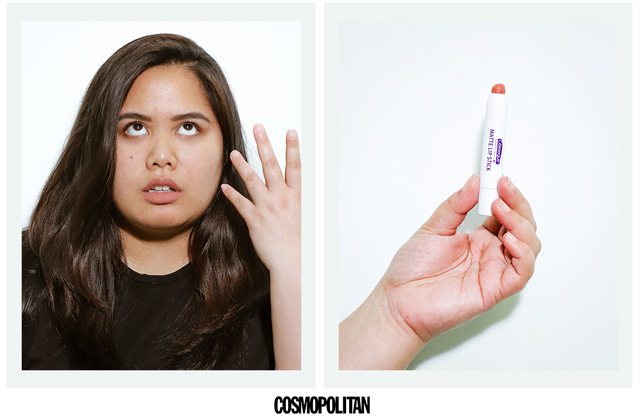 TISHA: Nudestix Intense Matte Lip & Cheek Pencil in Belle
Normally, I like my nude lipsticks to have a satin finish, but Nudestix's Belle lasts really well on my pout that I couldn't give it up. No matter how chapped and cracked my lips are, its creamy, matte formula never emphasizes it. It has amazing magical powers that can smooth over any bumps and dead skin. It's also multi-purpose, which is the best, and it comes with its own sharpener so I don't have to spend money to buy one!
ADVERTISMENT - CONTINUE READING BELOW ↓
Price: P1,425
Where To Buy: Sephora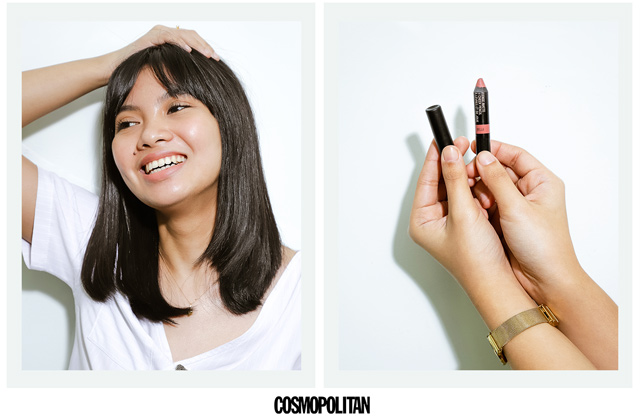 ANDIE: Maybelline The Powdermattes by Color Sensational in Touch of Nude
I like creamy lip products because my lips are prone to dryness, but surprisingly this matte formula is comfortable and long-wearing. It is very pigmented and a perfect MLBB-shade on me (although a bit more on the pink side). The lippie has a pleasantly sweet scent, and is easy to apply. I'm probably on my third lippie, and would definitely repurchase when it runs out!
ADVERTISMENT - CONTINUE READING BELOW ↓
Price: P299
Where To Buy: Watsons, SM Beauty, Robinsons Department Store, Lazada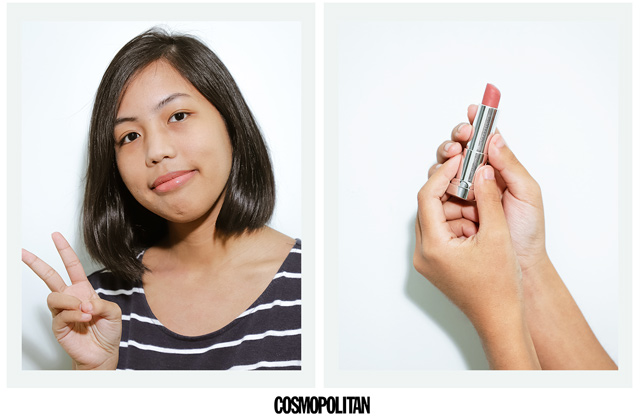 MIXI: BLK Cosmetics Long-Lasting Liquid Matte Lipstick in Sophisticated
I've been searching for the perfect mix of peach and pink that will look good on my skin tone for a while now, then I found this! It's my everyday lippie because it's low-key and doesn't make me look pale at all. I also love snacking a lot, so I like how food-proof this lippie is!
ADVERTISMENT - CONTINUE READING BELOW ↓
Price: P349
Where To Buy: Zalora, Lazada, Watsons, SM Beauty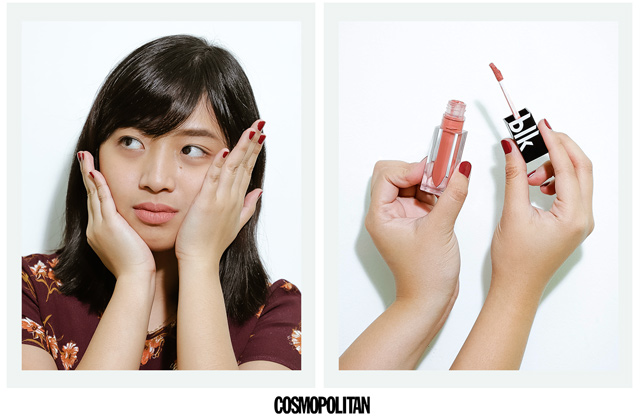 LOU: Colourette Colourstick in Bethany
This lipstick is one of the first beauty products I got when I started working at Cosmo in December 2017. I have been using this creamy-matte lippie ever since and I'm pretty sure the photo can speak for itself, LOL! The warm brown finish complements my skin tone, which helps me achieve that no-makeup makeup look. It's light on the lips and I like how it also leaves a nice stain even after I've had a meal or drink. Plus, with this lipstick I get to #LoveLocal! 
ADVERTISMENT - CONTINUE READING BELOW ↓
Price: P499
Where To Buy: Lazada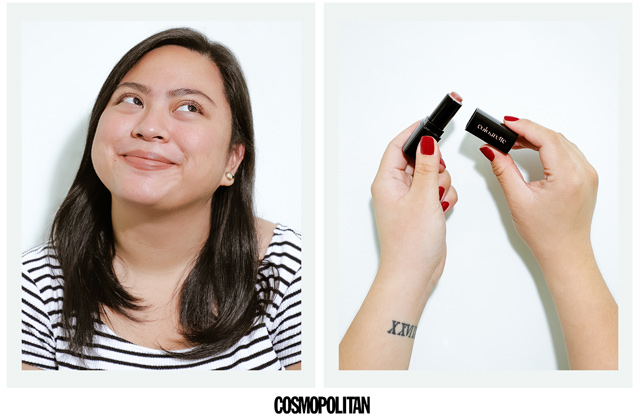 What's your favorite nude lipstick? Share it with us below! And don't forget to join our Cosmo Beauty Group for an exclusive CG chat!