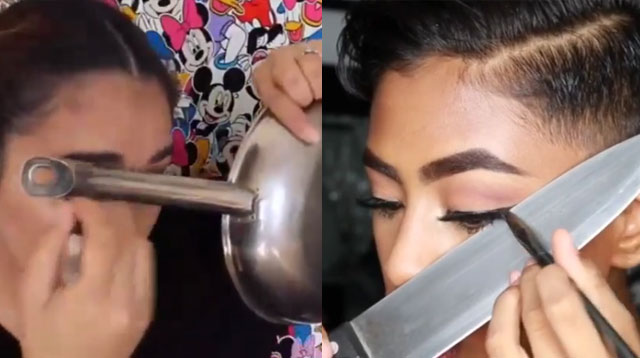 INSTAGRAM PHOTOS: makeupbymario, barbiegutz

Ever since contouring blew up, makeup enthusiasts have been trying various hacks to do it easily. Truth is, while the tried-and-tested technique can lead to jaw-dropping transformations, it's easy for non-pros to mess it up.
To ace contouring, you have to think of factors like placement, type, shade and depth of products, makeup tools, and blending. Otherwise, you'll end up with what looks like dirt or a failed fake tan on your face.
But because the People Of The Internet are the most creative and resourceful people ever, they have crafted genius (and ridiculous) ways to contour.
Observe:
Tape
We weren't surprised when this trick became popular—it's the same one we've been doing to nail our cat eye.
ADVERTISMENT - CONTINUE READING BELOW ↓
Frying Pan
One million points for creativity!
Knife
This is super unsafe, but A+ to the sassy makeup artist for resourcefulness!
Follow Retty on Instagram.