 Read the story? Tell us what you think!
0

Didn't know that!

0

Hmmm....tell me more.

0

How and where can I get this?

0

I'm already a loyal fan!

0

Will share this ASAP!
The Cosmo Beauty Awards for 2015 are out, and the Best Contour Palette is… the BYS Contour Trio in O2 Sweet! Have you gotten one of these babies yet, CGs?
Why It Won: You get a pretty sweet deal with BYS Contour Trio. The pigmented shades for the cheeks, for highlighting, and for contour (the bronzer) are perfect for morena CGs (and for fair-skinned ladies looking for a warmer look). You can accent your best features and wear a subtle, natural blush as your everyday look, and you can also get a totally glam makeover for special occasions or photo shoots. With this versatile contour kit in your makeup bag, you'll only need a few other makeup essentials.
Want to get the best contour looks with this winner? Here are three rules to live by:
Always aim for subtlety.
From prep to finish, don't excessively pile on the makeup! You don't want to look overdone, especially if you're contouring for something like a night out with the girls. Save the dramatic transformations for Halloween. By contouring with powder instead of liquid bronzers and highlighters, your finished look will feel lighter and more wearable.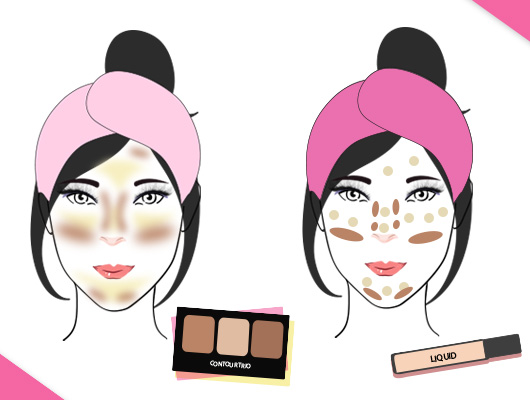 Focus on highlighting over hiding your features
Contouring is more about defining your best facial features. The trick: don't just hide your flaws, but make the accented parts the focus of the look. If you have dark skin, a rounded face shape, or some puffy areas you want to diffuse, master working with the highlighter rather than darkening and hollowing out parts of your face.
The Clueless Girl's Guide to Contouring: After putting on a your foundation, apply the bronzer on the areas you want to sculpt, such as your hairline and temples, the sides of your nose, the dents under your cheekbones, your jaw line, and the sides of your neck. Follow the contoured areas with your highlighter (e.g. swipe it down the center of your nose, highlight your cheekbones, and dab a bit on your skin). Brush the apples of your cheeks with blush with a sweeping motion from the cheekbones toward your temples.
Be an expert at blending
Blending—one of your final steps—is the key to natural-looking contours. Make sure you have the right tools along with your contour kit. A large powder brush or a blending sponge is a must-have for blending. You can sweep along the contours and highlights you made and blend in the blush on your cheeks to make seamless transitions and polish your look.