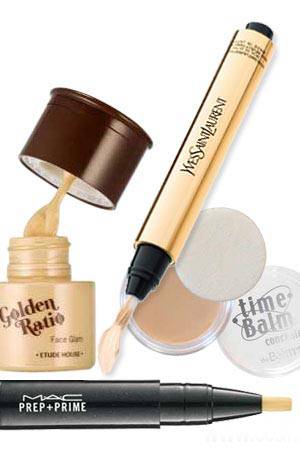 Twitter question from @Chichealejandre: "I've ran out of my fave Touche Eclat concealer! Any recommendations for replacement?"

This is such a great question! Concealer is the one thing a girl's beauty arsenal should never be without. YSL's iconic Touche Eclat concealer pen has gotten so many rave reviews for years, thanks to its ability to brilliantly mask dark under eye circles. However, high-end concealers such as this also come at a steep price.

Actually, the term "touche eclat" is French for "radiant touch"--radiant because the concealer doubles as a sheer highlighter. Highlighters are classified as makeup products with light-reflecting properties that leave a faint glow or flattering sheen on skin. So other than concealing dark circles, it also casts a radiant finish, minimizes fine lines, and diffuses light on certain spots.

Rather than buying a new concealer/highlighter pen, why not get crafty and create your own out of more affordable (but still effective) products? DIY can save you a lot of money (as it stretches the shelf life of products you already have) while giving you similar benefits. Follow these simple steps:

1. Mix a tiny drop of liquid highlighter to your liquid or cream concealer. A little goes a long way. You don't want the "glow" to be too obvious. It should look as naturally luminous as possible. Try: Etude House's Golden Ratio, TheBalm's Time Balm concealer, and MAC Prep+Prime Eye.

2. Apply the mixture on the area you wish to conceal and blend using a patting motion. This concentrates the product on the desired area, rather than spreads it.

3. Set with powder to keep the makeup from sliding off. Your coverage should last longer this way, and you can easily retouch using the same steps.

Voila! Making your own "radiant touch" of concealer is as easy as 1-2-3!

Thanks for your question, @Chichealejandre! We hope you learned a thing or two about being resourceful with the makeup you own!

Ladies, send us more of your queries at @Bianca_Valerio or @cosmo_ph. Your question just might be chosen for the next Q&A article!
Continue reading below ↓
Recommended Videos