We all wish we woke up looking camera-ready and worthy of a gratuitous selfie. But looking put together does take some effort. While some beauty tricks are harder to master than others, there are a few easy-to-do habits you can start doing now to cure you of your beauty routine slump:
1. Wear sunscreen.
Sunscreen isn't just for the hot scorching days of summer—slapping on SPF protects your skin from the sun's harmful UV rays when you're out on your daily morning run, commuting to work, or rushing to a midday lunch date.
Find a lightweight sunscreen that doesn't feel heavy on the skin so you can wear it under makeup or when you're going au naturel: your skin will thank you in the future.
2. Moisturize.
You've probably heard this a million times but keeping skin moisturized isn't just for the dry-skinned: keeping skin hydrated is the first step to battling skin aging. Don't ignore your hands and neck, too: extend the moisturizer love to your neck and always tote a hand cream to avoid dry and wrinkly skin.
3. Take time out to exfoliate.
Get glowing by whisking away dead skin cells and grime: get into the habit of using facial or body scrubs once a week. Sloughing off layers of dead skin will eventually reveal soft, healthy-looking skin.
4. Keep your brows neat and trimmed.
Not everyone can put on makeup everyday but well-groomed brows add instant polish even to a no-makeup face. The best way to get your brows in shape? Have them shaped professionally and keep them tidy in between visits by tweezing stray hairs. 
5. Wear fragrances as part of your daily beauty routine.
Topping off your daily look with a scent can be as important as your makeup of choice or the clothes you wear—a fragrance boosts your mood, sets the tone for your outfit (and day!), and makes one feel more confident.
Whatever your perfume preference or personality, wearing a scent or switching up fragrances goes beyond making you smell good; it's also one of the most fun things about getting all dolled up!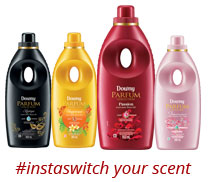 It's not that difficult to get into a new beauty routine; it's also easy to change scents: you can #instaswitch your scent in the same way you change your outfits! Change from one scent to another by rubbing the fabric of clothes used with  Downy Parfum Collection: the new Scent Switcher technology makes each rub give off a different fragrance. Make it a habit to #instaswitch!