 Read the story? Tell us what you think!
0

Didn't know that!

0

Hmmm....tell me more.

0

How and where can I get this?

0

I'm already a loyal fan!

0

Will share this ASAP!
Too busy to check the ingredients label on the skin products you're buying? We get you. But did you know that not doing that could lead to many frightening things, like irritated skin and unexplainable allergies, bumps, and rashes? It pays to be vigilant when checking the ingredients of your skin care must-haves. Here, we list some of the things that we think you should look out for before putting that bottle of lotion in your shopping cart.
1. Virgin Coconut Oil
Not only is coconut a powerful antioxidant, antibacterial, antifungal, and moisturizer, it also makes for a great sunscreen (yup, studies show it can block out almost 20% of UV rays from the sun!). Lotions with virgin coconut oil are also good for your post-shower routine because it is readily absorbed by the skin. 
2. Hydrolyzed Milk Protein
If you see this on the ingredients list, it means that your lotion uses milk that's been treated and broken down to make it safe for anyone with skin allergies, much like how formula milk are made for babies with lactose intolerance. This makes your lotion more suitable to sensitive skin because the process it went through preserves the amino acids needed by your body.
Continue reading below ↓
Recommended Videos
3. Natural Extracts
In general, extracts are included in most lotions to make your skin smell amazing without adding essential oils (which by the way may also be too harsh on your skin). Check your lotion's label for extracts that are known for their double-duty functions like Licorice Extract. Licorice is great for treating skin hyperpigmentation caused by sun damage. It also has anti-inflammatory properties that help treat dry or inflammed skin.
4. Paraben-Free
ICYDK, parabens are preservatives widely used to prevent bacteria growth on cosmetics and moisturizers. While parabens are effective in making products last, it also has toxins that can lead to cancer. It's hard to stay away from cosmetics with paraben as they are everywhere in the market, but it's best to find a paraben-free, all-natural lotion because it covers a large area of your skin.     
5. Laboratory and Dermatologist Tested
Yes, despite what you think as you scan the shelves at the grocery, there are lotions that are better than others. Make sure your pick is laboratory and dermatologist tested, like our new fave COCOLINE Naturals! It has up to 99.99% antibacterial and 98.77% antifungal benefits, plus it's been tested safe and effective to use on your skin.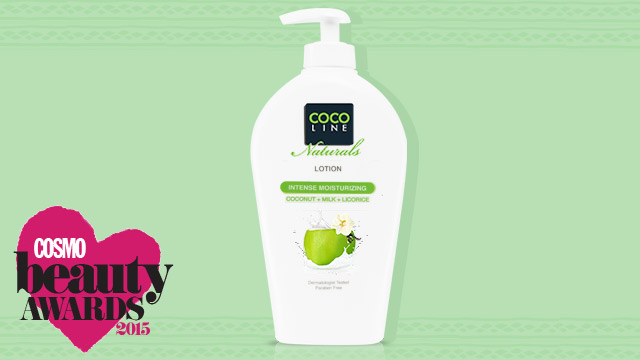 Oh and hey, did you know that COCOLINE Naturals Intense Moisturizing Lotion is also a winner of the Cosmo Beauty Awards 2015? It got the Best Body Lotion award because it has ALL the things your body lotion should have, in a super affordable price! Learn more about this new beauty must-have through their Facebook page. 
This article was created by
Summit Storylabs
in partnership with Cosmopolitan Marketing.