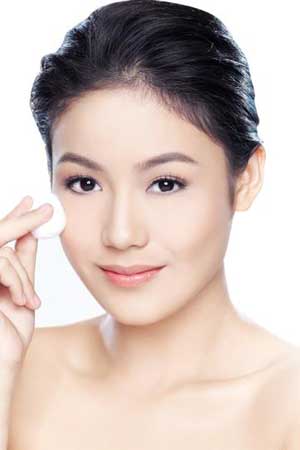 Are you one of those girls who have their whole beautifying arsenal all figured out? You're lucky, because for most girls, it can be quite an overwhelming experience to visit a beauty store and be bombarded by gazillions of products claiming that they're the best option for healthy skin. If only your BFF was a dermatologist to famous Hollywood stars.

Ladies, you can rest easy because we have the next best thing. We caught up with top New York-based dermatologist Dr. Eric Schweiger at his launch as the latest Dermo skin care ambassador of Celeteque.

Dermo skin care, also known as Dermo-Cosmetics, started as a specialized skin care category in Europe with products that combine the efficacy of derma-grade ingredients and the expertise of dermatologists into cosmetic skin care products. Celeteque Dermoscience™, aside from being customized for various skin issues and concerns, also offers solutions for specific areas of the face and body," says Celeteque DermoScience product manager, Tina Sarmiento.

A renowned dermatologist, Dr. Schweiger boasts of long-standing professional experience in science-based skin care, which led him to establish a name for himself in the field. He is a member of the American Academy of Dermatology and the American Society for Dermatologic Surgery and his notable contributions to dermatology have also made it in numerous academic publications.

Identifying one's skin profile is the first step to developing the correct daily skin care regimen. Celeteque DermoScience™ provides care and treatment for aging, dry or oily skin, blemishes and pigmentation with customized solutions for specific skin types. You can log on to www.celetequedermoscience.com for your free online skin analysis.

Read our short interview with Dr. Eric Schweiger on the basics for busy working and college gals, important ingredients to watch for, and the real deal on products with SPF.

What's the least thing that college girls can do to keep their skin healthy?

The minimum would be a face buff and a moisturizer. [Also, make sure to] wash off your makeup at the end of the day.

When scouting for makeup products, are there specific ingredients they should watch for?

It's imporant to pick products that are non-comedogenic, that are oil-free. Oftentimes, powder-based products are a little better for makeup. You don't want to clog the pores. A good concealer or a good foundation that is non-comedogenic, non-acne-causing, you know that's not going to cause harm.

What about girls who have oily skin? Is it advisable for them to still use moisturizer?

Yes. A light moisturizer that is lotion-based, not a cream-based moisturizer. A lot of acne medicines can be a little bit strong, so you want to prevent your skin from being too dry because when you dry out your skin, you can get a rebound of oil production. It would be counter-intuitive. You have no oil, it can actually cause more oil. It's important to use moisturizer daily.

Would you recommend opting for makeup products that have SPF? Do they even work at all?

The powders do. Oftentimes you have to get a certain amount of thickness to get that SPF protection from it, but anything is better than nothing. So even if you put on, let's say, SPF 15, you can probably still get SPF 6 from it. It's still going to give you protection so you're not going to get a sunburn. It's important to wear sunscreen as well.

Is it okay to mix and match products from the different Celeteque skin care lines?

Absolutely. A lot of people will find products that work from this line or that line that works best for them, although they were developed to work with certain categories.

What if you have sensitive skin?

Celeteque was designed for sensitive skin. You can test it on other parts of your body besides your face. Pick your arm or your leg for the first few applications and if you do okay, then you go do your forehead, and then your whole face.

In the Philippines, women tend to prefer fairer skin, so there are a lot of skin whitening products in the market. What would you say is the edge of Celeteque's brightening line over those other products?

I think there are many different ways to lighten the skin. I think what's nice about the Celeteque products is that it's combined with sunscreen and it's using all-natural ingredients, it's not using chemicals. The combination of sunscreen as well with the vitamins and minerals works nicely.
ADVERTISMENT - CONTINUE READING BELOW ↓