Egg white has been used in the beauty industry for a while now—in modern times, it began with the Scandinavians, who lauded the ubiquitous ingredient for its whitening and acne-clearing properties. (Is this why Swedish and Norwegian beauty bloggers look like they get 12 hours of sleep each night?) But ancient Egyptian and Chinese civilizations had been known to incorporate it into their routines as well. So when I found out about the existence of  Bellissima Egg White Whitening Beauty Soap, I wanted to see if it would have positive effects on my combination skin. Read on to find out what exactly went down!
Name: Chandra
Age: 22
Occupation: Editorial assistant
Skin type: Combination, acne-prone
Usual skincare routine
AM: Depuffing eye cream, sunblock
PM: Mini-Korean routine: toner, essence, emulsion, retinol serum (two to three times a week), eye cream, and sleeping pack, adding a sheet mask when I feel like it.
Day 1
I've barely been getting enough sleep lately, so who knows if even the most complex skincare regimen will save me now? For the purposes of this article, I made sure to forego all other products and use only the egg white soap—with the exception of eye cream, because my eyes always need extra help (guys, I'm sorry). Since the product claims to whiten and tighten, I kept an eye out for any texture and complexion differences. During my first wash, my skin felt a bit too tight...and since I didn't wanna compromise the results with a moisturizer, I reached for a glass of water. That felt better. Kind of.
Continue reading below ↓
Recommended Videos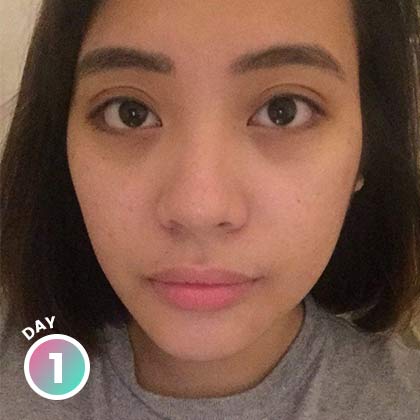 Day 2
I'm still on the fence about this product. I miss my creams and my serums! The smell is a bit too egg-y for my liking...but what did I expect? It's egg white soap after all.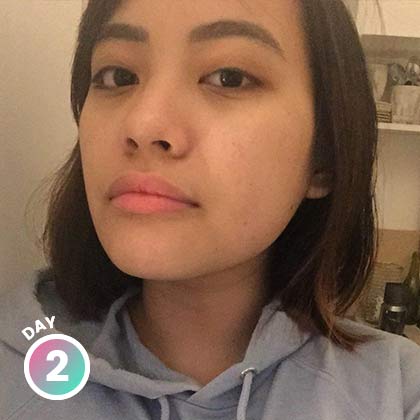 Day 3
I've been noticing some redness on my cheeks—I'm not sure if it's an impending breakout or the dryness of my skin. I've learned to use the soap better at this point: Instead of rushing through my routine, I'm supposed to work the soap up into a rich lather so it doesn't leave my skin taut.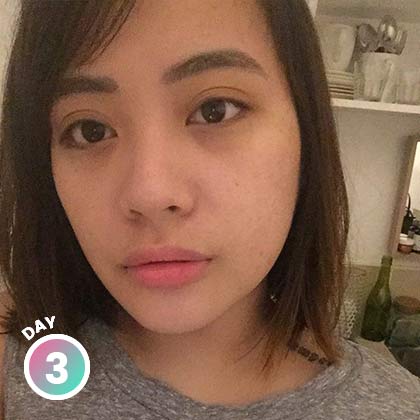 Day 4
All right. I went for a long-distance run and felt like my skin needed some extra attention, so I cheated today and used some anti-acne toner and emulsion after my usual lather. I'm getting used to the smell, and I noticed that my skin tone has somewhat evened out! The product claims to "whiten and tighten," but for me, it's more like brighten and tighten. I'm not concerned about lightening my complexion, anyway—it's all about an even and smooth color. And because I'm a sucker for Korean beauty, anything that brightens will always be up my alley. So far, so good.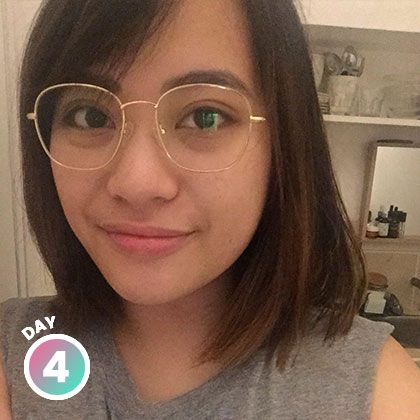 Days 5 to 7
I neglected to take selfies on these days, mostly because of a work crisis, but here are my observations for these days: My skin had "gotten used" to the soap and finally stopped drying up immediately after I used it. I also amped up my routine and began to use it both in the morning and in the afternoon.
Day 8
It was on Day 8 that I realized how depressing all of my previous selfies looked—I'm barely smiling, so starting today, ya girl will make an effort. In this picture, notice how my skin has noticeably brightened compared to my previous ones...and that's not just because of better lighting (I made sure to use the same lighting conditions every single time!). The visual differences are definitely more evident now, and I'm excited to see my Day 14 selfie.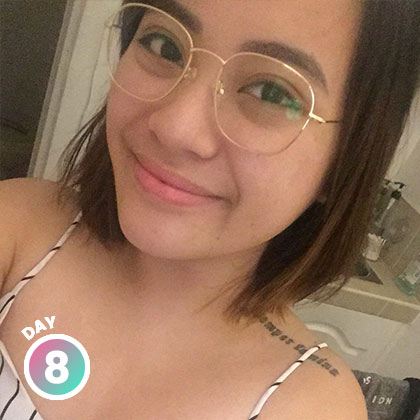 Day 9
I was sick today and could barely get out of bed—let alone make it to work. But I went ahead with my usual lather and felt refreshed afterwards. I'll admit, taking these no-makeup bedtime selfies is a pretty vulnerable experience—I don't know if you've noticed, but my cheeks still bear light scarring from my battle with hormonal acne from 2016—but the egg white soap has really helped with my confidence. I went to work with no makeup the next day.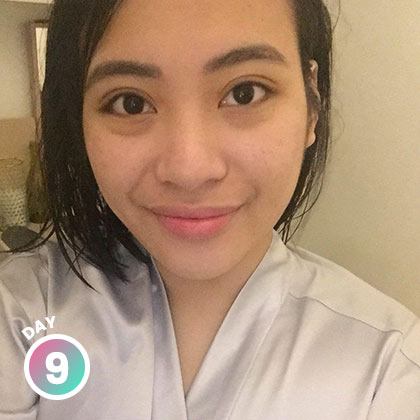 Day 10
Wow, I look extra happy! As mentioned, I went to work that day with zero makeup, and the reddish glow from my cheeks is mostly from a run, so let's ignore that. I've been busy at work, so my current one-step skincare routine is going wonderfully for this tamad girl. However, I don't think my skin can handle this moisture-free lifestyle for much longer. I. Need. My. Korean. Skincare. The tip of my nose is beginning to peel (!!!) from all the dryness.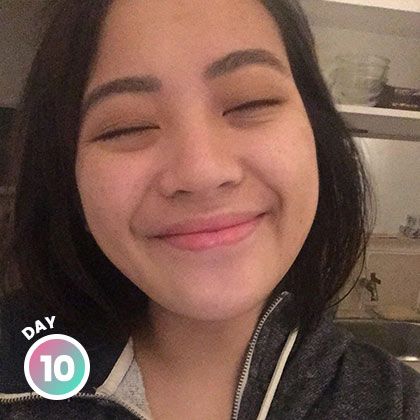 Days 11 to 13
My skin has definitely begun to look much brighter, so much so that I no longer need to wear foundation on my entire face (just on problem areas like my nose and the tops of my cheeks). There are no more signs of redness, but that's only because I've started to reincorporate my usual routine back (hello, moisturizer).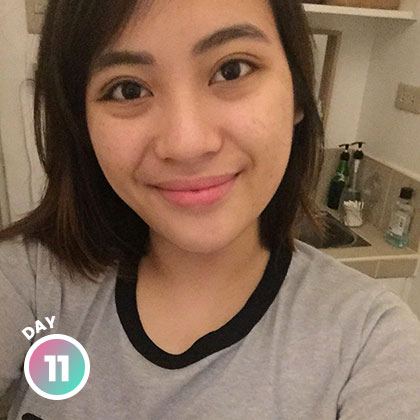 Day 14
I'm really happy with this final selfie. My skin looks hella bright, even as I continue to lack sleep. While the egg white soap doesn't do much for blemishes, it's definitely a godsend for improving your overall skin tone. The learning curve for a proper lather is a bit tricky (tip: Lather for 30 seconds or more!), but once you get the hang of it, you can use the egg white soap to trim down your routine if you're feeling lazy on some days.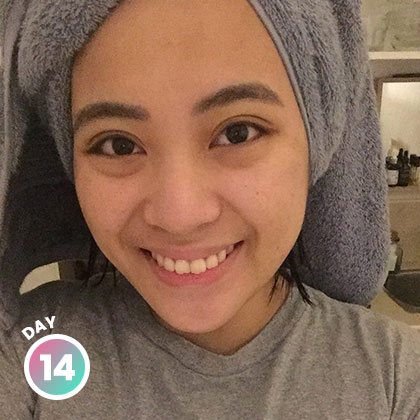 Verdict:
Admittedly, I was hesitant to try this product for two weeks straight, but if you're looking for an affordable and readily-available facial soap for everyday use, the Bellissima Egg White Whitening Beauty Soap is a must-try.
If you have dry skin, though, I would suggest that you double up on moisturizer if you'll be using this soap, as it can be drying during your first few days of use. I love that it brightened instead of whitened my complexion, because it's 2018, people, and we should learn to love our complexions. A good skincare product enhances what you already have rather than drastically changing it.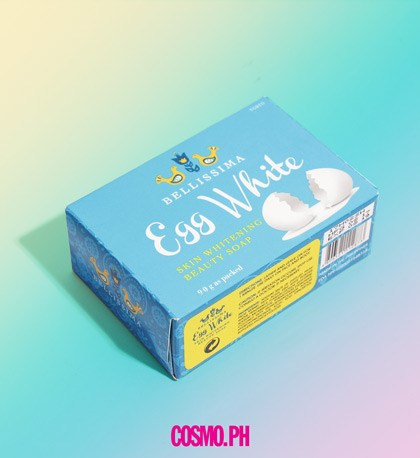 Bellissima Egg White Whitening Beauty Soap is available at Puregold branches and Lazada.
Follow Chandra on Instagram.