If you're a skincare newbie, it can feel overwhelming to shop for products. Brick-and-mortar stores have shelves littered with different kinds of cleansers, moisturizers, toners, and serums to choose from. And when you're online, you're peppered with skincare reviews and shelfies (a "selfie" of your skincare products) from people with different skin types.
What's the best skin care routine for someone living in the Philippines?
There is no single formula for a skincare routine. It all depends on one's skin type, lifestyle, budget, and external environmental factors (i.e. The Philippines has a tropical climate, so you need to take this into consideration). If you don't have a current skincare routine yet, worry not, because we came up with guidelines you can refer to when shopping for products!
Tips 
Stick to these simple rules when purchasing skincare products to avoid getting allergic reactions and wasting your money.
Know your skin type first.
Of course, being aware of your complexion's needs is the most basic thing. If you aren't sure of it yet, take our pop quiz!
Examine your lifestyle.
Are you willing to commit to an extensive or basic routine? Do you travel often? What are your skincare and health concerns? These important factors will determine your regimen. 
Examine your budget.
With all the choices in the skincare industry, there's a product for every budget. Be honest with yourself and come to terms with how much you're truly willing to spend, so you can avoid buying things out of your price range.
ADVERTISMENT - CONTINUE READING BELOW ↓
Research the products you want to buy.
We're firm believers that products react differently for each person (because no one's skin is the same). So if there's a face wash you have in mind, take the time to do a little research on its ingredients and effects. 
The Basics
Cleanser - Your facial wash or cleanser is the foundation of your entire regimen. It will determine how well your products will work for your skin because it creates a clean canvas for all your potions to be absorbed into. (Ed's note: We recommend getting a low pH facial wash to avoid irritating and drying out your complexion!)
Toner - It refines pores and removes deep-seated dirt that your cleanser wasn't able to reach. It is usually applied with a cotton ball or pad.
Serum - Because it's made up of smaller molecules, it delivers potent and powerful ingredients deep into your skin. It's best for targeting specific skin concerns like dryness, anti-aging, or acne.
Moisturizer - Aside from nourishing and hydrating your complexion, a moisturizer helps seal in all the products on your face to help it repair itself overnight. It comes in either a cream, gel-cream, or gel formula, depending on the skin type's needs.
The Routines
Now that we've discussed the basics, here are our 3-step suggestions for every skin type:
Normal
Lucky you! Your skin can work with almost any product. To keep your ~flawless~ complexion in pristine condition, show some care by cleansing it every day, and use brightening and nourishing products to retain its natural glow.
Ingredients to look for: Fruit and floral extracts; niacinamide, licorice, vitamin C, vitamin E glycerin, nut oils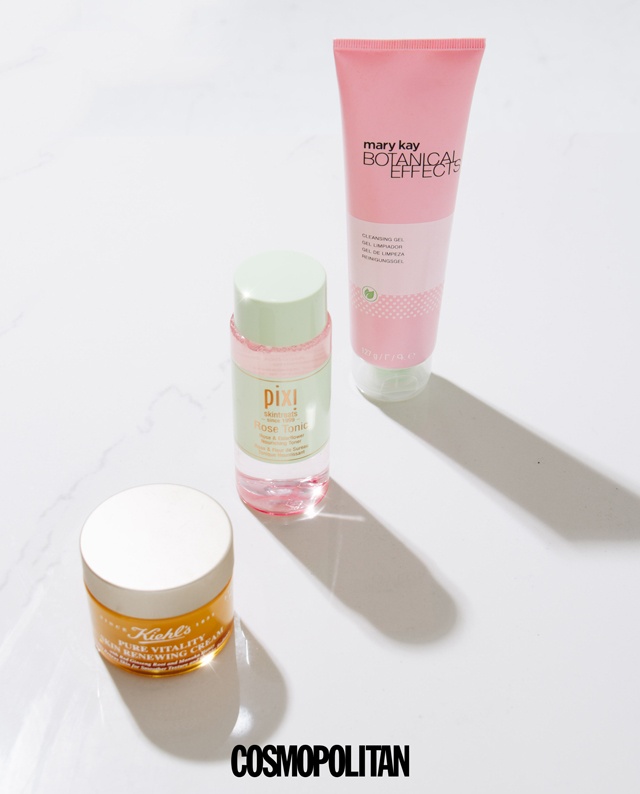 Mary Kay Botanical Effects Cleansing Gel, P299, to order from Mary Kay dealers; Pixi Skintreats Rose Tonic, P890, Glamourbox.ph; Kiehl's Pure Vitality Skin Renewing Cream, (bought overseas); Alternative: Kiehl's Ultra Facial Cream, P1,575, Greenbelt 5
Oily
Your pores over-produce sebum, leading to a greasy and shiny look. This skin type often goes hand-in-hand with acne, but sometimes that's not the case. The key is to use the right combination of products.
It's best to start with a facial cleanser with anti-bacterial properties that lifts all deep-seated dirt in the pores, Then, follow it up with a balancing toner to refine your complexion and seal everything in with a gel moisturizer loaded with anti-zit powers.
And yes, oily skin still *needs* moisturizer to keep the grease production low-key and balanced. Go for lightly textured ones that come in gel or oil-free creams.
ADVERTISMENT - CONTINUE READING BELOW ↓
Ingredients to look for: Witch hazel extract, tea tree oil, aloe vera, rosehip, salicylic acid, alguronic acid, glycolic acid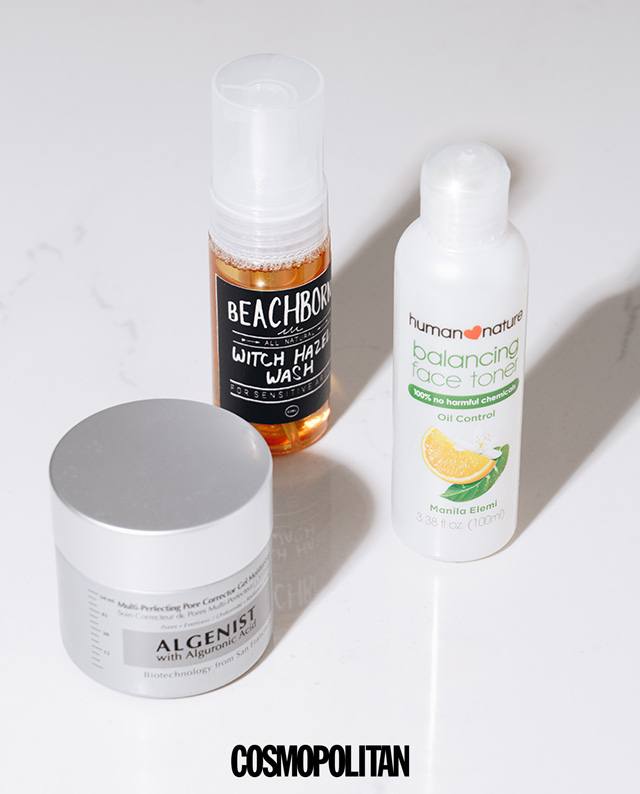 Beachborn Witch Hazel Wash, P227, Beachborn.ph; Human Nature Balancing Toner, P99.75, Robinsons Supermarket; Algenist Multi-Perfecting Pore Corrector Gel Moisturizer, P3,450, Rustan's The Beauty Source
Dry
Your pores don't produce sebum at all, which is also a bad thing. This leads to a flaky complexion, and sometimes, it accelerates the appearance of fine lines, sagging, and wrinkles! To counter this, use rich, cream- or oil-based products. 
Ingredients to look for: Hyaluronic acid, glycolic acid, rosehip oil, marula oil, argan oil, aloe vera, glycerin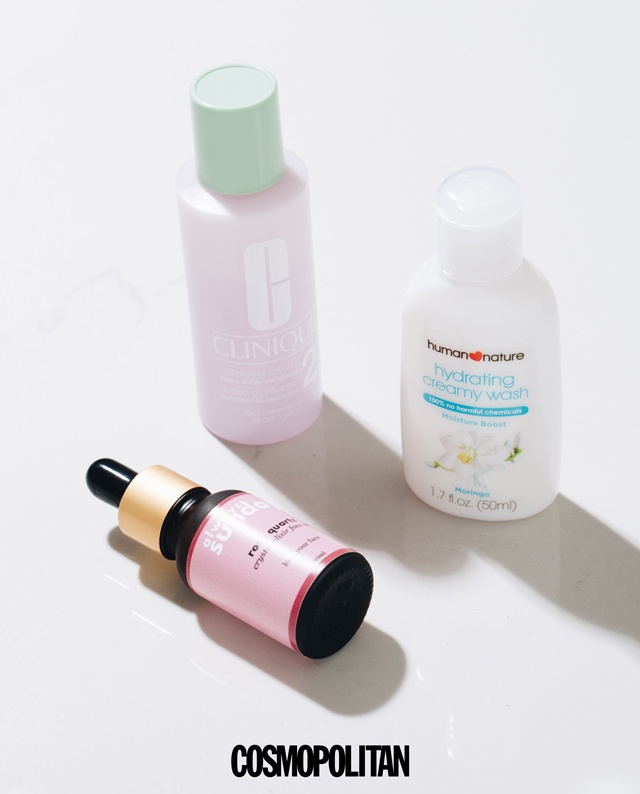 Human Nature Hydrating Creamy Facial Wash, P79.75, Robinsons Supermarket; Clinique Clarifying Lotion for Dry/Combination, P1,550, Rustan's the Beauty Source; Always Sunday Rose Quartz Crystal Elixir Face Oil, P599, AlwaysSunday
Combination
If you have dry cheeks and an oily T-zone, you've got a combo complexion! While it may seem difficult to cater to two skin types at once, we recommend searching for ingredients/products that can treat both oily and dry skin types! 
Take note, though, it's best to steer clear of heavy + rich moisturizers and sleeping masks as these can block the pores in your forehead, nose, and chin.
Ingredients to look for: Green tea extract, niacinamide, willow bark extract, salicylic acid, horse oil, Tsubaki oil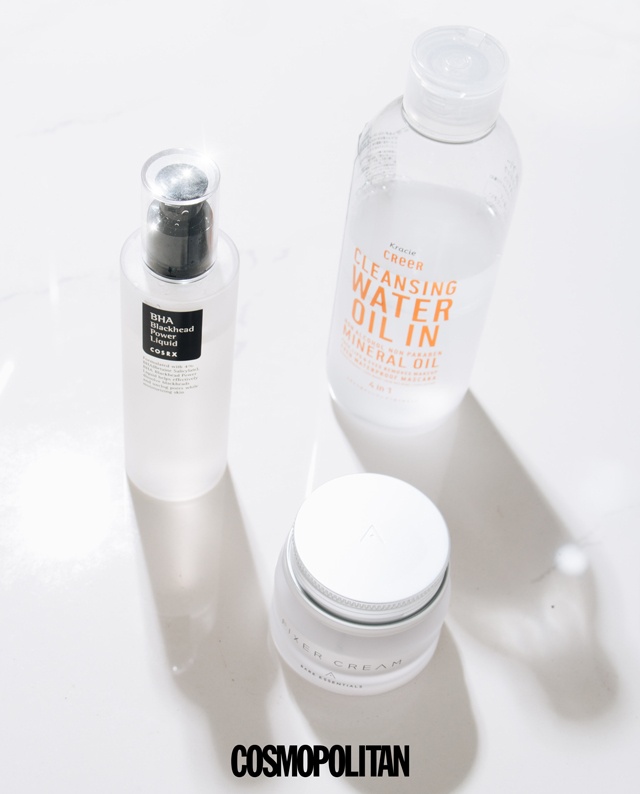 ADVERTISMENT - CONTINUE READING BELOW ↓
Creer Cleansing Water in Oil, P545, Rustan's the Beauty Source; COSRx BHA Blackhead Power Liquid, P1,070, BeautyMNL; Althea Fixer Cream, P640, Althea
Anti-aging
When you aim for everything to be firm and supple, you have to use products that nourish your skin from start to finish. Micellar water is a great alternative for facial wash, as this provides gentle toning + hydration while getting rid of makeup and dirt. Then, a potent serum partnered with a powerful moisturizer will help lift and plump up your complexion.
Ingredients to look for: Vitamin C, peptides, collagen, algae extract, aloe vera, rosehip, marula oil, retinol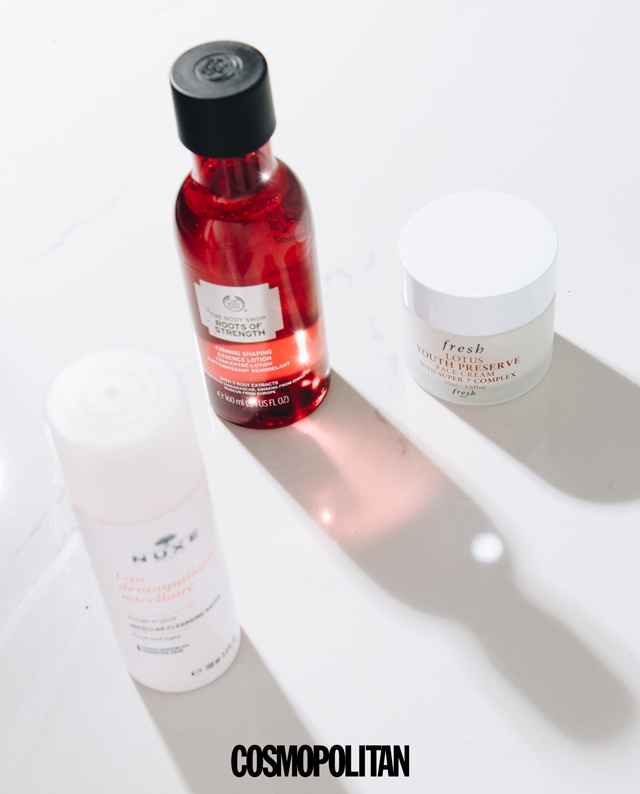 Nuxe Micellar Cleansing Water, P995, Beauty Bar; The Body Shop Roots of Strength Essence Lotion, P1,295, Lazada; Fresh Lotus Youth Preserve Face Cream, P3,236, Sephora
Follow Ira on Instagram.
Follow Tisha on Instagram.
Follow Mixi on Instagram.