Growing up, I thought I wasn't cool enough to get a tattoo. When I was younger, I had silly Catholic schoolgirl notions that they were for the tough set–people who knew how to blow smoke rings in the air, maybe? (I did tell you it was silly.)
Later on, I thought that a job in a creative industry (TV), which expanded my sheltered circle and introduced me to different kinds of people, had cured me of my stereotypical type of thinking. Tattoos were common among most people I knew and I admired those who had them.
Every time a friend showed off a freshly-inked arm or back, I would marvel at how brave they were for proudly and permanently wearing an "inside" part of themselves outside on their bodies. I secretly wanted the same for myself for years, but never actually seriously considered having it done because I didn't think I had it in me to pull it off.
Then I realized, some of my archaic, cliched beliefs about who and who couldn't get inked were still there–and guess what, they were directed at myself.
But one month ago, on an impulse, I just took the leap.
Continue reading below ↓
Recommended Videos
I had, of course, done my research before that. I read articles, asked inked friends for tips, looked at design inspirations on Instagram. But I still thought I wouldn't actually go through with it.
I guess one day, I just woke up and just thought, "Heck yeah, why not" and finally meant it. So I messaged the tattoo parlor, gave the tattoo artist a heads up by sending him a sample of the design I wanted and then scheduled a session for the very next day.
I did have some anxiety in the hours leading up to my appointment of whether or not I was going to regret my decision. But when I set foot at Arte Tattoo in Poblacion (recommended by a Cosmo friend, check them out!), I stopped worrying and just let go.
At that moment, there was joy and freedom in just doing it without agonizing or overthinking the whole thing.
It was a quick and relatively stress-free process. I was lucky my tattoo artist, Argel, was very accommodating and collaborative. We spent an easy 20 minutes finalizing the design and it took less than half an hour to have the tattoo done.
As I left the place grinning, I tried to pinpoint exactly what made me finally do it, after all these years.
Was it my way of dealing with the body I felt I lost control of?
Was it the fact that I had just finished cancer treatment a few months ago and I wanted to carpe diem? Was it my way of dealing with the body I felt I lost control of? I had a mastectomy—my boob was "chopped off", I had tiny scars everywhere, and my hair was awkwardly growing back. Maybe this was my way of reclaiming it as mine.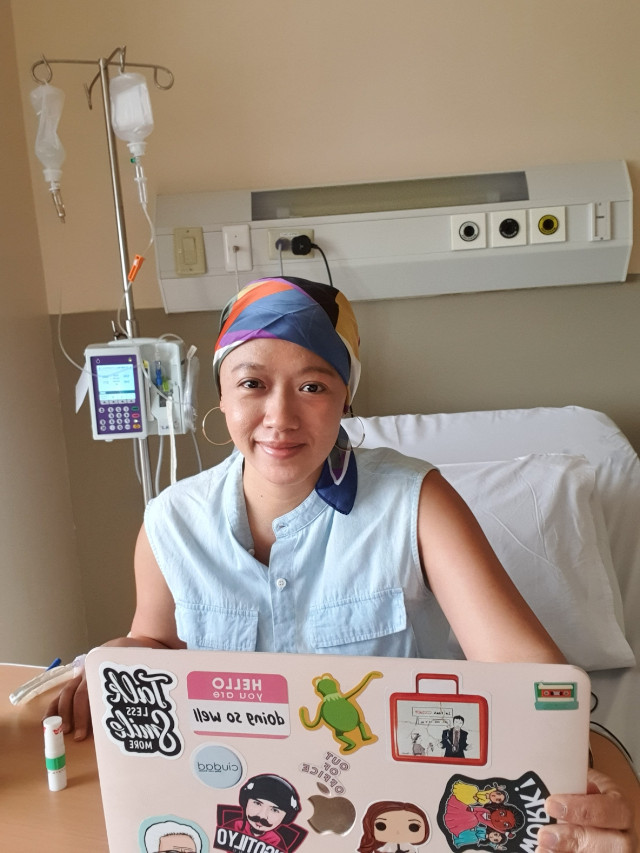 Or maybe I was less worried about what people thought of me now–what I should and should not do. If I was being proper. Maybe I cared less now about how random people perceived my body and focused more on what I thought made me feel good about myself instead?
Sure, it's just a small tattoo (and it's not even on a very visible part of my body) so you're probably thinking. It's not the bold statement that you think it is if it's semi-hidden, Dianne.
But still, there was something in the actual act of defying what I previously thought wasn't for me, that gives me an adrenaline rush.
I am seriously one of the most un-cool people that I know – I'm a tita at 37, I'm vanilla AF, and I got a tattoo of a FLOWER on my body. But I think it's pretty cool that I did it anyway.
By the way, I chose to have a lone daisy inked under my right (non-existent) breast. My mom's name is Daisy, I like how it's the friendliest flower and obviously, I love You've Got Mail. You're cool (in my book at least) if you get the reference. 
My tattoo costs P4,500, in case you're curious.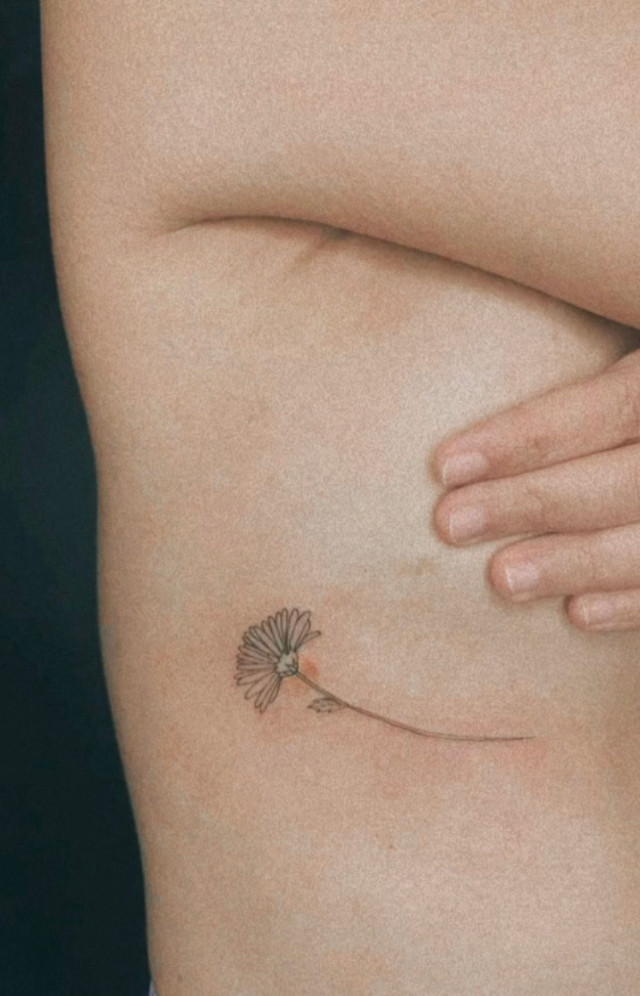 Tips For Those Who'll Get A Tattoo For The First Time
For those who are thinking of getting inked for the first time, here are some things you have to consider before booking an appointment.
Do your research. Read up on pre and post-tattoo care. Look at design inspirations online (Cosmo has a lot!) and share them ahead with your chosen tattoo artist.
Make sure you want it enough that you won't regret it even if the tattoo doesn't turn out as perfect as you want it to.
Personally, a tattoo design doesn't have to have the deepest meaning for the actual experience to be meaningful to you. It just has to make you happy.
Bring a shawl or a small blanket, because you might need to take off some of your clothes. This is probably a more comfortable cover-up than the wet rain jacket that I used during my session.
Just do it! There's joy in just taking the leap.
Follow Dianne on Instagram.
MORE MEANINGFUL TATTOO STORIES
The Touching Story Behind Heart Evangelista's 'Love' And Daisy Tattoos
10 Pinays Share The ~Meaning~ Behind Their Tattoos
15 Small Flower Tattoo Ideas That Are ~Subtle~ Enough To Be Hidden