Article Summary
It's a great beauty investment you can treat yourself to on Christmas or your birthday, whichever comes first!
After being convinced about the ~skin-smoothing~ powers of a cleansing brush by our EIC Jillian Gatcheco (see her extensive, road-to-porcelain-complexion routine here), I decided to try one for myself: The Foreo Luna Play. It's a palm-sized waterproof device made of silicone, and it has different-sized bristles that lift dead skin and product buildup from the face.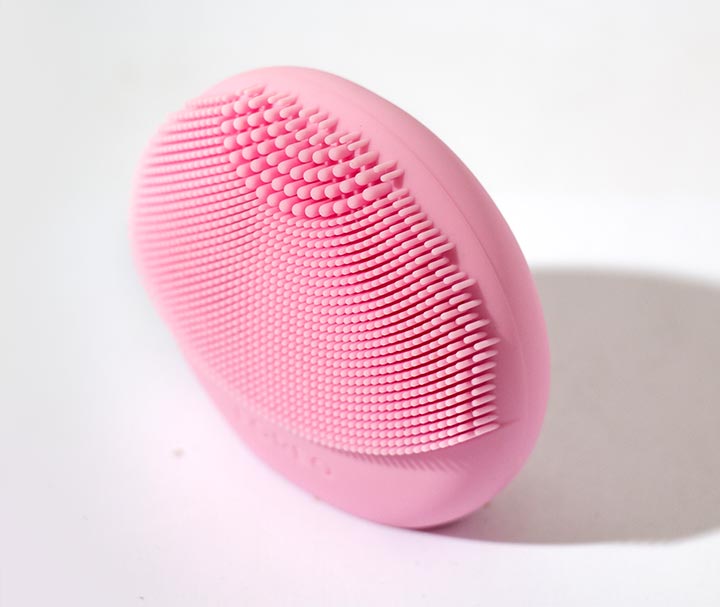 To give you a background of my skin type, I've got oily skin, and my forehead gets super shiny by lunchtime. I'm also a big fan of exfoliating because I suffer from acne marks that I got when I was a teen, so adding a cleansing brush to my P.M. routine sounded exciting to me! Find out what went down after I used it for two weeks:
Day 1
I've always washed with a glycolic acid cleanser to get rid of my marks, so I was delighted when my skin instantly felt smoother than before after I cleansed with the Foreo Luna Play. I wondered if it could speed my scar-erasing gameplan faster. I also watched out for any signs of redness, and thankfully, I had none.
ADVERTISMENT - CONTINUE READING BELOW ↓
Day 3
I observed that my toner still picked up dirt and makeup post-washing, so I figured that I still needed to double-cleanse. It's no biggie because I'm used to doing it anyway.
Day 5
I wore extra-thick foundation today because I went out with a girlfriend. I used a creamy, oil-based facial cleanser and was AMAZED by the amount of makeup that mixed with the lather on the brush. 
Day 10
I have to say that I never looked forward to actually going to the bathroom after a tiring day to wash my face. I haven't seen a zit on my face since Day 1 of using the brush, even when Aunt Flo paid her monthly visit. It's like I overrode my period hormones.
Day 14
Let's all rejoice because I'm still pimple-free, AND the huge blackhead on my cheek is nowhere to be found anymore. I believe the Foreo Luna Play helped my AHA-powered skincare routine work better and faster!
Verdict
I was supposed to get a facial this month, but I decided to skip it. My skin hasn't misbehaved since using the Foreo Luna Play—not a zit or a blackhead in sight! Plus, I love that it's easy to clean and store. I just run the bristles under running water and air-dry after. I also like that I don't need to replace any brush heads after a few months, unlike other brands. If you're traveling, this gadget is perfect because it's lightweight and won't take up too much space in your kikay kit! 
The Foreo Luna Play retails for P2,273 at Sephora.ph. You can also purchase it at Foreo.com
Follow Ira on Instagram.