When lockdowns and quarantine protocols were put into place last March, I found myself at a loss. I've always been a planner by nature (also I'm a Capricorn, lol.) so I've always felt like I needed to have control over every single aspect of my life. But then COVID-19 happened, and suddenly, making plans was a thing of the past. I wasn't sure what was in store for all of us, and that made me very unhappy and scared.
One random Wednesday in April, however, I decided it was time to pick myself and learn how to live with this "new normal", a term that still makes me feel uncomfortable, but it is what it is. I realized I had let go of routines that I used to rely on to make me feel better, including my skincare routine. Around the second week of quarantine, I literally stopped caring about my skin. I didn't see the point in doing it, because I was just stuck at home, save for the occasional trips to the grocery. My serums, eye cream, toners, and moisturizers just began to gather dust on my bedside table. The only thing I was using was facial wash, because of course, I still wanted clean skin!
Continue reading below ↓
Recommended Videos
READ: How Wearing Makeup During Quarantine Helps My Mental Health
On that same day, I decided that I would take control of what I can, beginning with my skincare routine. I knew I had complete power over it. I realized that I was probably bored with the products I was already using and that *maybe* it would help if I found new stuff to try (I was also going through a really insane online shopping phase, haha!) I opened Shopee (my favorite escape, lol) and found the Hada Labo Hydrating Trial Set. It was only P465 for a set of minis that included their Hydrating Face Wash, Hydrating Light Cream, and their famous Hydrating Lotion. I was sold.
READ: This Japanese Face Lotion Can Give You The 'Glass Skin' Of Your Dreams
I've been a fan of the Hada Labo Hydrating Lotion for years. Back when it wasn't available in the Philippines yet, I'd buy a few bottles from Tokyo to bring back home. I read about it a lot from beauty blogs and it was almost in every store I walked into in Japan. I remember, after trying it for the first time, I thought: Wow, I didn't know my skin could be *this* soft! Anyway, seeing the mini trial set reminded me of a product I once loved so much but slightly forgot about because of all the others I've met along the way.
I've heard the word "mochi skin" being mentioned for a while now. To be honest, I like the term more than ~glass skin~. No hate, but I just think mochi skin sounds cuter and more attainable, lol. Think: Skin that's as soft and bouncy as a yummy little mochi! (It also makes me think of a million jokes about BTS' Jimin, aka, bb mochi, but I digress.) And then, I also read that you can achieve mochi skin with the Hada Labo Hydrating Lotion and the other products from the line. Since I noticed that my skin was getting dull and dry—probably from not getting enough sleep and the stress of working long hours from home—I figured it was time to go back to using this old fave.
I know what you're probably thinking: What is a "facial lotion" anyway? And I get it, because it's not exactly a product common here in the Philippines. First of all, it's not a toner. Think of it more as an essence or a step to prep your skin for your moisturizers. Use it after washing your face and toning, before applying moisturizer.
READ: Yes, You Still *Need* To Apply Sunscreen, Even If You're Just At Home
The Hada Labo Gokujyun Hydrating Lotion is packed with Hyaluronic Acid that can attract and hold up to 2,000 times its own weight in water. Hyaluronic Acid is an ingredient popular among skincare enthusiasts, because it maximizes moisture retention in the skin, leaving it supple and dewy. It's a *very* gentle ingredient that can work for all skin types—whether you are oily, dry, combination, HA is safe to incorporate in your routine. It also has antioxidant properties that will make your skin healthier. And guess what, the Hada Labo Gokujyun Hydrating Lotion is packed with four types of Hyaluronic Acid that can soothe and firm the skin, as well as strengthen its barrier. It's also fragrance-, alcohol-, color-, and mineral-oil free. So there's a little to zero chance that it will irritate your skin.
I started using the mini trial set to incorporate the Hada Labo products into my daily skincare routine. In the mornings, I'd pat on (don't use a cotton pad!) the Hydrating Lotion onto my skin immediately after cleansing. After that, I'd apply the light moisturizer—an absolute dream if you hate thick moisturizers—and let the products set on my skin before applying sunscreen. This has been my super trimmed down, simple morning skincare routine ever since we started working from home. Aside from it being super quick, the quick steps prep my skin very well for when I need to wear makeup for video calls. I've since moved on to using full versions of the products!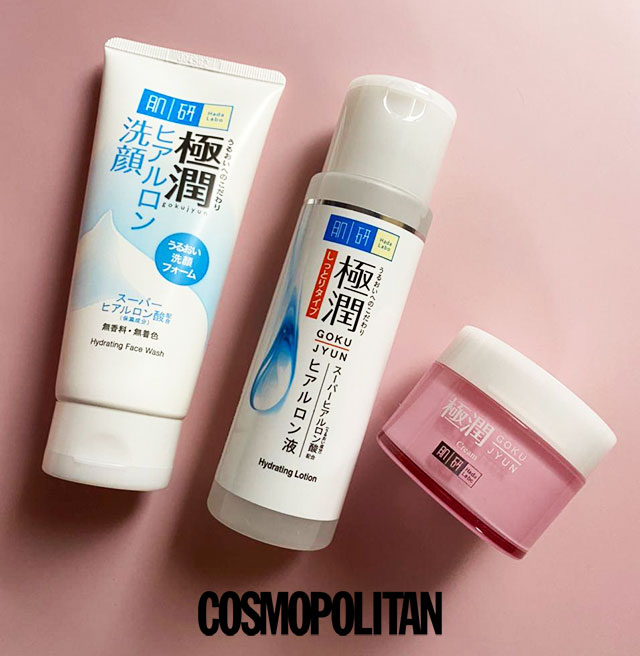 After a week of sticking to this simple routine in the mornings (and something slightly similar at night, only I'd also a glycolic toner, anti-aging serum, and a slightly thicker moisturizer), I did notice a huge improvement in my skin. The dryness and dullness were gone. My skin was always well-moisturized, and dare I say, even brighter and firmer. It's been months since I went back to using the Hada Labo Hydrating Lotion, and I'm really glad that I found my way back to it and that I also discovered other products from the brand. They've changed my skin so much, and I do hope they work out for you, too.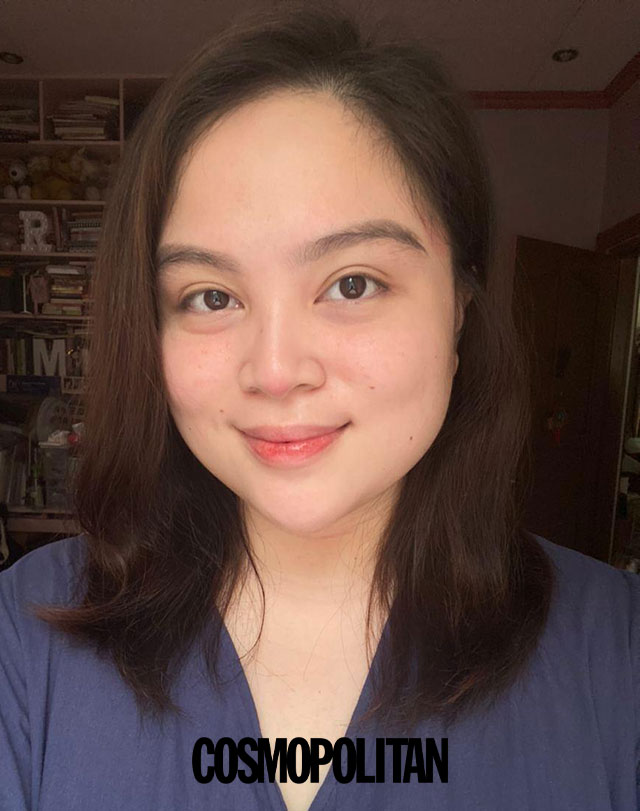 This little act of improving my skincare routine and sticking to it has helped me in more ways than one. My skin has improved by simply cutting down and using the right products, obviously. But a part of my mental health has, too. And that's so important.
Hada Labo is available in selected Watsons branches nationwide and online at watsons.com.ph, Watsons channel in Lazada and The SM Store's channels in Lazada and Shopee.
Follow Retty on Instagram.