You've been told time and time again that you should never step out of your house without applying sunscreen. But a lot of women still don't have the patience to spare a few minutes to slather on an extra layer of ~*sticky*~ sunscreen on their faces before applying makeup. This habit? Not OK.
While it may seem like such a harmless routine, walking around sans sun protection is actually very dangerous. While you can't see or feel the damage the sun causes on your skin immediately, the problems can run much deeper.
There are two types of UV rays from the sun: UVA and UVB. UVA rays cause wrinkles and speed up skin aging. The horrifying thing about UVA rays is that they can penetrate through glass and clothing—so you might want to rethink sitting by the glass windows at your favorite cafes all the time.
On the other hand, UVB rays are responsible for tanning your skin and sunburn. (Tip: UVA = aging, UVB = burning!) Prolonged exposure to the sun without ample protection could lead to various skin problems. The worst of them all? Skin cancer.
If your only reason for not wearing sunscreen daily is because you're just too tamad, then worry no longer—we found the perfect product for you.
Continue reading below ↓
Recommended Videos
Local beauty brand Happy Skin just released their first-ever sun care products, featuring two broad spectrum—meaning they protect you from both UVA and UVB rays—sunscreens. Our favorite though? The Catch the Sun On the Go Hydrating UV Mist SPF 35 PA++.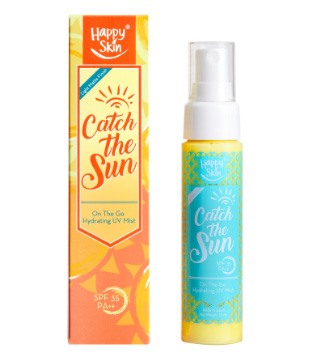 Happy Skin Catch the Sun On the Go Hydrating UV Mist SPF 35 PA++, P699
You can use the clever product both under and over your makeup—because it's essential that you reapply sunscreen throughout the day, even if you spend most of it indoors. And don't worry about the mist possibly ruining your makeup! It's specially formulated to act as a setting spray and sunscreen all in one. Talk about an answered prayer. 
Follow Retty on Instagram.