Still confused with the one million skincare products out there? We don't blame you. Here, a guide on how you should pack on products in the morning.
The Correct Skincare Routine Order: Morning Skincare Products
Step 1: Cleanser
Start with a clean base. Splashing your face with water won't cut it, because a) you might still have some residue from your nighttime skincare regimen; and b) your skin probably collected acne-causing bacteria from your pillow.
Step 2: Toner
Refine your pores and balance out your skin by patting on your toner after you clean your face. (READ: The Most Gentle Toners That Won't Dry Your Skin Out)
Step 3: Serum
Start with the lightest product in your skincare routine—your serum. Serums have a high concentration of vitamins and minerals, so it makes sense to apply them first. Whether it's brightening, anti-aging, or clearing, be sure to use a serum that is fit for your needs. Also, be sure to avoid the eye area when applying it. 
We're particular to applying brightening serums in the morning to help combat UV rays. Look for a formula with vitamin C, niacinamide, or licorice extract. You can also go for a hydrating serum with hyaluronic acid to get that glass skin glow.
Step 4: Eye cream
Soothe your tired under-eye area by patting on a refreshing eye cream after your serum. Use your ring finger—the most gentle finger—to apply it. Before or after your eye cream,
Step 5: Spot treatment
Put on your spot treatment for pimples, blemishes, or dark spots. Let your skin absorb the formula before proceeding to the next step.
ADVERTISMENT - CONTINUE READING BELOW ↓
Step 6: Moisturizer
Massage your face with a moisturizer to give you fresh-looking skin. We recommend using gel-based formulas for oily skin, ceramide creams for dry skin, and cica-infused moisturizers for maskne-prone and sensitive skin.
Step 7: Face sunscreen
We trust Cosmo girls know better than to skip sunscreen! Let your sunscreen set, and you're ready to apply your makeup. Don't forget to put some on your neck, too! (Check out the lightweight, non-greasy face sunscreens we love here.)
You should also know….
Facial oils can be applied on the skin after SPF.
"Oils can penetrate through creams, but creams can't seep through oils," said Dr. Kaycee Reyes.
Let your products set first.
Before you move on to your next product, let three to five minutes pass. For example, after you put on your serum, brush your teeth, and then put on your eye cream. After your eye cream, drink your coffee and then move on to moisturizer. Letting your products set is the only way to make them work.
Refresh your skin.
By lunchtime, you'll notice that your skin will start to feel dry. Take oil-absorbent sheets—or tissue—and let it suck the oil that your skin has pumped out. Combat your dry skin by spritzing on a super refreshing facial mist.
Save this on your phone!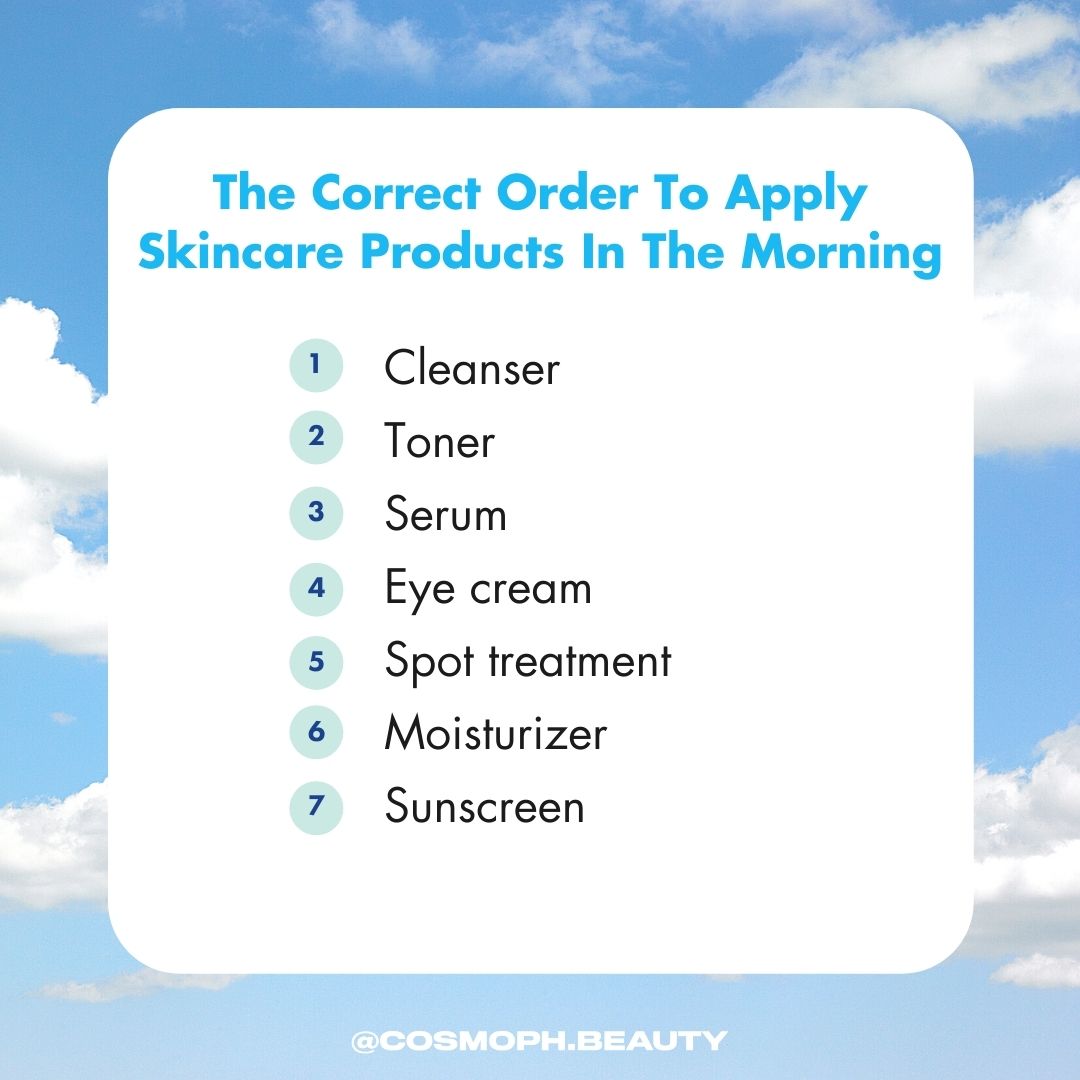 RELATED: Know the order of packing on products in the evening!