Still confused with the one million skincare products out there? We don't blame you. Here, a guide on how you should pack on products in the morning.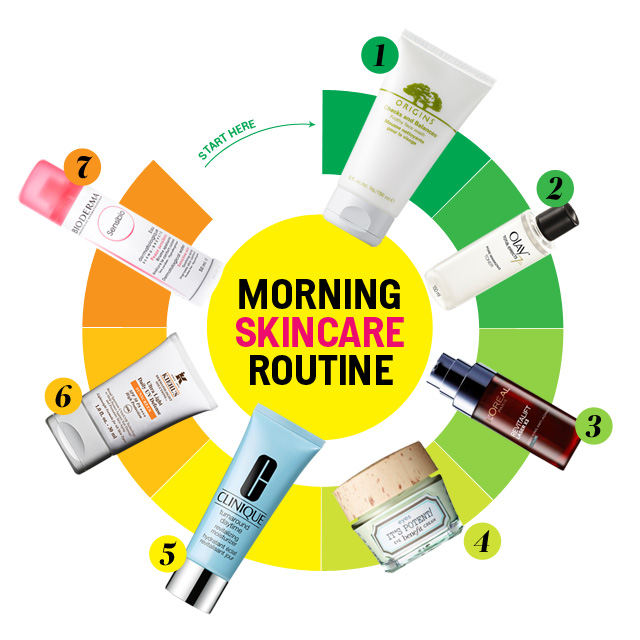 1) Origins Checks & Balances Frothy Face Wash, P1,150, SM Makati Department Store; 2) Olay Total Effects 7-in-One Pore Minimizing Toner, P849/150mL, Zalora; 3) L'Oreal Revitalift Laser X3 Renewing Anti-Aging Serum, P1359, Watsons; 4) Benefit It's Potent Eye Cream, P1,800, Trinoma; 5) Clinique Turnaround Daytime Revatilizing Moisturizer, P2,700, SM Megamall; 6) Kiehl's Ultra Light Daily UV Defense SPF 50, P1,995, SM Megamall; 7) Bioderma Sensibio Eau Dermatologique Spray, P938/50mL, Watsons.
Cleanse. 
Start with a clean base. Splashing your face with water won't cut it, because a) you might still have some residue from your night time skincare regimen; and b) your skin probably collected acne-causing bacteria from your pillow.
Continue reading below ↓
Recommended Videos
Tone.
Refine your pores and balance out your skin by patting on your toner after you clean your face.
Serum.
Start with the lightest product in your skincare routine—your serum. Serums have a high concentration of vitamins and minerals, so it makes sense to apply them first. Whether it's brightening, anti-aging, or clearing, be sure to use a serum that is fit for your needs. Also, be sure to avoid the eye area when applying it.
Eye cream.
Soothe your tired under eye area by patting on a refreshing eye cream after your serum. Use your ring finger—the most gentle finger—to apply it. Before or after your eye cream, you can also put on your spot treatment for pimples, blemishes, or dark spots.
Moisturizer.
Massage your face with a moisturizer to give you fresh-looking skin.
Sunblock.
We trust Cosmo girls know better than to skip sunscreen! Let your sunscreen set, and you're read to apply your makeup.
You should also know….
Facial oils can be applied on the skin after SPF.
"Oils can penetrate through creams, but creams can't seep through oils," said Dr. Kaycee Reyes, M.D.
Let your products set first.
Before you move on to your next product, let three to five minutes pass. For example, after you put on your serum, brush your teeth, and then put on your eye cream. After your eye cream, drink your coffee and then move on to moisturizer. Letting your products set is the only way to make them work.
Refresh your skin.
By lunchtime, you'll notice that your skin will start to feel dry. Take oil-absorbent sheets—or tissue—and let it suck the oil that your skin has pumped out. Combat your dry skin by spritzing on a super refreshing facial mist.
Follow Retty on Twitter. 
RELATED: