When we were just starting with skincare, we had ~no idea~ where to begin! We weren't aware which products to get moreover the order that they should be applied. We just knew the basic rule: Wash thy face. 
The major benefit of doing the correct skincare routine is that you get to reap the benefits of *every* product you use. So, if you want to know which comes first and last, here's a guide on how you should do your skincare routine at night.
The Correct Skincare Routine Order: Evening Skincare Products
Step 1: Makeup remover
Using either your micellar water or makeup remover—or both—gently get rid of the day's makeup. Use an oil-based makeup remover or cleansing milk, in particular, to remove waterproof eye makeup.
Step 2: Cleanser
Clean your face with your facial wash. Choose a formula that suits your skin type or current skin concern. (READ: The Ultimate Guide to Finding The Best Cleanser For Your Skin Type)
Step 3: Toner
This step is often skipped because people have the assumption that toners are "matapang" on the skin. Today's formulas are gentler and they help prep the skin so it can take in the nutrients and active ingredients of your other skincare products. If you opted for a formula with AHA, BHA, or PHA, it serves as your exfoliation step.
Continue reading below ↓
Recommended Videos
Step 4: Face serum
Let your skin regenerate and repair itself by patting on a nighttime face serum on your skin. Massage a few drops of the product onto your face using your fingertips.
Step 5: Eye cream
Apply a thicker eye cream to lock in moisture as you sleep. (LIST: The Best Eye Creams That Can Help Make You Look Well-Rested And Fresh)
Step 6: Spot treatment
If you've got random breakouts or dark spots, dab a spot treatment that will target all the bad guys. Choose a zit-zapper with salicylic acid or benzoyl peroxide to make the pimple go away. For pigmentation, choose a concentrated product that contains brightening ingredients like licorice extract, vitamin C, or niacinamide.
Step 7: Moisturizer
Your skin gets really dry when you hit the sheets every night, so use a nourishing moisturizer for your skin. That's it! You're ready to go to sleep. (READ: The Best Moisturizers For Your Skin Type)
Step 8: Face oil
This step isn't *that* necessary but it's a nice touch if you want to wake up with insanely glowy skin. A face oil seals in all the goodness of your nighttime skincare product. We're particular to concoctions with rosehip or pili oil.
Optional: Face mask
Deep clean your skin by using a clay mask at least once a week. The clay mask will tighten your pores and get rid of bacteria that can potentially lead to nasty breakouts. Use this after you in between your toner and serum!
Save this on your phone!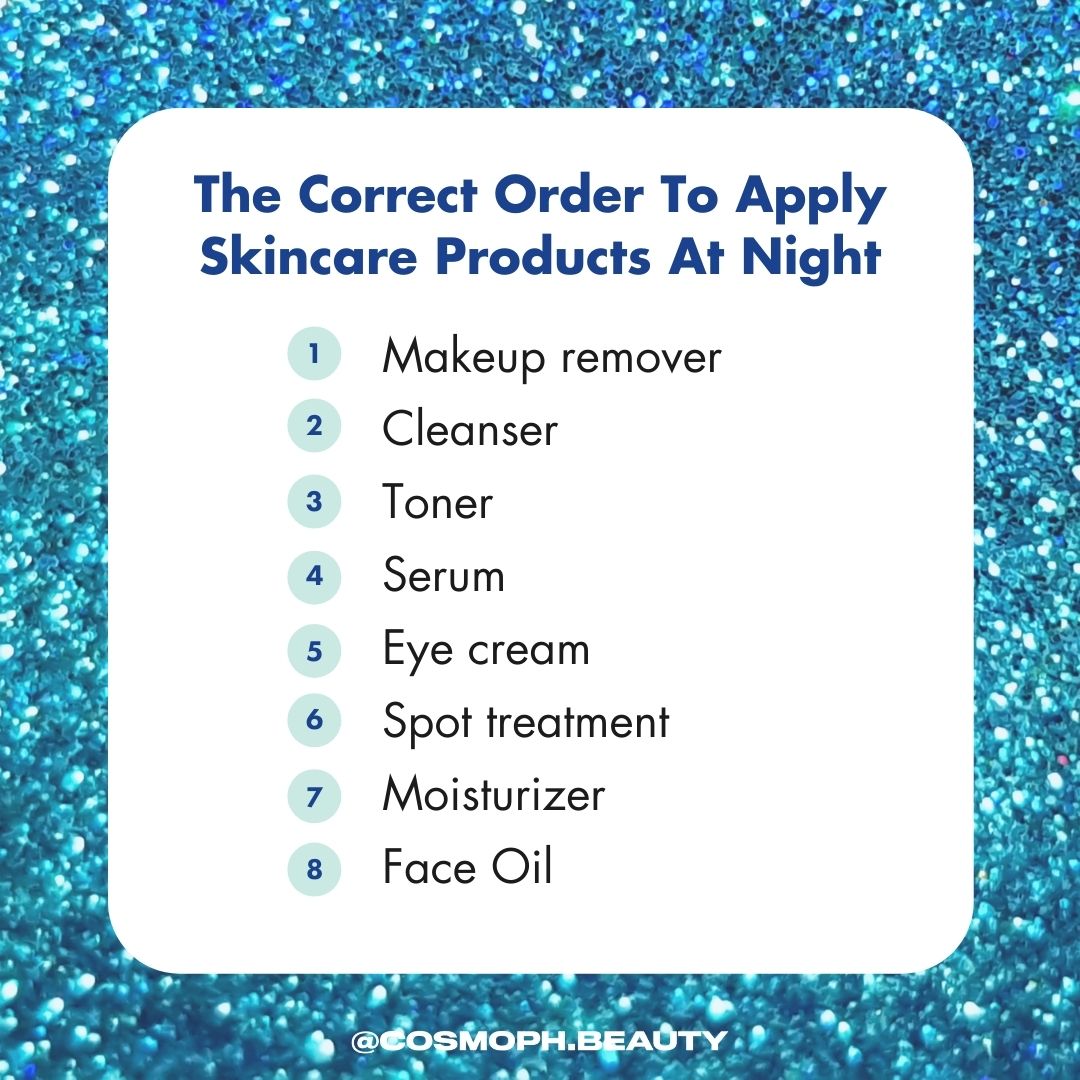 (Ed's note: Eye cream, spot treatment, and face oil are optional)
RELATED: Know the order of packing on products in the morning,