At first glance, cleansing oils don't look like they're easy to use. It is an oil after all, and one would typically associate that with not just being greasy but being an absolute pain to remove. Perhaps that's why many tend to avoid it and opt for micellar water instead as the "lazy" way to remove their makeup. Here's what they don't know, though: cleansing oils (and balms) are actually the easier option. Using one takes less time, effort, and not to mention minus the cotton pads. In fact, oil-based cleansers can help you achieve a clear pores faster! It's only a matter of learning the right way to use one. For a step-by-step guide, keep scrolling!
How to Use Cleansing Oil
1. Apply it over a dry face.
Although cleansing oils are still technically cleansers, you don't need to dampen your face with water before using them. You can actually massage the oil directly over a dry, made-up face—basically like you would with micellar water sans the cotton pad. Having only the oil on your skin allows the formula to break down all the products faster, too.
2. Massage the oil in.
Oil-based cleansers require a little more handiwork to get all that gunk off your skin. You have to massage every crevice of your face with your fingers to fully take everything off, especially in places like your eyes where there's hard-to-remove products like mascara and eyeliner. You can do this fast if you're in a rush, but use your fingertips instead of your palms for gentler pressure!
Continue reading below ↓
Recommended Videos
3. Emulsify the oil with water.
This is the step many tend to forget, which makes rinsing off cleansing oil more difficult than it should be. Because instead of rinsing it right away with water, you have to let the product emulsify first! To do that, just run your hands under running water, and once they're more watery than oily, massage your face and neck a second time to emulsify. You'll know when this happens because cleansing oils usually go from clear to white once emulsifed. Doing this helps break down your makeup even more and makes the rinsing process much smoother.
4. Rinse and follow up with a regular cleanser.
At this point, you can basically just wash off the cleansing oil like you would a regular face wash. However, you might want to follow up with a second cleanse (find one for your skin type here!), because most oils do leave behind residue. This residue could be excess makeup or just oil—both of which could irritate your skin or break your complexion out. After all, you'd want to have a completely clean canvas!
Best Cleansing Oils to Try
Now that you're an oil cleansing pro, here are some new products to try:
In Her Element Sunflower Wash-Off Cleansing Oil
This local brand's cleanse-off oil has sunflower oil that both breaks down makeup and leaves the skin soft and supple. 
In Her Element Sunflower Wash-Off Cleansing Oil, P695, In Her Element
Clinique Take The Day Off Cleansing Oil
This product has no parabens, phtalates, and fragrance, making it perfect for sensitive skin.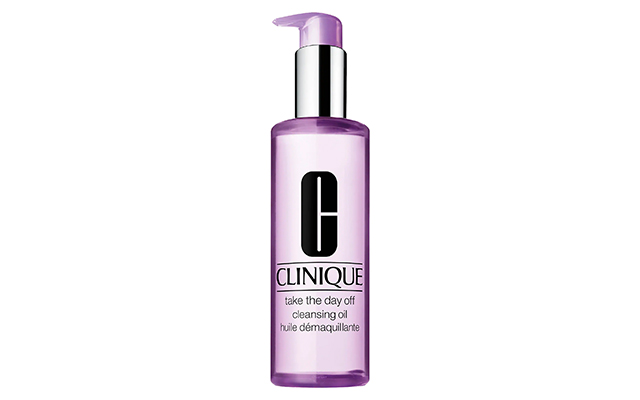 CliniqueTake The Day Off Cleansing Oil, P1,850, Lazada
Shu Uemura Porefinist2 Sakura Refreshing Cleansing Oil
This cleansing oil has sakura extracts, green tea, and hinoki wood that helps cool down and refresh oily skin.
Shu Uemura Porefinist2 Sakura Refreshing Cleansing Oil, P2,200, Sephora.ph
Philosophy Purity Made Simple Mineral Oil-Free Facial Cleansing Oil
Looking for a mineral oil-free alternative? You might want to try Philosophy's Purity, which uses olive oil as a base instead.
Philosophy Purity Made Simple Mineral Oil-Free Facial Cleansing Oil, P1,895, Sephora.ph