Fresh off the success of her latest fashion campaign for Lowe, Kaia Gerber spent some quality time with brother Presley Gerber getting some new ink last night.
Nothing bonds these celeb siblings quite like rocking up to a tattoo parlor together, because when in New York, amiright?
The 18-year-old got two new inkings by artist Evan Tattoo, a flower on her wrist and a pair of interlocking arms in the shape of a heart on her shoulder.
But seriously though, just how chic are these tiny line inkings?? Evan shared close-up shots of the tatts on Instagram, thanking the brother and sister duo for their business: "Always welcome!!! Always happy!! Always best! Thanks @kaiagerber @presleygerber."
Kaia already has eight small tattoos which, might we add, are all next-level chic, reminding us with our forever girl crush Zoe Kravitz's minimalist tattoo aesthetic.
From the number "23" on her elbow (a reference to her haute couture runway debut), an angel on her ribcage and her middle name "Jordan," to a red heart and a lady with a bird, on each of her arms; the model's ink collection is pretty impressive considering she hasn't even reached 21 yet.
ADVERTISMENT - CONTINUE READING BELOW ↓
In her latest Instagram post, you can see a hint of Kaia's new tattoo as well as the angel on her ribcage:
In another post you can see the lady and bird tattoo on her arm:
But Kaia wasn't the only one to get some new art; brother Presley also got the words "HAHA" on his fingers.
The NYC-based artist posted a photo of himself with the famous siblings on Insta, along with as an image of Presley's latest addition:
Kaia's bro also took to Insta Stories to share an outtake of the siblings with their new ink, with his younger sister looking casual but cool in a black jumper, camel beanie, and a pair of gold specs: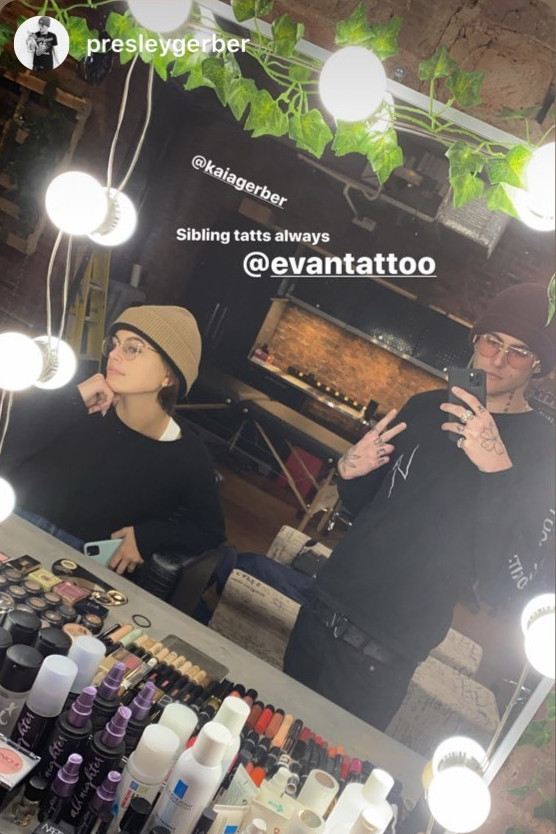 ADVERTISMENT - CONTINUE READING BELOW ↓
So if you're stuck on ideas on how to bond with your sibling, maybe take a page out of the Gerbers' book and go get yourself some fresh ink. Just don't tell mom and dad, right?
Follow Nathalie on Instagram.
***
This article originally appeared on Cosmopolitan.com/uk. Minor edits have been made by the Cosmo.ph editors.