Here's a fun fact about Kathryn Bernardo: She's a big fan of ear piercings! In fact, the actress gets a new one each time she marks a special milestone in her life. Her first-ever piercing was for Three Words to Forever (2018)—a romantic drama where she was paired with someone who isn't her reel-to-real life lover Daniel Padilla. According to Kath, it was a big adjustment for her. "I decided to [get] a piercing every [time na may] achievement ako or may big milestone sa life ko," she shared in one of her vlogs.
Kathryn Bernardo Ear Piercings
Since then, Kath has been sporting multiple piercings, and we're *obsessed* with them! Check out her growing collection below: 
How many ear piercings does Kathryn Bernardo have? 
Currently, the actress has about five piercings on each ear! 
Kathryn Bernardo's Multiple Ear Piercings (2022)
Before we dive into Kath's ear-piercing collection, here's a quick guide (or refresher) to the different types of ear piercings: 
ADVERTISMENT - CONTINUE READING BELOW ↓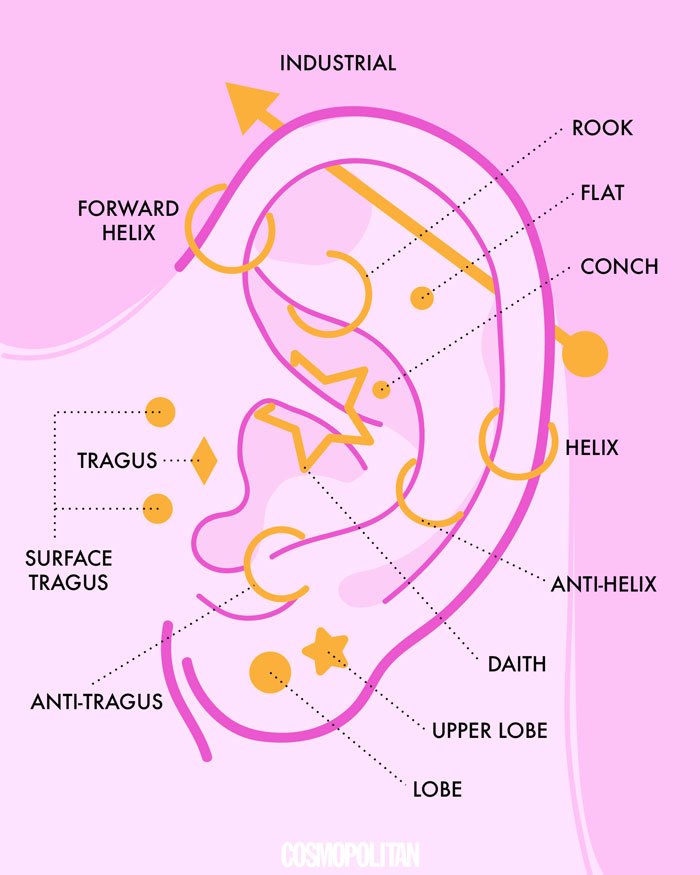 Triple lobe piercing 

Soft and fleshy, the lobe is considered the ~least~ painful spot to get a piercing, so we're not surprised that Kath has multiple lobe piercings!

In 2020, she got a cluster of three-lobe piercings that's shaped like a triangle to celebrate the success of her vlog, "Everyday Kath."

ADVERTISMENT - CONTINUE READING BELOW ↓

High-lobe piercings

Kath has two high-lobe piercings on her right ear, and they certainly add a *cool* touch to her ear party.

As its name suggests, a high-lobe piercing sits on the upper part of the earlobe—it's perfect for anyone who wants to level up from the traditional lobe piercings. 

ADVERTISMENT - CONTINUE READING BELOW ↓

Orbital lobe piercing

An orbital ear piercing is when two holes in the same part of the ear are connected by a hoop earring. It's unique and eye-catching, and it's known for having a short healing period (around six to eight weeks.) 

Helix 

Back in 2019, Kath and her co-stars in the movie The Hows Of Us, Ria Atayde and Juan Miguel Severo, got *friendship* helix piercings. ICYDK, it's a popular cartilage piercing that's placed along the upper ear area. 

ADVERTISMENT - CONTINUE READING BELOW ↓

ADVERTISMENT - CONTINUE READING BELOW ↓

Unfortunately, the actress shared in one of her vlogs that her helix piercing closed not once but twice. "Hindi siya meant to be," she said.

According to Kenneth Abad, a professional body piercer and tattoo artist at 55 Tinta, it will take about "10 months or maybe even a year" for helix piercings to fully heal. That said, be careful not to take your earrings out prematurely. (READ MORE: How To Make Sure Your Ear Piercings Don't Close Or Get Infected) 

Rook 

If you're looking for an ~unusual~ placement for your ear piercing, a rook piercing might just fit the bill! It's a cartilage piercing in the uppermost ridge of your inner ear. NGL, getting one can be painful since it's going to go through a thick layer of the cartilage. It looks so stunning, though! 

ADVERTISMENT - CONTINUE READING BELOW ↓
What do you think of Kath's ear piercings?
*MORE* EAR PIERCING IDEAS FOR YOU 
All The Super Pretty Ear Piercing Ideas You Can Get On Your Cartilage
The Most Popular Ear Piercings To Get, Other Than On Your Lobe
These Multiple Ear Piercing Ideas Will Fit Your Minimalist ~*Aesthetic*~