Having pimples is a bummer, but another annoying thing one would have to face (get it?) are the marks they leave behind. Thankfully, we found an affordable spot-correcting product: Kojie-San Dream White Blemish Correcting Cream. Below, read why we fell in love with it.
It has the best ingredients for skin-resurfacing.

To fade acne marks and reveal a smoother texture, you'll need micro-exfoliating ingredients that will peel the surface of your skin. The Kojie-San Dream White Blemish Correcting cream has Lactic Acid (a mild type of AHA) and Kojic Acid that dissolve layers of dead skin. It also has Niacinamide that acts as a brightening agent.

It has a skin-repairing ingredient, too!

Honey extract accelerates the skin's ability to heal itself. Definitely a plus!

It's moisturizing.

Zit-zapping treatments can dry out the skin. Counteract it by topping the spot with this cream. It's loaded with collagen and squalene, which keep the complexion looking plump and firm.

It really works.

This is probably the most important number in this list! We tried it ourselves, and noticed that our acne marks were visibly lighter after a week of regular use.

It costs less than P200.

Who wouldn't be enticed to purchase a blemish-fading cream for P155? You can find it everywhere, too. Department stores, drugstores, and even online shopping sites carry it.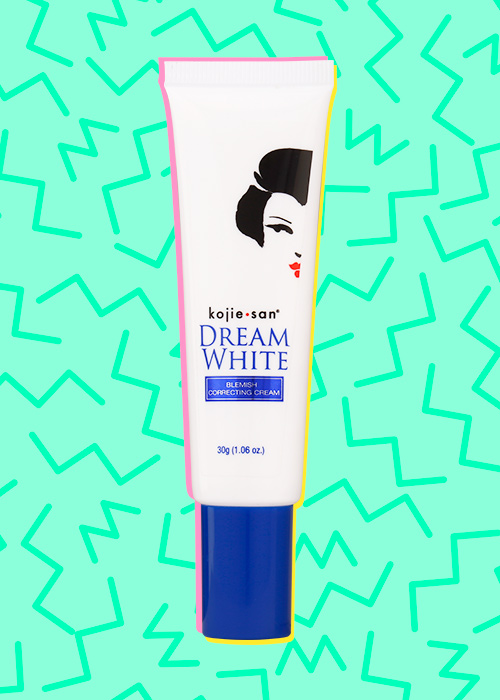 Kojie-San Dream White Blemish Correcting Cream is available at Watsons, SM Beauty, and Robinsons Department Stores.
How about you? What's your favorite spot-correcting product? Comment below with your pick! You can also join us on our Cosmo Beauty Group for an exclusive CG beauty chat.