Though sheet masks first gained traction in South Korea, it wasn't long before the rest of the world caught on. Even K-Pop idol Sandara Park loves them—she revealed to Cosmo.ph that she masks every single day!
We decided to take on the 7-day sheet mask challenge ourselves, sampling products from popular Korean brands every night for an entire week. Just how did our experiences go? Read on to find out.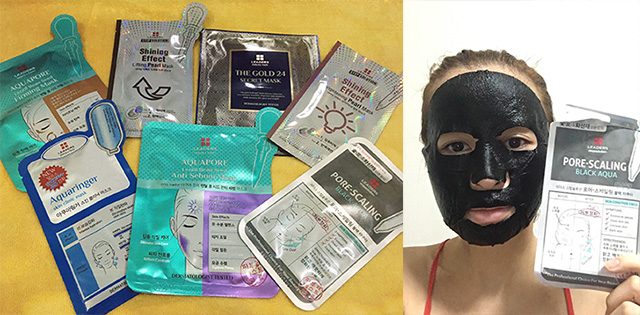 Editor: Jillian Gatcheco, Cosmo.ph Editor in Chief
Beauty Brand: Leaders
Sheet Masks: Stepsolution Pore-Scaling Black Aqua, P128; Stepsolution Shining Effect Brightening Pearl, P178; Stepsolution Shining Effect Lifting Pearl, P178; Insolution Aquapore Lentil Bean Seed Anti Sebum, P178; Insolution Aquapore Lentil Bean Seed Firming, P178; Insolution The Gold 24 Secret, P248; Insolution Aquaringer Skin Clinic, P148
Store Information: Lucky Chinatown Mall, Festival Mall, SM Department Stores in Makati, North EDSA, Cubao, Manila, San Lazaro, Cebu, Davao

How was your experience of the challenge?
I absolutely loved it. I was hesitant at first, only because my skin reacts quickly to new products, and I was afraid this sheet mask challenge will make me break out. I was half-expecting to wake up with rashes on my face, because I had no idea what the ingredients were in these masks (they were all in Korean). I used them at night—after toning, and right before I went to bed. Once or twice, I watched TV with a mask on and left it for way more than the prescribed 20 minutes, but that didn't seem to cause any trouble for my skin.
Continue reading below ↓
Recommended Videos
Some tips for beginners: Store the masks in the fridge, so they're cool and refreshing (perfect after exfoliating!); use the leftover serum on your neck to make the most out of the pack; massage the product into your skin after removing the mask—don't sleep immediately after, because you'll just rub everything off on your pillowcase. 
What were the effects on your skin of daily sheet masking?
I started waking up with dewy skin on Day 3 of the challenge. My makeup became easier to apply as well—and it lasted longer. Sans makeup, my skin had this natural glow to it, which diffused any imperfections I had. I did have a tiny zit that threatened to pop out in the middle of the challenge, but that was because I was really due for a facial. I spot-applied benzoyl peroxide pre-mask for the rest of the challenge, and the zit never appeared fully. On Day 6, I had a facial with a diamond peel, then used the mask at night. I felt like the pores on my face were drinking up all the brightening and anti-aging ingredients in the mask. It was perfection.
Which mask was your favorite?
The "Pore-Scaling Black Aqua," used on Day 1. It looked threatening—it was black (one of its ingredients is volcanic ash), and it's supposed to remove excess oil and dead skin cells, and brighten your complexion to boot. Among the masks I tried, it was the one that gave me a "tingly" feeling after a few minutes—a sign that its sugar maple extract, a natural AHA (alphahydroxy acid), was working. I didn't visibly peel after, but my skin felt noticeably smoother in the course of this challenge, and I credit a lot of the masks' exfoliating properties for that. I had been wondering what "scaling" meant, and I realized it must refer to how this mask is for diminishing, aka "scaling" pores so they become smaller. Makes sense!

Take note that certain masks have a thin paper cover you need to remove prior to use. I made the mistake of neglecting this step for some, LOL! No wonder they didn't hug my facial contours properly! #RookieMistake
Another thing I really liked: There were masks made of paper, which worked fine, but there were also silicone (hydrogel) ones that felt way better on the face. Think of it like a thin layer of Jell-O. These variants felt wetter and colder, and were ultimately more refreshing.  
Would you make a habit out of daily sheet masking? Why or why not?
Yes! I have a really stressful job, and those 20 extra minutes I spent on myself calmed my nerves and made me feel like I'm not neglecting "me." Plus, it did more than relax me—it improved my skin, too! It's really hitting two birds with one stone—erm—mask.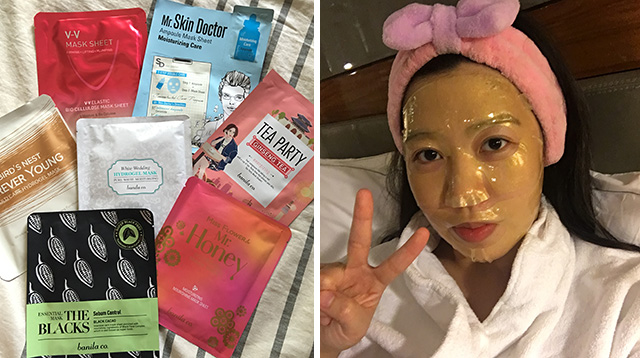 Editor: Patricia Dayacap, Cosmo.ph Associate Fashion and Beauty Editor
Beauty Brand: Banila Co.
Sheet Masks: V-V Elastic Bio Cellulose, P240; Miss Flower & Mr. Honey Hydrogel, P240; White Wedding Hydrogel, P240; Tea Party Ginseng Tea Energizing, P120; Bird's Nest Forever Young Multi Care Hydrogel, P285; Mr. Skin Doctor Ampoule Moisturizing Care, P120; The Blacks Sebum Control Black Cacao Essential, P120
Store Information: Robinsons Place Manila, Glorietta 4, Landmark Trinoma
How was your experience of the challenge?
I'm pretty hooked on Korean skincare, so regular sheet masking wasn't really new to me. I'm the kind of person who actually enjoys removing her makeup and going through all those skin care steps, so the addition of a sheet mask to my routine just made me look forward to going home each night. Haha! It was really the perfect way to relax after a long day at work—I'd watch a show on my laptop while masking; one night, I even soaked in the bathtub with a sheet mask on! And yes, it's just as amazing as it sounds.
What were the effects on your skin of daily sheet masking?
I have oily skin, but I find that if I scrimp on moisturizing products, my face just suffers. However, I was able to skip my oils and essences during the week, simply patting a lightweight night cream after my mask to seal in all the moisture. The next day, I'd wake up to supple, glowing (or "chok chok", as Koreans call it) skin. I do think I have to limit my use of masks to before bed, because I feel it would make me even greasier during the day.
Which mask was your favorite?
I really love the Miss Flower & Mr. Honey hydrogel mask. I already swear by this line's essence oil, so I knew this mask would be just as good. It comes in shimmery gold material—so fancy!, has a comforting honey scent, and is incredibly hydrating. I do have to say that hydrogel masks (in general and not just Banila's) are a major pain to put on. They're slimy AF and come in two separate parts for the upper and lower face, so applying them was always a struggle. But they're also the ones that lasted the longest (I could leave them on for 45 minutes to an hour!), which also made up for the high price tag.
Would you make a habit out of daily sheet masking? Why or why not?
I would really like to, but realistically, I'd probably only do it twice or thrice a week. I'm certain the long-term effects will be even better, but I know there will be nights where I'll feel too tired or lazy to wait 20 or so minutes. So for now, I'll think of it as a treat during the middle of the week or on weekends!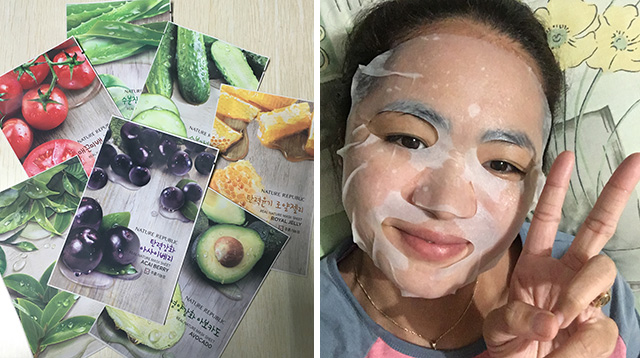 Editor: Jacinda Lopez, Cosmo.ph Assistant Celebrity Editor
Beauty Brand: Nature Republic
Sheet Masks: Real Nature Royal Jelly, Acai Berry, Tomato, Green Tea, Avocado, Bamboo, Cucumber, P55 each
Store Information: SM Fairview, SM North EDSA, Festival Mall, Fairview Terraces, SM Megamall, Landmark Trinoma, Landmark Makati, Alabang Town Center
How was your experience of the challenge?
Before starting the challenge, I thought I would remember to use a mask for seven days straight—but that didn't happen, LOL. I guess it was difficult for me to make it part of my nightly routine, since I already have this set beauty regimen. So, yes, I did forget to put on a mask a few times.  
What were the effects on your skin of daily sheet masking?
Since my skin is super dry, putting on a sheet mask (almost) everyday did make my skin more moisturized and, for some reason, oilier. I used to apply moisturizer on my face several times a day to avoid flaking, but the masks did *wonders* for my skin.
Which mask was your favorite?
I loved Nature Republic's Cucumber and Green Tea masks! The serum was very light on the skin and kind of watery. The masks were amazing to put on after a full day's work! 
Would you make a habit out of daily sheet masking? Why or why not?
I would if I could remember! Haha. But maybe I'd go for around 3-4 times in a week. That I could remember!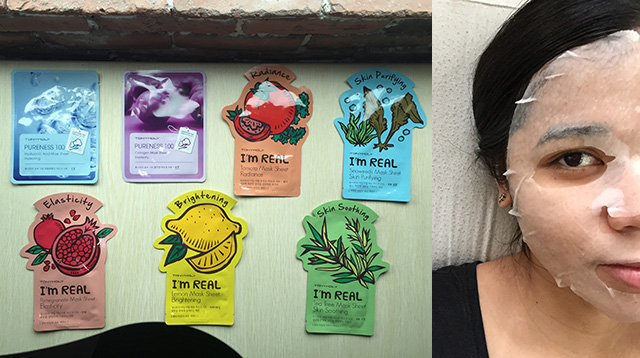 Editor: Sandra Pineda, Cosmo.ph Assistant Managing Editor
Beauty Brand: Tony Moly
Sheet Masks: Pureness 100 Hyaluronic Acid Hydrating, Pureness 100 Collagen Elasticity, I'm Real Seaweeds Skin Purifying, I'm Real Pomegranate Elasticity, I'm Real Lemon Brightening, I'm Real Tea Tree Skin Soothing, I'm Real Tomato Radiance, P78 each
Store Information: Festival Mall, Eastwood, SM Manila, SM Megamall, SM North EDSA, Trinoma, Alabang Town Center, Lucky Chinatown Mall, Market! Market!, SM Mall of Asia, SM Seaside Cebu
How was your experience of the challenge?
I'm a huge fan of masks—especially charcoal ones—but I've never really taken sheet masks seriously until this challenge. I prefer green tea masks over regular sheet ones, because I have oily skin and large pores, so I break out easily, especially when I'm stressed or use the wrong products. I originally thought that sheet masks would make me greasier than usual, but it actually helped control oil production! 
What were the effects on your skin of daily sheet masking?
My skin hasn't looked this good in a long time, seriously! I usually get a facial every month just to rid my skin of blackheads and whiteheads, but I never felt the need to visit my facialist ever since I started using a mask—which I put on for about 30 minutes, right before heading to bed. During the 7-day challenge, I skipped my night moisturizer, since the essences kept my skin incredibly hydrated. I used a sheet mask one Saturday morning, and didn't feel the need to use makeup the whole day!
Which mask was your favorite?
I loved Tony Moly's I'm Real Lemon Mask, which is supposed to brighten your skin. I recommend using this mask if you haven't been getting much sleep or are stressed with work, because it can help you fake eight hours of sleep. Promise! Another favorite was Tony Moly's Pureness Hyaluronic Acid Mask Sheet, which was made out of cotton. Woke up to super glowing skin!
Would you make a habit out of daily sheet masking? Why or why not?
I see why the Koreans and the Japanese use a sheet mask every day! It really does make a difference, and I'm ridiculously obsessed with them now. This new beauty addiction won't come cheap though. The average price for a sheet mask is about P60-P100, so be ready to shell out at least P2,000 every month if you want to start this habit. But hey, all for good-looking skin, right?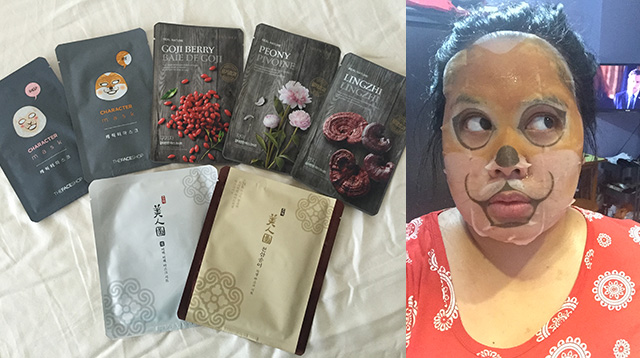 Editor: Ysa Singson, Cosmo.ph Editorial Assistant
Beauty Brand: The Face Shop
Sheet Masks: Myeonghan Miindo Heaven Grade Ginseng, P295; Myeonghan Miindo Seol Whitening Bichaek, P295; Sheep Character Mask, P150; Fox Character Mask, P150; Real Nature Goji Berry Moisturizing, P65; Real Nature Peony Radiance, P65; Nature Lingzhi Firming, P65
Store Information: Glorietta, Trinoma, SM Mall of Asia, SM Megamall, Robinsons Magnolia, Greenbelt 4, Power Plant Mall, Shangri-la Plaza Mall, Abreeza Mall Davao, Ayala Center Cebu, and most major malls
How was your experience of the challenge?
As someone who has no skin routine, I, unfortunately, never think about my skin. Much to my mother's disappointment, I have to be constantly reminded that the effects of the sun are real, and that sunblock is necessary, even indoors. So I was really nervous about this challenge. I had to resort to setting an alarm for it… and I STILL forgot to do it one night! My overall experience was positive though! It was weirdly soothing, and towards the end of the week, I looked forward to this mini daily ritual. 
What were the effects on your skin of daily sheet masking?
MY SKIN IS AS SOFT AS A BABY'S BUTT. I can't remember the last time my face felt like this. I also woke up with a really moist—almost oily?—face, which was weird but I didn't hate it. Other than that, nothing too drastic happened.
Which mask was your favorite?
My favorite was the Peony mask under the Real Nature line. I absolutely LOVED the way it smelled. In general, I liked the Real Nature masks because they were easier to wear. The others either didn't fit my face properly or were much trickier to open up.
Would you make a habit out of daily sheet masking? Why or why not?
I probably won't do this daily, only because I'm on a budget right now. Someone also told me that it's enough to do it once a week, so I think I might try that instead. Hey, for someone who doesn't have a skincare routine, that's an upgrade, right?