By now, you probably already know about skin boosters like retinol, collagen, and hyaluronic acid, but madecassoside may be something you aren't familiar with yet, even if it's been around for quite some time. If you feel that you're skin needs urgent recuperation (and this goes double if you're always tired and stressed), then this ingredient may just be for you.
What is madecassoside?
Madecassoside comes from Centella Asiatica, a plant that has long been known to have healing properties-and its effectivity has been proven by science, as a study featured on the U.S. National Center for Biotechnology Information notes that madecassoside is "responsible for wound healing," and is one of three principal components that makes Centella Asiatica great for treating "infected wounds, as well as burns and postoperative hypertrophic scars."
How can madecassoside help your skin?
Do you have scratches? Pimple marks? Inflammations? Madecassoside is the way to go. According to The Klog, it even works with inflamed eczema. The magic of madecassoside is that it can calm almost everything down, all the while helping rebuild and protect your skin. It's gentle, hydrating, and can even help prevent hyperpigmentation caused by UV rays.
Where can I get madecassoside products?
A'pieu, a Korean beauty brand which has a great line of madecassoside products, recently opened its flagship store in Megamall, and I got to try two of their skin-loving offerings:
Continue reading below ↓
Recommended Videos
A'pieu Madecassoside Cleansing Foam
Instant bright, chok-chok skin? You've got it. A'pieu's Madecassoside Cleansing Foam is light and gentle on your skin, plus it's pretty easy to wash off and doesn't leave a slippery film. As with your usual Korean facial wash, a pea-sized amount can go a long way!
While you may initially think that this cleansing foam is similar to most you've already used, I realized after using it for a few days that it acts as a supplement to the much stronger ampoule.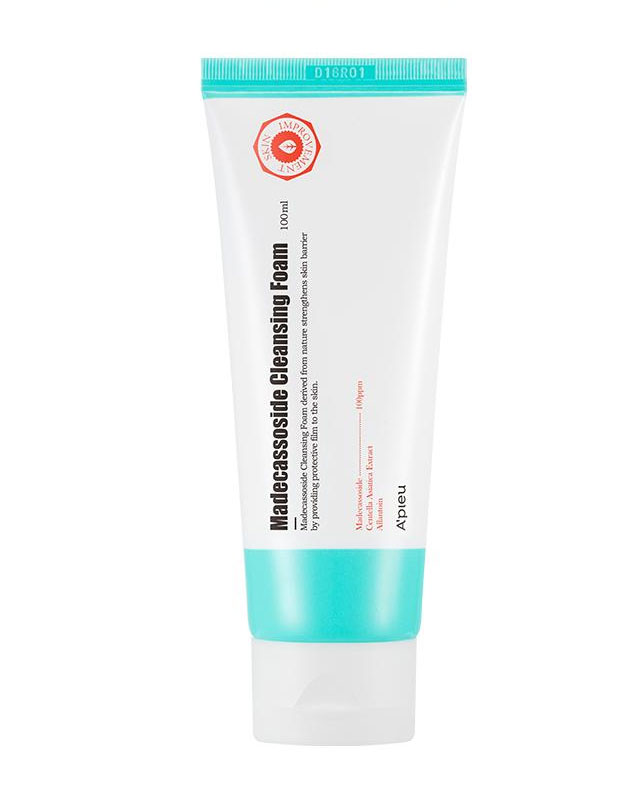 A'pieu Madecassoside Cleansing Foam, P550, SM Megamall
A'pieu Madecassoside Ampoule
I'd say that this is the star of the show. Don't be fooled by its initially thick consistency: It becomes light once it touches the skin. It's easily absorbed, too. This improved my complexion almost immediately. It became soft and cool to the touch. It was hydrated without feeling sticky or oily.
In the week that I've used it, I also noticed the redness around my nose, which I got from an irritation, appeared lighter and less prominent than before. Bumps and rough spots disappeared, and the ampoule was so gentle there was no mahapdi or any other adverse effects. The hydration also lasted for the whole day (I wore it under makeup and stayed in an air-conditioned room), and as a plus, it even seemed to keep my T-zone oil-free!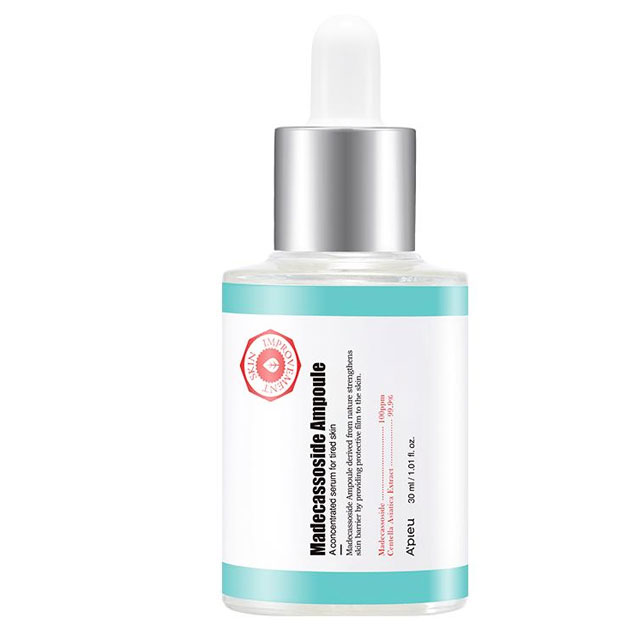 A'pieu Madecassoside Ampoule, P1,250, SM Megamall
Should you try madecassoside products?
Madecassoside is great if you're worried about discoloration, scars, or minor wounds and inflamed areas. It can also help retain moisture and lighten fine lines overtime, which makes it a great addition to your skincare routine. Do note, however, that it isn't a magic bullet that can immediately solve all your skincare problems. If you have a really bad case of acne or rashes due to allergies, it's always best to speak with your dermatologist, and as always, test the product you'll be using on a small patch of skin first before applying it to your entire face.