This is my life: I go through a maximum of three oil blotting papers a day and spend a combined four to six hours commuting five days a week, exposed to the harsh and unforgiving Manila pollution. I'm not shocked at all that I've got acne-prone skin. But, I find it ironic how I have an oily face, and yet my body is dry. I always need to have lotion with me at all times.
I was intrigued when I found out about the reformulated Myra Fresh Glow Facial Moisturizer—it claims to give you a soft, shine-free, and rosy glow. I decided to try the rest of their new releases, the Myra Fresh Glow Facial Wash and Moisturizing Plus Vitamin Lotion, just to keep my routine consistent. Could these be my new holy grail products?
Skin type: Oily and acne-prone
Current skincare routine:
Morning: Cleanser, toner, serum, eye cream, spot treatment, moisturizer, and sunscreen
Night: Cleanser, clay mask (twice a week), toner, serum, eye cream, spot treatment, and moisturizer
HERE ARE THE MYRA SKINCARE PRODUCTS I REVIEWED:
Myra Fresh Glow Facial Wash
This facial wash deeply cleanses for healthy, bright skin and helps remove excess oil for that squeaky clean feeling.
ADVERTISMENT - CONTINUE READING BELOW ↓
Myra Fresh Glow Whitening Facial Wash, P75, Lazada
Myra Fresh Glow Facial Moisturizer
It helps smoothen and moisturize while keeping the skin shine-free.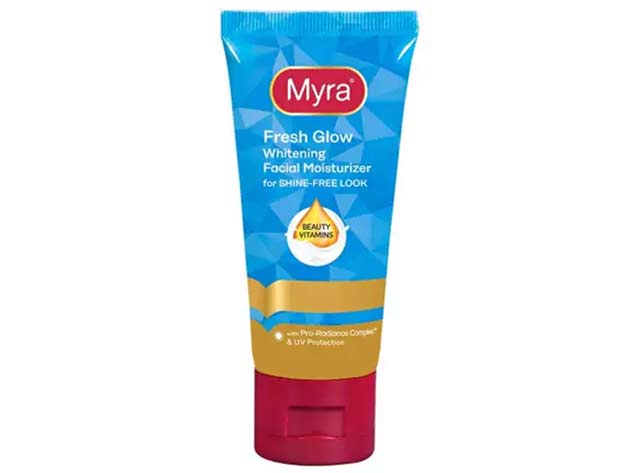 Myra Fresh Glow Whitening Facial Moisturizer, P105, Lazada
Myra Moisturizing Plus Vitamin Lotion
This body lotion helps keep skin smooth, glowing, and healthy. It also provides an instant moisture boost.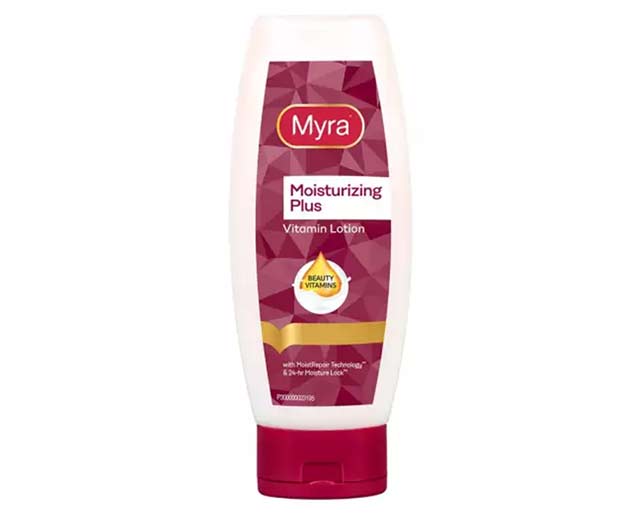 Myra Moisturizing Plus Vitamin Lotion, P150, Lazada
All three products have Beauty Vitamins™, a combination of vitamins that grant you a glowing, rosy, and shine-free complexion:
Vitamin E: A strong antioxidant that keeps the skin from aging
Vitamin C: An antioxidant that aids in skin lightening
Vitamin B3: Helps fade away dark spots for fairer skin
Vitamin B5: Provides extra moisturization to soothe sensitive and irritated skin
Vitamin B6: Known to help reduce oiliness of the skin, keeping it feeling fresh
Price: The Fresh Glow Whitening Facial Wash costs P75 (50mL), the Fresh Glow Whitening Facial Moisturizer is P105 (40 mL), and the Moisturizing Plus Vitamin Lotion is P150 (200mL). 
Check out my Myra skincare diary below:
Day 1
I was a bit hesitant about incorporating new products into my routine. My skin tends to flare up whenever I ~randomly~ try new products, but since they are from Myra (a trusted brand), I pushed through.
I squeezed a little bit of the facial wash on my palm—it was very runny—and worked up a good lather. I massaged it on my face for a good minute before rinsing it off. I noticed that it stayed true to its claim of giving me that "squeaky clean skin." 
When I got to my *~new~* moisturizer, the first thing I noticed was its scent. It smelled like the other Myra lotions, but just a little bit more floral. It had a slight pink undertone, and I was pleasantly surprised that the moisturizer gave me a soft, rosy finish. Color me impressed!
ADVERTISMENT - CONTINUE READING BELOW ↓
It's already the 'ber months, and my palms are usually in the phase where they're constantly nagbabalat due to the cold weather. It's nothing serious, just a mild annoyance. I'm glad that the Vitamin Lotion was of some help to my poor palms. My body did feel very nice when I massaged the lotion all over post-shower. It felt very ~soft and moisturized~, just like a baby's butt.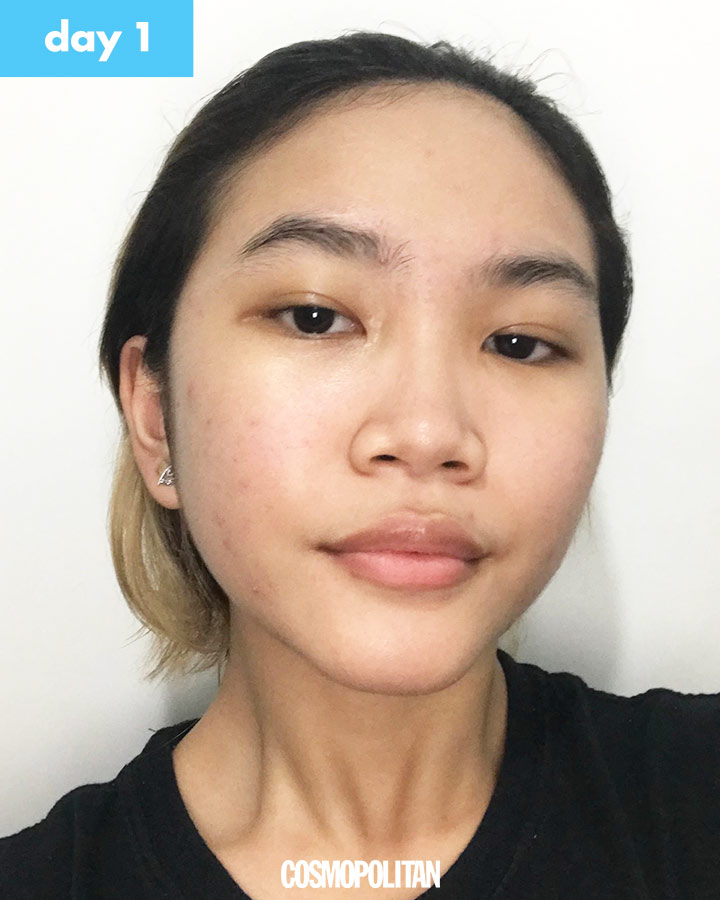 Day 5
By now, I have gotten used to the squeaky-clean feel of the facial wash. I really liked the moisturizer because it gave my face a nice glow. The best part is my skin didn't break out after four days of using the said products. That is considered a major win in my book, so good for you, Myra! We'll have to wait and see until Day 10 if the Myra skincare products can live up to my expectations. I also rode an Angkas going to work today, and my face wasn't an oil slick by the time I got to our building. I only had to blot by midday, yay!
I also brought the Vitamin Lotion to the office because our AC is always on full blast. My skin gets ashy AF after a few hours, and the lotion kept my arms and legs moisturized the whole day.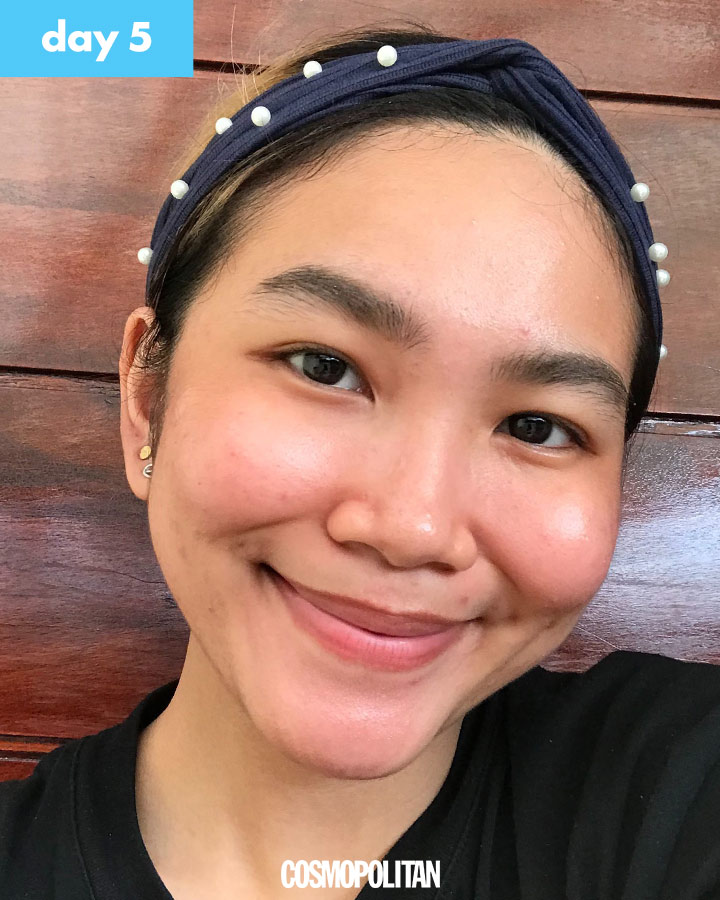 Day 10
Wow, it's the last day of the experiment, and I didn't realize that 10 days went by so quickly! Although I did get a pimple some time between Day 5 and Day 10, it was just a small one. I also got my period, so that's probably what triggered it.
ADVERTISMENT - CONTINUE READING BELOW ↓
Anyway, not to toot my own horn or anything, but is it just me, or do I look extra glowing today? Is it possible that my skin is finally listening to me? Has it heard my pleas and prayers?! I also waited for about 45 minutes to an hour for a UV Express, and while my whole body was sweating, my T-zone wasn't that oily, which is a big achievement for me!
As for the Vitamin Lotion, I really have nothing against it because it did its job pretty well! My body, especially my knees (which can get super dry), is super moisturized, as well as my dry palms.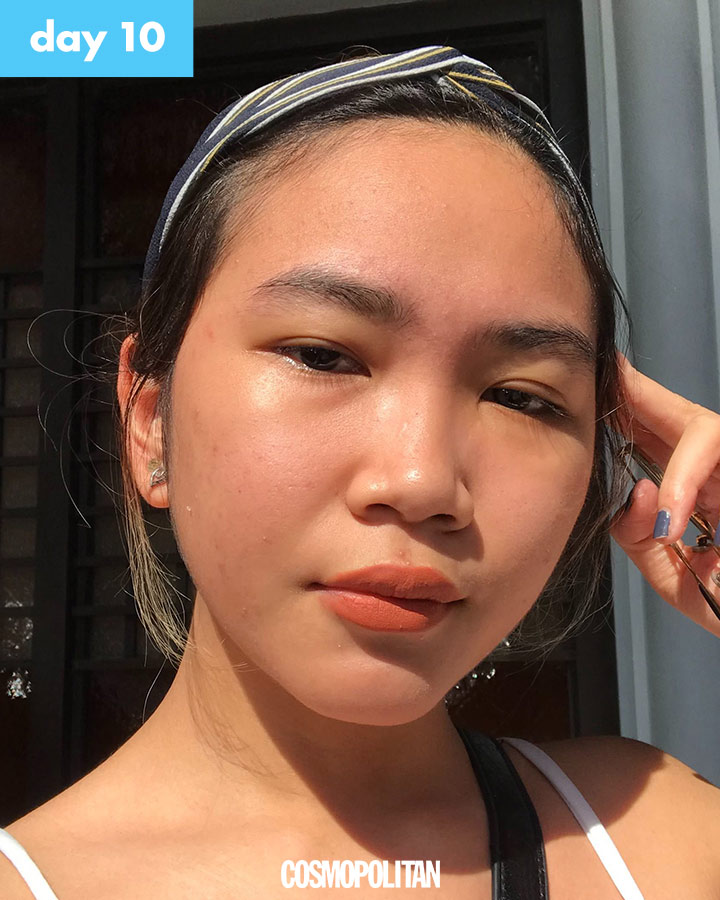 What are my final thoughts? Would I incorporate them into my skincare routine?
The Myra Fresh Glow Whitening Facial Wash definitely did what it said it would do—it removed the excess oil on my face and it left a squeaky clean feeling (As a chronically oily-skinned person, I am very happy about this, LOL).
I really loved the Myra Fresh Glow Whitening Facial Moisturizer! Initially, I had my doubts about it due to its pink undertone and the fact that it was a cream (I was more accustomed to gel moisturizers). I thought that the formula would make my face feel oilier than it already is, but surprisingly, it made my skin feel hydrated. It actually gave me a "rosy glow" without a white cast on my face. I'm also glad that the moisturizer didn't leave my face greasy; instead, I just got a "fresh lang" look, which I love! 
I'm really into lotions because I have flaky skin on my body (but an oily face, go figure), so I always have a bottle with me wherever I go. I hate the feeling of dry anything, but I'm also keen on finding one that doesn't leave a sticky feel. Thankfully, the Myra Plus Vitamin Lotion passed my standards as it is a lightweight and non-sticky lotion. Yay!
Overall, I'm glad I tried out their new and improved skincare line. I had my doubts about it at first, but this experiment changed my mind. The moisturizer has definitely earned a place in my bathroom counter, and the lotion will definitely be staying too as a post-shower treatment!
Follow Cheska on Instagram.