We asked 10 girls to spill all the deets about their nighttime skincare routines—including how much they've spent on their fave products.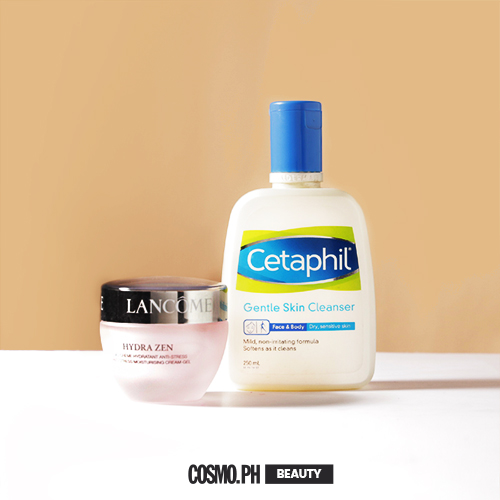 Skin type: Dry and sensitive skin 
Products: Cetaphil Gentle Skin Cleanser, P180; Lancôme Hydra Zen Day Cream Anti-Stress Moisturizer (1.7 fl. oz.), $56/P2,800
Total: P2,980
Why it works: I've been using the Lancôme moisturizer for at least two years now. It's light and doesn't feel sticky or heavy after application. It's lightly scented, but I haven't had any problems even with my sensitive skin. I've used the Cetaphil cleanser since high school because it's gentle and non-irritating and leaves my skin feeling ~fresh~. 
Continue reading below ↓
Recommended Videos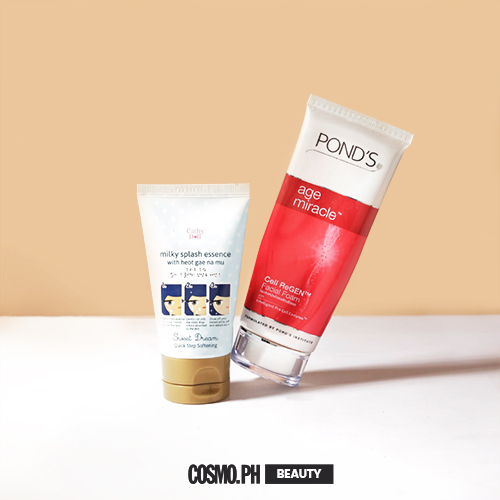 Skin type: Dry
Products: Cetaphil Gentle Skin Cleanser (not pictured), P180; Cathy Doll Milky Splash Body Essence with Heot Gae Na Mu (138mL), P700; Pond's Age Miracle Cell ReGEN Facial Foam, P220
Total: P1,100
Why it works: I'm not going to lie, I don't really care for my skin, which I'm aware is wrong. I have yet to unravel the ~*magical*~ effects of skincare. I use Pond's to cleanse my face from time to time when I want to be ~extra~, but lather on Cetaphil (not pictured) on the regular because of its gentle formula. And although it's for the body, I love how the Cathy Doll essence soothes my complexion.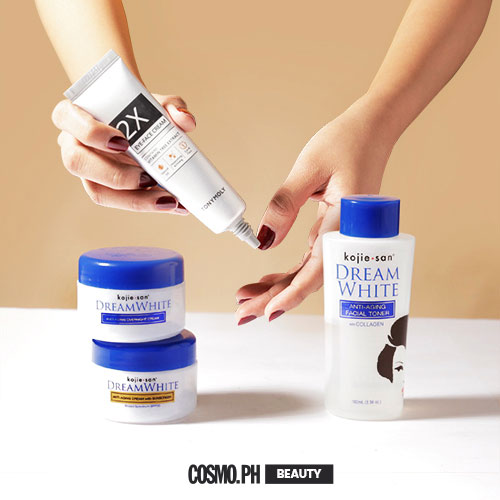 Skin Type: Oily AF
Products: Tony Moly 2X Eye-Face Cream, P1,698; Kojie San Anti-Aging Toner with Collagen, P139.50; Kojie San Anti-Aging Cream with Sunscreen, P155; Kojie San Anti-Aging Overnight Cream, P148.50
Total: P2,141
Why it works: I've only been using it for a little over a month. I'm not sure how to determine what "works" because this is my first attempt at a skincare routine, LOL! But I like it because it doesn't break my skin out. In the past, products make my face feel itchy or leave it looking even oilier. Kojie San products don't do that for some reason. My favorite product has got to be the overnight cream, though. I love how my skin feels when I wake up.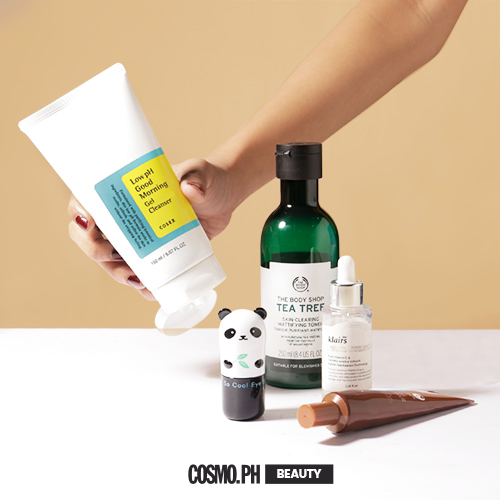 Skin Type: Acne-prone, Oily
Products: CosRX Good Morning Gel Cleanser, P540; The Body Shop Tea Tree Mattifying Toner (P250mL), P695; Dear Klairs Freshly Juiced Vitamin C Serum, P1,200; Mizon All-in-One Snail Cream (35mL), P315
Total Price: P2,750
Why it works: I'm still in the process of finding out which products work for me. I've been using the Dear Klairs Vitamin C Serum for the last three months, to be specific, and I can say that it definitely brightened my complexion. It lightened my acne scars and improved my skin's texture.
Since I started using Mizon All-in-One Snail Cream, the big bumps that used to grow on my cheek area have significantly lessened. Before, it was one big pimple after the other. I think snail products work for me. I have yet to find a toner and cleanser that will manage my acne-prone skin, though.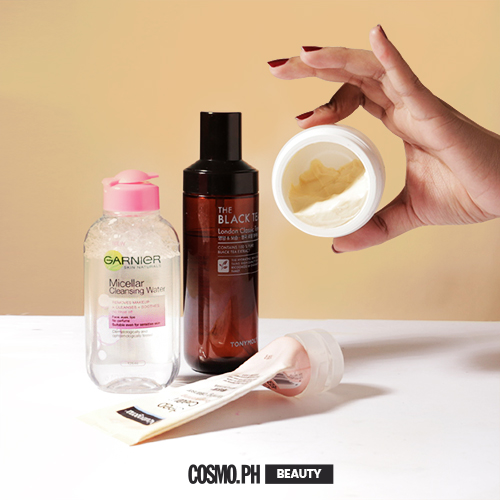 Skin type: Extremely dry
Products: Neutrogena Brightening Foam Cleanser, P214; Garnier Micellar Water Pink (125mL), P149; Tony Moly The Black Tea London Classic Toner, P1,398; Nuxe Creme Prodigieuse Anti-Fatigue Moisturizing Night Cream, P1,650; Kiehl's Avocado Eye Cream, P1,725 (not pictured)
Total price: P5,136
Why it works: I bought the Neutrogena foaming cleanser because it works really well in deep-cleaning. It has a tendency to leave my face dry, so I layer on rich moisturizing products right after.
I like how the Garnier Micellar Water and the Tony Moly Black Tea Toner free my pores from dirt and makeup without drying up my skin. The Nuxe night cream does a great job of moisturizing my parched complexion. Finally, for my under-eyes, I'm on my second pot of Kiehl's Avocado Eye Cream—it's that good!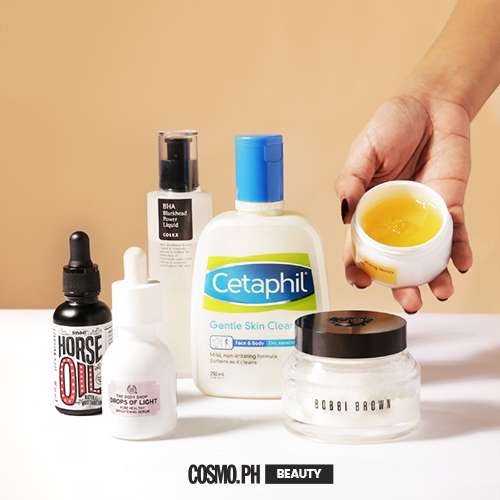 Skin type: Combination
Products:  Cetaphil Gentle Skin Cleanser (118mL), P180; CosRX BHA Blackhead Power Liquid, P1,070; The Body Shop Drops of Light Brightening Serum, P1,895; Bobbi Brown Hydrating Face Cream (100mL), P4,500; Snoe Horse Oil, P1,399; CosRX Ultimate Moisturizing Honey Overnight Mask, P880
Total: P9,924
Why it works: My cleanser, toner, and serum are the true staples, but I switch up my moisturizers and sleeping masks often. I consider my skin type in limbo, which is why I prefer to mix products made for oily and dry skin. (Example: a non-comedogenic lightweight gel sleeping mask layered with a rich face oil) I've been following this formula for over a year now.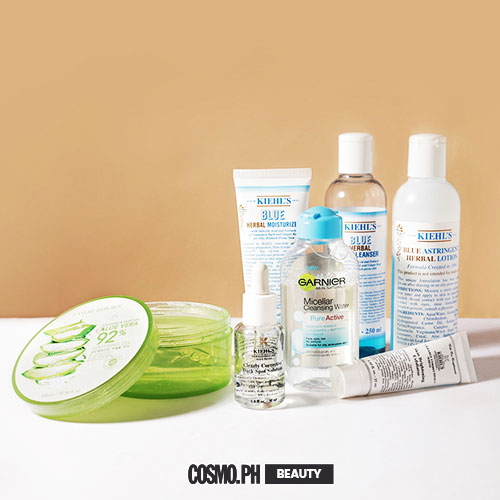 Skin type: Normal to oily
Products: Garnier Blue Micellar Water, P149; Kiehl's Blue Herbal Cleanser (150mL), P1,165 (150mL); Kiehl's Blue Herbal Astringent Herbal Lotion (250mL), P1,295; Kiehl's Blue Herbal Moisturizer (100mL), P1,750; Kiehl's Clearly Corrective Dark Spot Solution (50mL), P3,995; Nature Republic Aloe Vera Gel- P280; Kiehl's Clearly Corrective Skin Brightening Exfoliator (125mL), P1,955
Total: P10,589
Why it works: I specifically went for the Blue Herbal and Clearly Corrective lines of Kiehls' because I used to have bad breakouts which would leave dark marks on my face for a long time. The aloe vera gel was the cherry on top—it addressed my small bumps.
I used to go to the derma to address these concerns, but I didn't really notice a big difference with my skin. Five months ago, I finally decided to invest in a good skincare routine and here we are! My skin is still far from perfect but the products I've been using have greatly diminished the pimples and my skin now looks more even.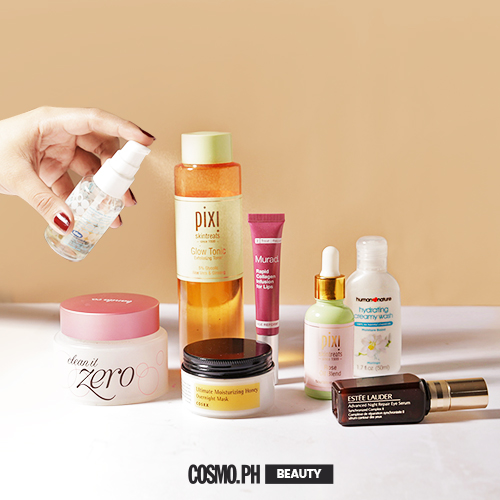 Skin type: Oily
Products: Banila Clean It Zero, P1,090; Human Nature Hydrating Creamy Facial Wash (50mL), P79.75; Pixi Glow Tonic, P1,690; Bliss Peeling Serum (discontinued), P3,250; Esteé Lauder Advanced Night Repair Eye Serum, P4,150; Pixi Rose Oil Blend, P1,280; CosRX Ultimate Moisturizing Overnight Mask, P880; Murad Rapid Collagen Infusion for Lips, P1,500
Total: P13,919.75
Why it works: I suffered from acne when I was younger, so I do a gentle exfoliating phase every two weeks to erase the marks. I balance with hydrating products so my face won't feel raw with all the exfoliating. 
I always start with a cleansing balm because I believe that I need to remove the greasy film on my face before washing with a cleanser. Then, I layer on peeling products to improve my skin's texture and radiance. I seal everything in with a honey-based mask, a moisturizing and pimple-fighting product in one jar. The collagen lip serum makes my small pout (my insecurity) appear plump, pillowy, and soft the following day.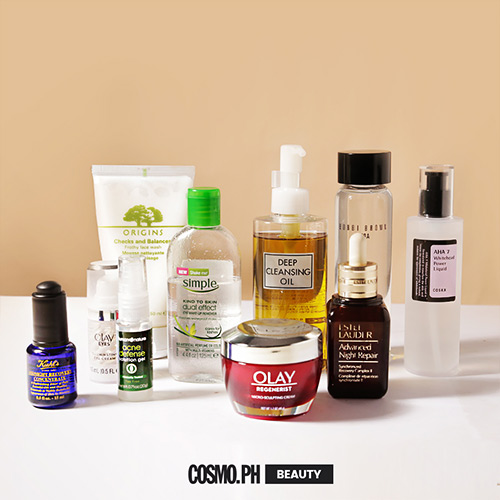 Skin type: Combination to dry
<Products: Kiehl's Midnight Recovery Concentrate P2,895 ; Human Nature Acne Defense Gel, P250; Olay Eyes Illuminating Eye Cream, P1,370; Origins Checks & Balances Frothy Face Wash P1,150; Simple Dual Effect Eye Makeup Remover, P499; Olay Regenerist Microsculpting Cream, P1,899; DHC Cleansing Oil, P1,420; Esteé Lauder Advance Night Repair, P5,800; Bobbi Brown Extra Treatment Lotion, P3,750; CosRX AHA 7 Whitehead Power Liquid, P810
Total price: P19,843
Why it works: Let me start by saying that I love skincare. I enjoy trying out products in the hopes that they will improve my skin. I'm also a big believer that skincare should always come before makeup—so invest in a good skincare routine and drink lots of water! ;) 
My non-negotiable products are the Kiehl's Midnight Recovery Concentrate, Estee Lauder Advanced Night Repair Serum, and Origins Checks & Balances Frothy Face Wash. I've been using those three for years now and they always leave my skin looking GREAT.
My biggest issues are dark undereye circles and whiteheads. For under my eyes, I use the Olay Eyes Illuminating Eye Cream—which isn't available here yet—to brighten the area. For my whiteheads, I recently started using the CosRX Whitehead Power Liquid. So far, so good!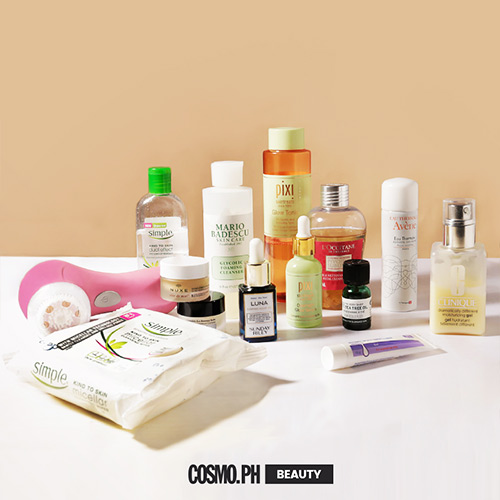 Skin type: Combination
Products:  Simple Kind To Eyes Dual Effect Eye Make-Up Remover, P499; Simple Kind To Skin Cleansing Wipes, P299; L'occitane Pivoine Sublime Petal Cleansing Oil, P1,600; Clarisonic Mia 1, $129 (P6,524.04), Clarisonic.com; Mario Badescu Glycolic Foaming Cleanser, P990; Pixi Glow Tonic Exfoliating Toner (250 mL), P1,690; Pixi Overnight Glow Serum, P1,280; Sunday Riley Luna Sleeping Night Oil (15 mL), $55 (P 2,782.97), Sephora.com; The Body Shop Tea Tree Oil, P495; Avène Eau Thermale Thermal Spring Water, P557; Clinique Dramatically Different Moisturizing Gel, P1,900; Benzac Spots Treatment (5%) Gel (15 g), P346.25; Algenist Complete Eye Renewal Balm, P3,550; Nuxe Reve De Miel Ultra-Nourishing Lip Balm, P650
Total price: P23,163.62
Why it works: I can lose every single item in my skincare lineup except for three things: 1) Clarisonic, 2) Mario Badescu Glycolic Acid Cleanser, and 3) Clinique Dramatically Different Moisturizing Gel. I've had my Clarisonic Mia for five years, and it is the best skincare investment I've made. The Mario Badescu Cleanser, in combination with the Clarisonic, brightens my skin tone by purging pores of leftover makeup, oils, and dead skin, and exfoliating the surface layer to get rid of acne marks or hyperpigmentation in the long run.
As for the rest of the products, I use them depending on what my skin needs for the night: Breakouts meet their match with a cotton pad soaked with Avène Thermal Spring Water + five drops of The Body Shop Tea Tree Oil (instant acne toner!); good skin days deserve maintenance through an exfoliating serum followed with moisturizer. I am a firm believer of "listening" to my skin.
My routine has a few products that aren't available in the Philippines, like the Sunday Riley Luna Sleeping Night Oil, so I just use it twice a week to combat dryness. Tipid!
Our takeaway
To each her own! Everyone has varying skincare needs. Also, a certain product may work for one person, but it may react differently to another. It's really a trial and error process.
Cost may not be a major factor but the active ingredients are! It's all about being aware of the products that can address your skin type.
So tell us, CGs, what's your skincare routine and how much does it cost? We'd love to know!
Avène, Benzac, Cetaphil, Olay, Pond's, Kojie San, and Simple are available at Watsons; CosRX, Mizon, and Snoe are available at BeautyMNL; Cathy Doll is available at Lazada; Kiehl's is available at Greenbelt 5, SM Megamall, and Alabang Town Center; Algenist, Clinique, Esteé Lauder, L'Occitane, Mario Badescu, Murad, and Nuxe are available at Rustan's The Beauty Source; Human Nature, Origins, The Body Shop, and Tony Moly are available at SM Beauty; Pixi is available at Glamourbox.ph
Follow Ira on Instagram.
Follow Tisha on Instagram.