Hello there! ICYDK, it's ~*vlogmas season*~ already for most of our fave local YouTubers—a time where they post videos every day up until Christmas. Rei Germar is one of the content creators participating in this, and we're so stoked for her every upload.
In case you're not updated with Rei's recent videos, here's a refresher: For her Day 10 upload, she and her friends went to their go-to piercer's studio to get her daith re-pierced. She also had the jewelry for her tragus and helix piercing replaced.
VLOGMAS DAY 10: NEW PIERCINGS + SECRET SANTA | Rei Germar
In her latest video (Day 12), she answered some frequently asked questions about her ear piercings. Check out everything we've learned:
VLOGMAS 12: AIRBNB TOUR & GRWM! | Rei Germar
Currently, Rei has a total of eight piercings: Five on her left ear (double lobe, helix, daith, and tragus) and three on her right ear (triple lobe). She shared that out of all her piercings, the ones on her lobes were the least painful. She described the sensation to be "hot," but assured us that the feeling of discomfort was over in a second.
She recalled that her tragus piercing hurt the most, since the area is so small and it's essentially a thick piece of cartilage. For her daith, she would give the pain level a four or five on a scale of ten.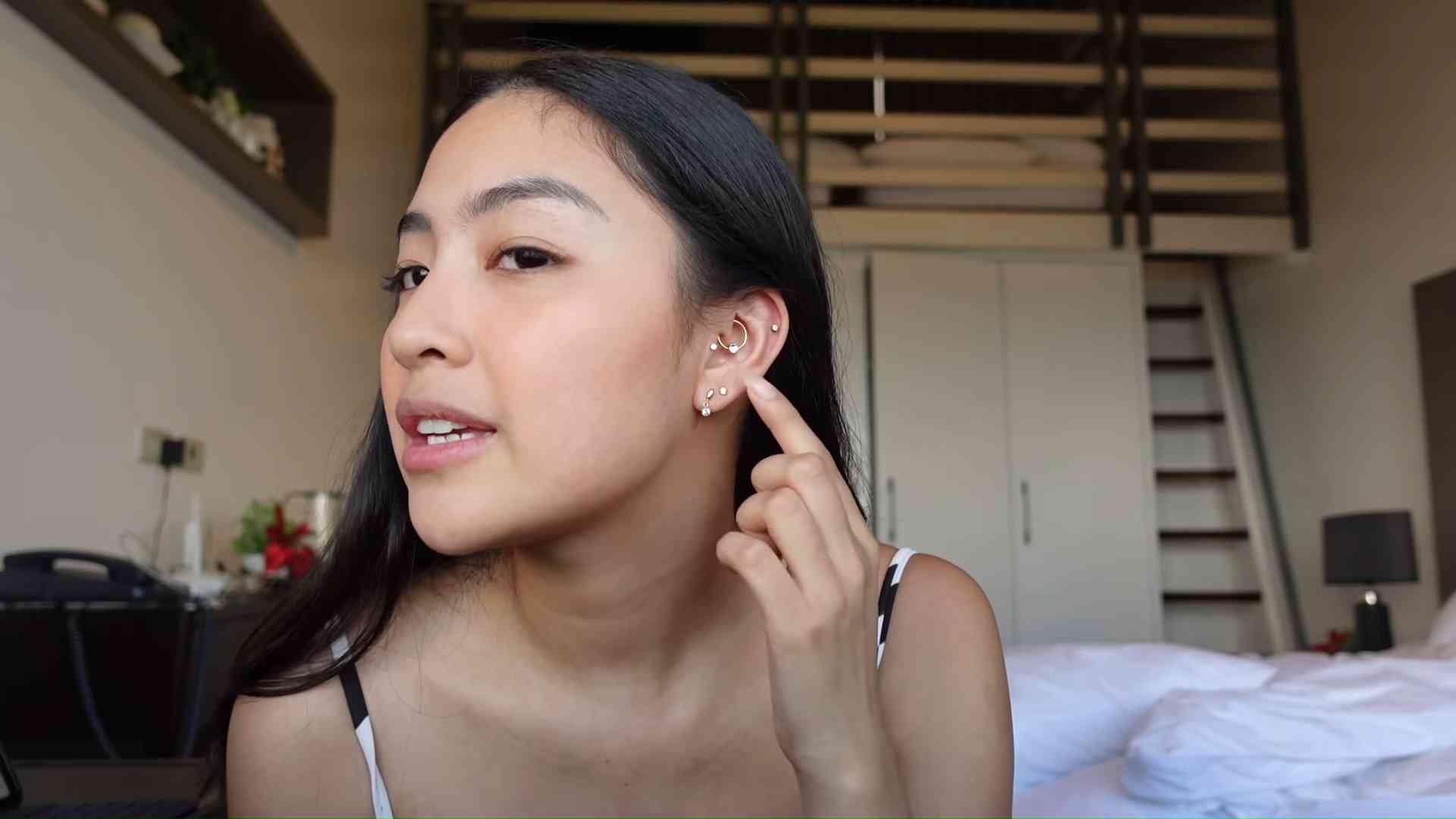 And if you want a low-maintenance ear piercing, Rei recommends getting either a tragus or daith (or both *wink wink*). Since both are located on the inner part of the ear—as opposed to lobe and helix ones which are found outside—you can comfortably sleep on your side without worrying about irritating the fresh wounds. Just make sure to follow your piercer's aftercare guide.
Continue reading below ↓
Recommended Videos
She also warned us of the dangers of being pierced with a gun, recounting the time when her cartilage piercing got swollen and infected. We agree with you, Rei—needle piercings really are the way to go!
Follow Cheska on Instagram.
Follow Cosmo PH Beauty on Instagram.
***
We're officially on Viber! Be part of our growing community and subscribe to Cosmopolitan Philippines now!