Whenever we have chats with our friends or we observe shoppers in the department store, we always find them raving about the internet-famous facial wash, Senka Perfect Whip. People would also randomly DM us when we post a shot of our current skincare rotation and spot the blue tube on our vanities. We aren't surprised, though! ;)
I WANT CLEAR SKIN!
The Senka Perfect Whip has everything you need in a cleanser so it's great for those who are just starting to build their skincare routines or those who prefer to simplify their regimens. It's gentle on the skin, gets rid of excess sebum, and leaves the face soft.
Aside from being a part of our everyday skincare routines, we discovered a ~*cool*~ way to bring it into play. Now that facials are kind of impossible to get (booking an appointment is difficult and paranoia is real), we've been turning to Senka Perfect Whip as the first step of our DIY facial treatments!
ADVERTISMENT - CONTINUE READING BELOW ↓
We based this on all the past experiences we had in facial clinics: Aestheticians always washed our faces with a cleanser that purifies our complexions so they could easily extract the dirt on our pores. In this case, the Senka Perfect Whip is ideal because it lifts all surface dirt and excess oil so our face becomes a clean slate. Curious how we do it? Here's our DIY facial plan:
Cleanse with Senka Perfect Whip. We suggest that you whip it first into a foam before gently massaging the rich lather on the face, including the neck.
Bring water to a boil and pour it into a bowl. Lean over—leave about 10 to 12 inches distance—and drape a towel over your head. Steam your face for about 10 minutes to open your pores.
Then, put on a clay mask or a chemical exfoliator to help clear the pores. Leave it on the face, according to the product's instructions.
Give your skin a boost of nourishment by finishing off the DIY facial with a sheet mask. Massage the excess serum on the neck.
Pat your skin after removing the sheet mask and admire your ~*brand new*~ glowing skin!
By now, you're probably on your way to add Perfect Whip to your cart, but allow us to make things even more exciting: For a limited time, the Senka Perfect Whip is available in super cute packaging featuring Doraemon!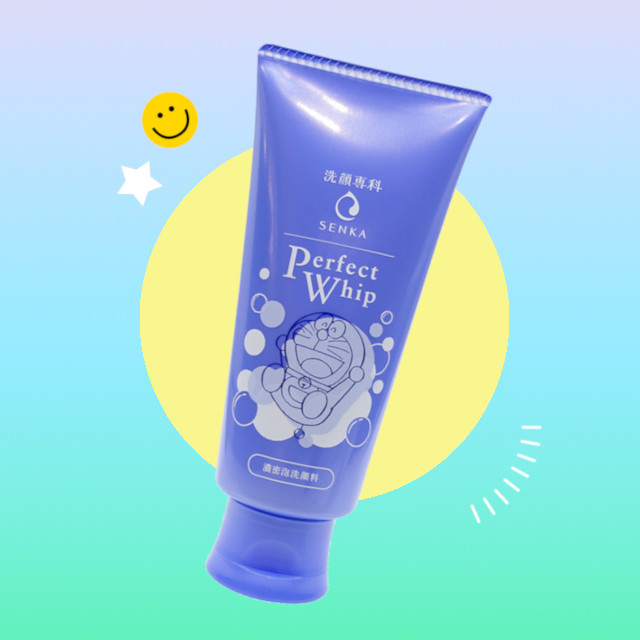 Senka has partnered with Doraemon for the manga's 50th anniversary so you'll see the cute robot cat from the future on each tube with the same affordable price of P279! Plus, when you purchase two tubes, you get a free Doraemon shopping bag.
I WANT CLEAR SKIN!
The limited-edition Senka Perfect Whip x Doraemon cleansers is exclusively available in Watsons. 
Follow Ira on Instagram.
Follow Cosmo PH Beauty on Instagram.
***
We are officially on Viber! Be part of the Cosmo Viber Community by clicking here!