I hate blackheads, but I love seeing them extracted from my face. Yes, I do love looking at the gunk dislodged from my pores whenever I get facials. I've got oily skin so regular facial treatments are a must for me to score a clear complexion. But since a trip to the derma won't happen anytime soon (health > vanity), I decided to take matters into my own hands.
I made sure that whatever I would be trying is legit and safe for my skin. I stumbled upon Los Angeles-based licensed aesthetician Nayamka Roberts-Smith's, aka LA Beautyologist, YouTube channel, and I saw her "Esthetician-Approved Oil-Cleansing Routine." video. Nayamka recommended removing oil-based gunk (blackheads and oil plugs) by massaging the face with cleansing oil or balm for 10 minutes.
Upon further ~research~, I found out the internet calls it "skin gritting." However, the process was different from what Nayamka recommended. It calls for the use of cleansing oil and a clay mask. Another version features an oil-based cleanser, acid toner, and clay mask. TBH, I thought these methods might be too *extreme* for my skin. (Over-exfoliation is a thing.)
Nayamka is an esthetician, so she's considered a skincare expert. It is assumed that whatever she has done on herself is safe, but also keep in mind that it's always better to consult a professional since each person's complexion is unique. Read on to find out what "skin gritting" has done to my skin.
Continue reading below ↓
Recommended Videos
How to do skin gritting (oil-cleanse) to remove blackheads
According to Nayamka, you must apply the oil-based cleanser on dry skin. I used the Banila Co Clean It Zero Cleansing Balm in Purifying.

 


Clean It Zero Cleansing Balm in Purifying, P1,250, Banila Co

Wet the skin to emulsify the oil-based cleanser. The product will turn into a milky liquid.
Massage the product on your skin for 10 to 15 minutes.
Be grossed out by the ~amount~ of gunk you have dislodged from your pores.
Rinse and wash with a foam cleanser.
Do this once a week.
Results:
I couldn't believe the amount of gunk and dirt my pores were hiding! It's gross but it feels oddly satisfying that I gave my skin a deep clean. I washed with a sulfate-free cleanser to prevent irritation. I then "sealed" my complexion with a Cica-enriched serum to soothe and repair the skin barrier.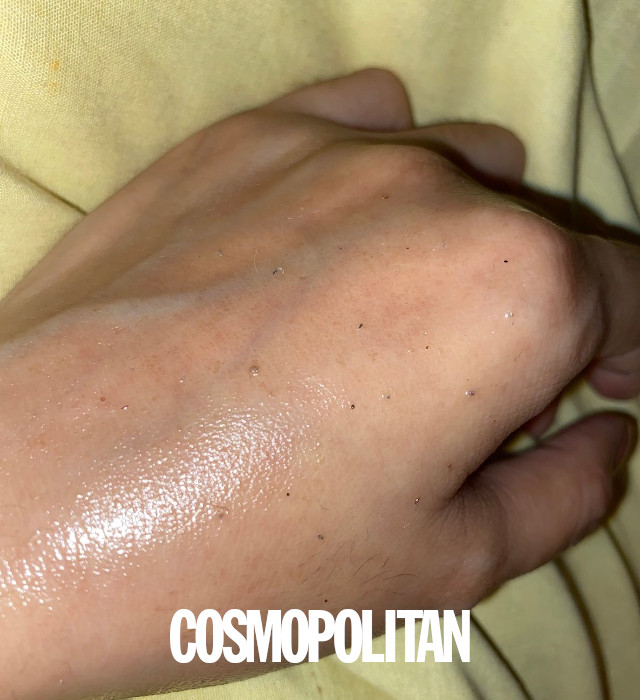 The takeaway
Skin gritting is a fun DIY facial method, but I am aware that it's no substitute for professional blackhead extractions. Since this is a form of physical exfoliation, it will be best to do it during the time you're taking a break from the use of acids such as glycolic, salicylic, or lactic acid—basically any AHA and BHA product.
Have you tried and tested this method? Share to the community what you think! Leave your review in the comment section below. 
Follow Ira on Instagram.
Follow Cosmo PH Beauty on Instagram.
***
We are officially on Viber! Be part of the Cosmo Viber Community by clicking here!